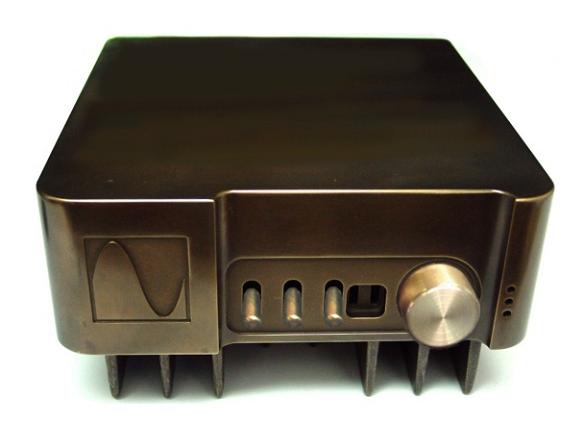 External DAC products are now the new norm when it comes to the front end of any high-end audio system. Though there are many sub-$1000 / sub-$2000 DACs to choose from, it doesn't stop some companies from showing off their feathers with new, very expensive and potentially trendsetting designs. And so we have one such here from Empirical Audio, their new Overdrive Ultra DAC takes its place as their flagship DAC.  It actually sport a solid-bronze cast/machined chassis – something much more common in art rather than electronics.  Personally, I love the styling and find it reminiscent of something out of a sci-fi movie – perhaps Dune.
Taking a minimalist approach to DAC design, the Overdrive Ultra DAC has only 2 analog stages to reduce noise, THD and compression. XLR and RCA outputs are provided together with selection of an appropriate digital filter and a unique high performance volume control technology. Using 12 Paul Hynes voltage regulator designs, it strives to set a new bar for DACs when it comes to presenting a black background. It includes an asynchronous 24/192 USB input, clocked with proprietary Turboclock, to minimize jitter.
Unapproachable to many but within the means of a few, the Empirical Audio Overdrive Ultra DAC has a MSRP of: $15,000 U.S.
Look for more details at: www.empiricalaudio.com.