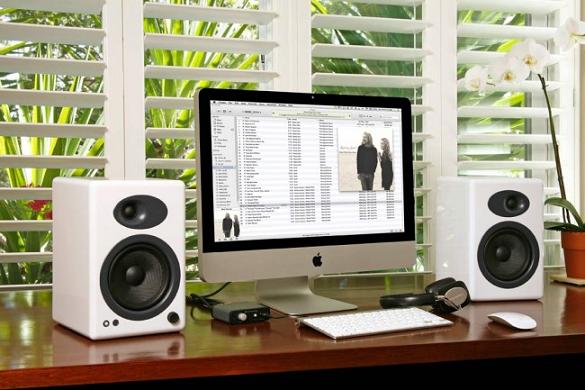 Audioengine has just introduced a new product, which caters to those looking for a compact amplified speaker system for use with their computer, TV, or iDevice. The new A5+ active speakers are claimed to deliver audiophile-quality sound, while remaining affordable.
The A5 powered speaker was Audioengine's flagship product; now, the new A5+ incorporates the same award-winning design as the original A5 but includes customer-requested upgrades and features.
With custom Kevlar woofers, silk tweeters, and hand-built cabinets, the Audioengine 5+ includes a remote control, dual audio inputs and enhanced thermal management. iDevice charging is possible via the USB power port and the system can be integrated with a subwoofer using the variable output. The A5+ allows for connection to the source device using headphone jack or RCA connection..
Built-in power amplifiers save space and eliminate the need to connect the Audioengine 5+ to a stereo receiver or external power amp. Simply plug the left speaker into an AC outlet and connect the included speaker wire from the left to right speaker.
Features
• Built-in power amplifiers
• RCA and mini-jack audio inputs
• Remote control
• Front panel volume control
• USB power charge port
• Variable preamp audio output
• Gold-plated connectors
• Full-size 5-way speaker binding posts
• Custom Kevlar woofers and silk tweeters
• Hand-built MDF wood cabinets
• Magnetically shielded
• Cables included
The Audioengine A5+ speaker system is currently available at a MSRP of: $399 U.S./pr (black/white) or $469 U.S./pr (bamboo).
For more details, go to: www.audioengineusa.com