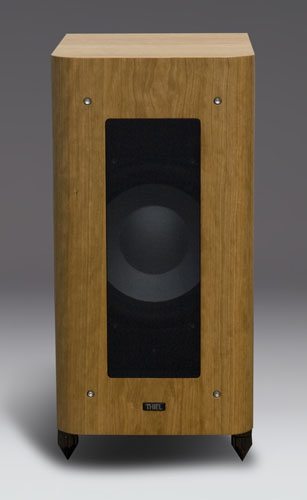 THIEL has just introduced its next generation of SmartSubs consisting of two models – the SS2.2 and the USS.  The company makes a bold claim saying that no other subwoofer has ever reproduced the grace and power of music like THIEL SmartSubs. It is common to think of subwoofers as simple devices that shake seats and rumble windows. But the SmartSubs claim to deliver the nuance, finesse and detail without giving up impact and power. Once you hear grace and power together, only then can you truly envelop yourself in the realism and emotional connection to your music and movies.
Highlights of the new subs include:
• Each subwoofer can be easily adjusted to accurately eliminate room interaction problems for any placement
• Unique electronic circuitry corrects for compression distortion due to heating of the drivers' voice coils for more dynamic and effortless reproduction.
• Very high power amplification
• Short-coil, long-gap, copper-stabilized driver motor systems for ultra-low distortion.
• Beautiful cabinetry is available in a variety of real wood finishes.
• Provides great realism for both music and movies.
• Integrates perfectly with THIEL main speakers using optional PXO5 passive subwoofer crossover.
SS2.2 Specs
• Driver Configuration: 2 x 10-inch
• Input Response: 20Hz-300Hz ± 3dB
• Weight: 104 lbs / 47kgs
• Acoustic output: up to 105dB @ 20Hz, 112dB @ 30Hz
• Inputs: 1x RCA, 1x XLR
• Outputs: 1x RCA, 1x XLR
• Amplifier power: 1000 Watts RMS
• Input Sensitivity: 1 volt for 120dB@1m
USS Specs
• Driver configuration: 1 x 10-inch
• Input response: 20Hz-300Hz ± 3dB
• Weight: 55lbs / 25 kgs
• Acoustic output: up to 99dB @ 20Hz, 106dB @ 30 Hz
• Inputs: 1x RCA, 1x XLR
• Outputs: 1x RCA, 1x XLR
• Amplifier Power: 550 watts RMS
• Input Sensitivity: 1 volt for 120dB@1m
For more info please visit www.thielaudio.com