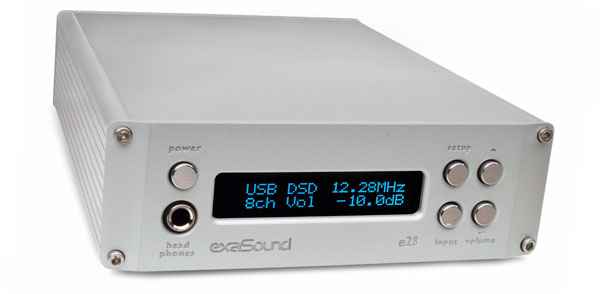 exaSound Audio Design has just announced the availability of its new e28 Digital to Analogue Converter (DAC). The e28 is the world's first high-end, eight-channel DAC capable of DSD playback at a 12.288MHz (DSD256) sampling rate. The e28 extends exaSound's line of high-end DAC's and offers music lovers a new level of performance unobtainable from any DAC currently offered in the marketplace.  exaSound's mission is to allow music lovers to enjoy any studio-master file the way it is recorded, in stereo or multichannel, in PCM or native DSD, without down-sampling or down-conversion.
The new performance features offered in the e28 will allow music lovers to experience an unmatched level of audio reproduction. While its predecessor, the e20, supported the reproduction of two-channel recordings, the e28 supports recordings of all formats and channel configurations without users having to change any device settings. In addition, the e28 supports the reproduction of up to eight-channels without compromising the e20's exceptionally high sampling rates.
With the eight-channel capability of the e28, listeners can recreate the three-dimensional richness captured in multichannel recordings: the ambience of the original recording venue, or the in-orchestra soundstage experience from the aural vantage point of the performing musicians. For those who like to listen through headphones, the headphone amplifier on the e28 offers more power with less distortion, thus allowing a wider range of headphones to be used with the device.
The e20 Mk III and the e28 are the first consumer DACs introduced in the marketplace which are capable of covering a range of formats, from PCM up to 384 KHz/32bit, and DSD up to 12.288 MHz.  Like its predecessor, the e20, the e28 has exceptionally low levels of jitter, distortion and noise, while creating an astonishingly clean analog-like sound. Detailed specifications and reviews of the e28 are available at www.exaSound.com.
exaSound will showing its line of products at the upcoming TAVES 2013 – for more info, please check out www.taveshow.com