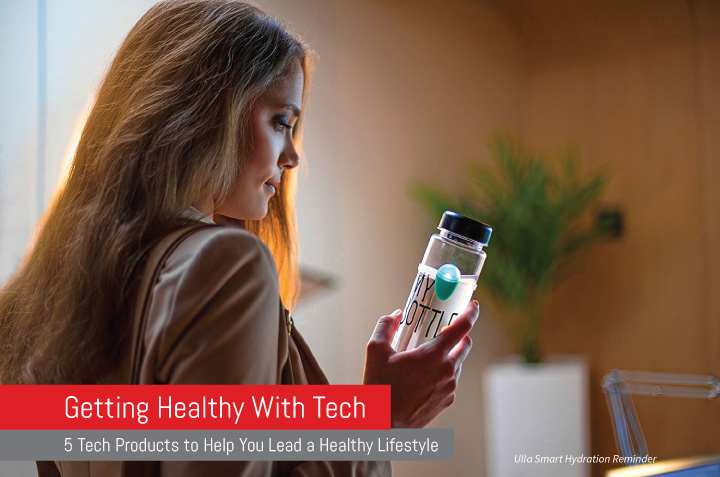 For the last month, I have been gorging on cookies and pretty much every sweet treat that came across my desk. Going home for the holidays also didn't do much for my waistline. From pints of eggnog to the revolving door of cheese platters and baked goods I've emerged from the holiday season with a little extra winter weight. Instead of launching myself into a panic-fuelled starvation diet I've decided to enlist a couple of gadgets to help guide me on a healthier path.
Nadi Smart Fitness Pants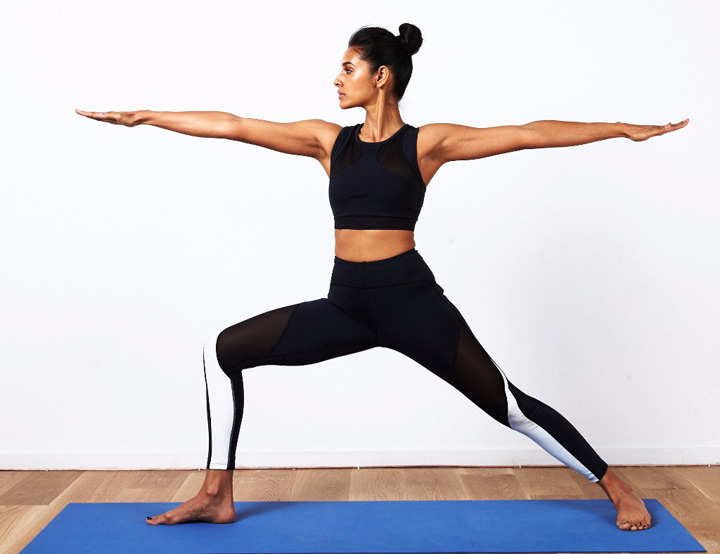 If you're looking to give your downward dog an upgrade, I would check out Wearable Experiments' Nadix X smart yoga pants ($179 USD). Developed by a company whose mission is to improve quality of life through design and technology, the pants have the ability to communicate and correct your form during practice. Yoga is made up of a series of poses which at times can be incredibly intimidating–particularly for beginner yogis! In each position you must consider hand placement, alignment, hip rotation, and at the same time trying to stay physically and mentally balanced. With the help of subtle electronic sensors embedded in the fabric, the pants track your body's movements and use haptic feedback to guide you into position. Forget staring at your smartphone screen or craning your neck to see if your leg is at the right angle, these vibrating yoga pants just became your best mat mate.
Smartphone Fitness Apps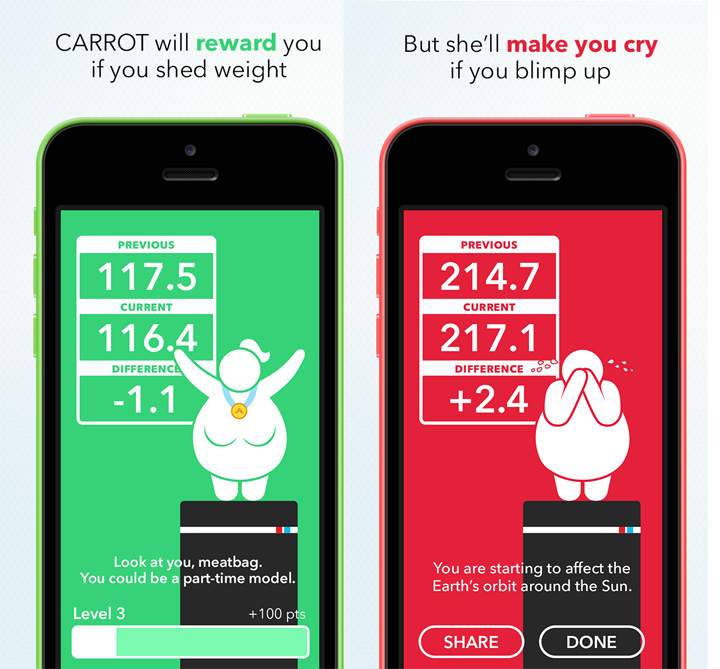 I've lost count how many times I've used the excuses that "I'm too busy" or "the membership is just too expensive." Well, there is really no excuse when it comes to working out when one of the best fitness resources fits in the palm of your hand. It's estimated that more than 3.4 billion smartphone users worldwide will have a health-related app on their phone by the end of 2018. There are thousands of apps out there, but what's right for you? When it comes to finding the right fitness companion, you can either narrow it down by the type of exercise or diet you are working on, but I look at the motivational aspect when deciding on my digital coach.
If you're looking to be taunted and mocked CARROT Fit ($3.99 USD) is the sadistic app that will whip your "lazy carcass" into shape, or else! This fitness overlord will bribe, inspire, threaten, and ridicule you as you sweat your way through a 7-minute science-based method workout.
If you want something with less teasing and more terror, Zombies, Run! is the app for you. It's survival of the fittest as you join the immersive story as a jogger who needs to make it to the last remaining outpost during a zombie outbreak. By running, jogging, or walking, you gather supplies, rescue survivors, and defend your home. The app syncs with your regular playlist, but when you start to hear the undead rising, that's your cue to pick up the pace.
For those who aren't inspired by the ravings of a vicious AI trainer or the prospect of being eaten alive, there's Charity Miles. In addition to improving your health, the app gives back to your charity of choice (40 organizations to choose from). Once you've picked your charity and your activity (indoor run, outdoor run, or outdoor bike), the app will pair you with a corporate sponsor that will be responsible for the donation—for my latest cycle session it was Brooks. If this isn't motivation to go the extra mile, I don't know what is!
Ulla Smart Hydration Reminder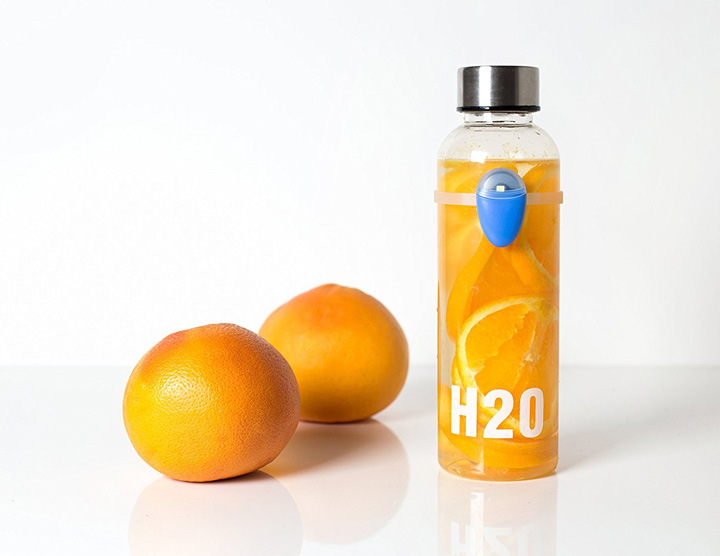 No matter how many times I've been told to drink more water, I always forget. It's not until I find myself with a headache and a parched throat do I remember to pick up a glass. With a menagerie of glass, plastic, and aluminum bottles, the thought of purchasing an additional smart water bottle had me shaking my head. Thankfully I came across Ulla ($19.60 USD). This handy little device attaches to an existing bottle or cup and reminds you to drink up. The intelligent hydration monitor uses a high-precision accelerometer to track your intake and glows when you've missed the ideal interval (twice every hour). What I love most about this gadget is that it's simple! Ulla uses an easily replaceable coin cell battery which lasts up to six months, so there is no need to add another charging cord to your collection. I can confidently say that since purchasing Ulla I have consumed more water, although my productivity may have suffered with the increase in bathroom breaks.
VirZOOM VZ Bike Controller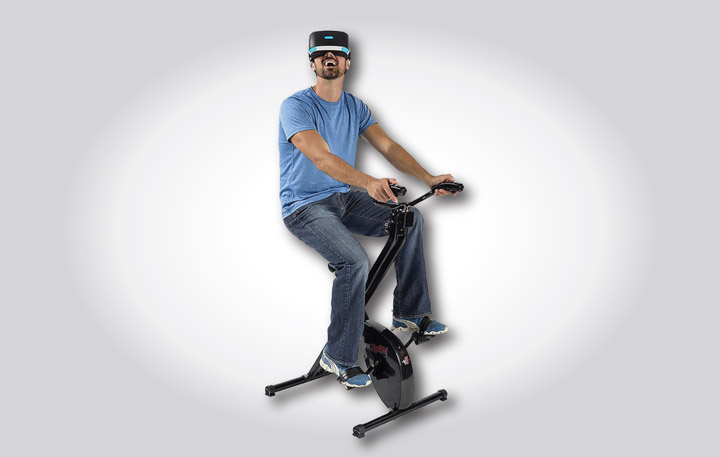 Usually breaking a sweat in virtual reality is a side effect, not a goal. I've played my fair share of Fruit Ninja—which can really steam up your headset—but when I was invited to try out VirZoom's VR connected bike ($399 USD) I was intrigued. I hopped on to what looked like a typical stationary bike with gamepads attached, strapped an Oculus Rift to my face and begun to peddle. I was transported to the Wild West where my bike was now a trusty steed, and I was attempting to lasso the local bandits with the controllers. It's not your typical workout but it had me sweating. If you're planning to give fitness in VR a go I recommend keeping a sweat rag nearby! The bike works with mobile, PC, and Playstation VR and the company will soon be offering a VZ Sensor that will hook onto any stationary bike and transform it into a VirZOOM cycle. I'm not sure If I'm ready to add this exercise to my weekly routine, but I would definitely throw it in for a little variety.
Philips Hue White Ambiance Starter Kit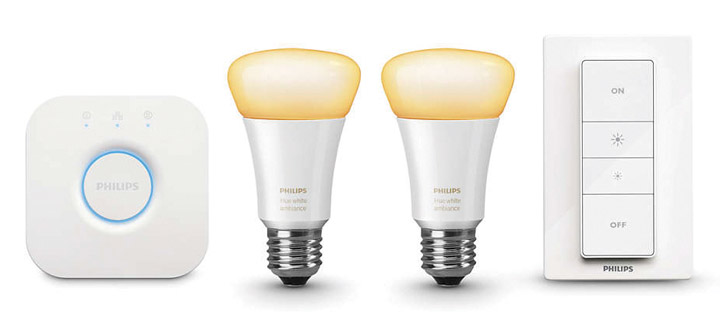 It turns out a good night's rest is vital to one's health and on my mission to improve my lifestyle I looked at what would help me catch some quality ZZZs. When it comes to light in the bedroom, your smartphone screen is not one you should be basking in. The blue light that's emitted from your phone can delay the release of sleep-inducing melatonin, increase alertness, and reset the body's internal clock. If you're looking to minimize the blue light in your life, I would suggest the Philips Hue White Ambiance Smart Bulbs ($49.97 USD). With a variety of color temperatures, the bulbs mimic natural light which can help you fall asleep. Using the Hue app, you can set "routines" and customize the light levels in the morning to wake you and dim in the evening at bedtime. The perfect lullaby of light to send you off to the Land of Nod after a long day at the office—and of course that quick jog after dinner.
Whether it's an app or a VR connected bike, its time to get off that couch! Take a jog around a neighbourhood full of zombies or strap on a pair of vibrating yoga pants and work up a sweat. Join me as I take on the new year with a healthy attitude and a collection of fitness tech! How will you get fit with tech?