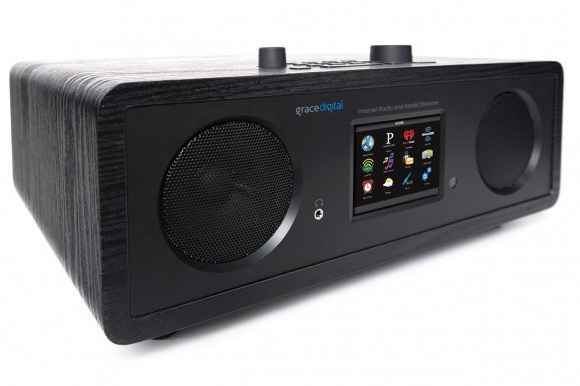 Grace Digital has just introduced their new Encore (GDI-IRC7500) Stereo Wi-Fi Music System.  The new table-top stereo system features a tweeter and woofer arrangement for higher-quality sound.  
Ease of use is a priority for many and the Grace Digital Encore caters to this by allowing users to simply connect to their Wi-Fi network and instantly access internet radio stations with one-touch presets.  Up to one hundred favorite stations can be saved directly to the Encore Wi-Fi music system for quick access.  Additional features include seven separate alarms with an adjustable sleep timer and large snooze bar.  Connections include a headphone jack, RCA line out, RCA aux-in, USB slot for charging smartphones or connecting a USB thumb drive with music files.  Grace Digital also offers an optional Grace USB to Ethernet (RJ45) connector.
Though the new Grace Digital Encore can be controlled via a smarphone, it also incorporates a convenient large color display with one-touch presets and full controls.
The Grace Digital Encore (GDI-IRC7500) Stereo Wi-Fi Music System is currently available at a MSRP of $249.99 U.S.  Look for more details at: http://www.gracedigital.com/.