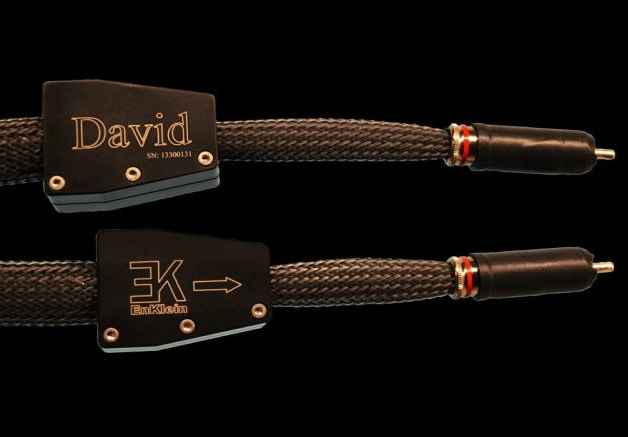 EnKlein has just introduced their most technologically advanced analog cable – their new solid silver "David".  The "David" analog interconnect is EnKlein's new hallmark cable design that they say brings the story of David and Goliath within a system.  It would be fair to say that the "David" in no way should be considered an affordable cable product, rather, this is a very expensive interconnect that is focused on providing the highest level of performance. 
EnKlein claims that within the new "David" is technology that has come from years of research and development in government and commercial signals/communication/power systems.  A few of the technologies incorporated are:
•Feed Forward Shield noise cancellation
•Electromagnetic Interference System Shield (EMISS)
•Dragon Skin Shielding technology
•Patent pending shield energy dissipation controller
Utilizing these key technologies, the "David" interconnect cable is said to reduce or eliminate electromagnetic interference across the frequency spectrum.
The new "David" interconnect has a MSRP of $14,000/$16,000 U.S. (RCA/XLR per meter).  It can be ordered in other lengths, as well.  Look for more information at: http://www.enklein.com/.