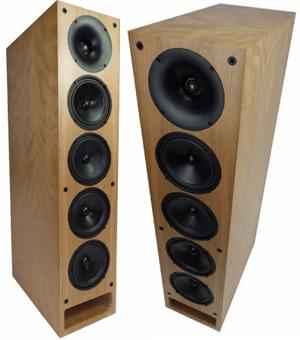 Heretic Audio has just recently announced their new Huron 3 high efficiency, wide bandwidth floor standing loudspeaker.  The new Huron 3 has been designed to produce lifelike scale and dynamics, with a natural tonal palette.
Using drive units with a large radiating area and waveguide technology, Heretic claims that low intermodulation distortion and even dispersion has been achieved that produces effortless sound with lifelike proportions.
The speakers have been designed with a high and smooth impedance curve, making them compatible with a broad range of amplifiers – including low powered SET amps. The high efficiency allows for a greater level of perceived speed and dynamic contrast.
The Huron 3 is hand assembled in the UK with locally sourced parts wherever possible.
Drivers: a single loaded soft dome tweeter with horn waveguide that aids dispersion, increases efficiency, lowers distortion and even helps with time alignment. Four 6 3/4" drive units cover the midrange and bass frequencies.  The bass/mid drivers feature doped paper cones – a very natural and tonally correct sounding material which has been combined with rubber suspension for long life even in humid climates.  All drive units feature over sized Ferrite motor systems, rather than the increasingly common neodymium magnets, these were chosen due to the warm tonality and texture they offer.
Crossover: a simple second order configuration with quality film capacitors and oversized air cored inductors are used throughout. Internal wiring is a high purity OFC copper with quality synthetic insulators. All joints inside the speaker are soldered (with a silver content solder, chosen after auditioning) and point to point wiring is used throughout. This leads to greater production costs but provides the best possible sound quality. The speakers are supplied with a single wired set of terminals that will accept bare wire, spades and 4mm banana plugs.
Cabinet: made from medium density fibreboard and is veneered with real wood both on the inside and outside. The enclosure uses multiple braces that tie the front, side and rear walls of the speakers together resulting in a very rigid box. Small amounts of additional damping material are strategically applied internally and the minimum amount of internal wadding as we feel this results in the the best transient response. The cabinet is reflex loaded at the front via a substantial slot port, which is proportion and shaped to keep the air speed low, which helps reduce audible turbulence to an absolute minimum.  A full length grille is included.
Dimensions: Width 24cm, Depth 46cm, Height 104cm (excluding spikes)
Weight : 25kg unboxed
Impedance: 9 Ohms nominal (minimum 7.5 Ohms)
Sensitivity: 95 dB / 1 watt/1 metre
Frequency range: 30Hz to 20khz
Power handling: 200 watts (unclipped)
Minimum recommended amplifier: 7 watts and upwards for most listeners/rooms will be ample
The Huron 3 is currently available at a MSRP of £2,500/pr. North American pricing an availability has not been announced. Look for more information at: www.hereticaudio.com.