When I use the term "headphone amplifier" in front of people I usually get a blank stare or a reaction like I've just spoken Martian. If you'd react in such a way, read on – hopefully this will be the cure you need. But even if you are familiar with what a headphone amplifier is, surely you will learn something new from reading this guide.
To start, it's important to realize that if you are a headphone or earphone user, with a portable music device such as an iPhone, or perhaps with a PC/laptop, you are already using a headphone amplifier. Every music device that you plug your headphones into incorporates an amplification circuit to power your headphones or earphones. Since such amplification is typically integrated within the source device itself, most users don't give these amplifiers a second thought. However for those seeking higher performance from their headphones, the upgrade path will invariably lead to the utilization of a dedicated headphone amplifier.
A dedicated headphone amplifier or "headphone amp" is essentially a low output power amplifier that has been designed specifically to optimize headphone performance. A headphone amp is typically connected to the output of a music component via an analogue or in some cases digital connection. The function of a headphone amp is to amplify the input signal originating from the music component – by increasing its power and then outputting it to connected headphones by way of an output jack – typically a headphone or XLR jack.
Headphones and earphones need very little power to operate in comparison to loudspeakers. Typically, power demands of headphones are measured in milliwatts (mW), which is a thousandth of a watt. Even low efficiency high-end headphones, which are substantially more power demanding than their high-efficiency counterparts, will require less than a single-watt to operate optimally. So the question arises, if power demands are so low then why is a separate headphone amplifier required? Well, this is often due to the fact that mobile music players, laptops and even many stereo receivers have integrated headphone amplifier circuits that are not much more than an afterthought and impacted by cost-cutting engineering. More often, poor sound quality is the greater compromise than a lack of output power. Mobile devices have more issues with output power since efficiency (low power consumption) is of a much higher priority so as to extend the device's operating time. Such integrated headphone amplifiers may perform tolerably with the free set of earphones that were included with the device but will be unable to drive mid to high performance headphones satisfactorily. Using the built-in amplifier with higher quality headphones will result in reduced dynamics, lack of transparency, higher noise, poor channel separation and a lack of volume. Even though the integrated headphone amplification circuit in an AV receiver may have greater power capability, its design will most likely not maximize sound quality from mid-to-hi performance headphones. To get the best audio performance from headphones, it will require the use of an amplifier designed and engineered specifically to optimize headphone performance – enter the headphone amp.
Headphone amps were at one time almost exclusively the domain of professional recording and mastering studios but with the growth in the headphone market and the number of mid to high performance headphone models, the consumer headphone amplifier has now become an established audio product category. There is a plethora of headphone amps available today, which utilize different designs and offer various features to satisfy the needs and desires of both quality conscious consumers seeking a higher level of performance and die-hard audiophiles.
Making a decision on a headphone amp is not a simple endeavour, given the number of products out there with varied features, performance specifications and prices. Four key aspects that need to be considered and decided on are: category & type, features, performance specifications and price. Let's consider each of these a little closer.
Category & Type
Headphone amps fall into three basic categories – portable, desktop and full-size.
Portable headphone amps are compact and generally designed for use with a mobile music device such as an iPhone or a laptop. These amps are usually small enough to fit in a pocket of a jacket or a small pouch and are powered by way of a battery or USB connection.
Desktop headphone amps are larger then portable headphone amps and are designed to be used primarily in stationary and limited space situations. These amps are designed for use with personal computers, laptops and music servers.
Full-size headphone amps are typically closer in size to a standard audio component. They generally offer the highest level of performance, a very solid build quality, are of much heavier weight, and are designed for use in permanent listening environments, like a dedicated 2-channel music system.
Within each of these three categories many types of amplifier designs are available. Just as is the case with loudspeaker amplifiers, headphone amps can fall into a number of amplifier classes (e.g. class A, A/B, D, etc.) and they can utilize transistors (solid state), tubes (valves) or be hybrid in nature, utilizing both transistors and tubes. There are also single-ended and fully balanced designs. Small chip-based amps can be utilized but other designs may be much larger and involve point-to-point wiring and heavy transformers. The type will vary depending on the primary design and engineering objectives for the headphone amp and there are pros and cons to each. In the end, it is not usually the type itself that is the deciding factor on performance but rather the overall design and execution (parts and assembly) of the headphone amplifier that matter most. So basing a decision on the amplifier design type alone, will not necessarily lead to be the best choice for your needs.
Features
The most basic of headphone amps will offer an analogue input (stereo RCA jacks or a 3.5 mm headphone jack), a volume/gain control as well as an analogue output in the form of a 3.5 mm headphone jack. Such a configuration will let you hook up your source device (mobile music player, phone, CD player, computer or laptop) to the headphone amp using an RCA interconnect cable or a mini-stereo (3.5mm) cable. The headphones themselves plug directly into the headphone amp, rather than into the source device.
A feature that is becoming more common in headphone amps is an integrated DAC. A headphone amp with an integrated DAC allows for a digital connection between the source component and the headphone amplifier. The digital connection could be USB or S/PDIF (Coaxial or Toslink/optical). This type of connection is desirable when connecting a computer/laptop or music server as the source but also perhaps to allow for a CD transport to be directly connected to the headphone amp. Some may argue that a DAC, though convenient, may add noise to the headphone amp due to the extra digital circuitry required; hence, degrading performance. In some cases, this may be true but a well designed product should be able to isolate and eliminate these negative effects.
Another feature on some headphone amplifiers is a pre-amplifier or loudspeaker amplifier capability. Such functionality adds greater flexibility but also raises cost, while not resulting in any increase in the performance of the headphone amp section itself. So it's important to prioritize the features you desire.
Another feature that is starting to appear on headphone amplifiers is digital signal processing (DSP) such as the Dolby Headphone format, which allow for a pseudo-surround-sound experience using standard headphones. Finally, there are also headphone amplifiers that are specifically designed to power electrostatic headphones.
Performance Specifications
When choosing a headphone amplifier, it is important to consider its specifications, at the very minimum to ensure that it is compatible with the headphones/earphones that you plan to use with it. The following specifications should be considered:
Distortion– usually refers to Total Harmonic Distortion (THD) and/or Intermodulation Distortion (IMD). Look for ratings of 1% or less at rated output power. Lower is better.
Signal-to-Noise Ratio – a measurement of the inherent noise of the headphone amplifier versus the source music signal, measured in dB. A larger ratio means there is less noise in relation to the signal, which is better. Signal-to-noise ratio is important since headphones sit so close to the ears, where noise is easily detectible.
Output Impedance – most often refers to the impendence range of the headphones that the headphone amp has been designed for use with – higher is generally better. Hence, it would be best to compare your headphone specifications to this rating to ensure compatibility. Be careful though, in some cases, output impendence may refer to the amplifier's actual output impendence, where a lower figure is better (less than 1 ohm is preferable for solid-state designs).
Power output– as mentioned earlier, power ratings of headphones are commonly given in milliwatts (mW). Typical earphones will require less than 20mW. Most headphones require less than 200mW to reach their maximum output; however, depending on impendence and sensitivity ratings power requirements can be higher. A headphone amp that provides more than 500 milliwatts per channel will be able to drive most headphones but always consider the specific ratings of your headphones.
Damping factor– a measure of the stability of the amplifier in handling the load – in this case the headphones. A larger damping factor is better.
Specifications don't usually lie but they are not the final word on actual performance. For that your best method is to evaluate by auditioning. A best case scenario would be to get an in-home trial and use your headphones and your source device, alternatively seek an audition at the dealer's location, using your headphones whenever possible.
Price
Finally we come to price, which in most cases is the ultimate limiting factor. Your headphone amp selections will be limited (quality/features) by what you can afford. It's best to do some research before locking your budget, as the choices may have an impact on your system's total cost. For example, a headphone amp with an integrated DAC and preamp may reduce the number of total components you were planning to buy, leaving more to spend on a headphone amp.
In conclusion…
Hopefully, you now have a better understanding of headphone amps and what they can offer to the listening experience – they really are more than meets the ear. The following is a quick look at some of the headphone amps available today, sorted by category. Remember that just like choosing any other audio video component, buying a headphone amp should be a fun, exploratory experience.
We invite you to check out our Headphone Amplifier Reviews.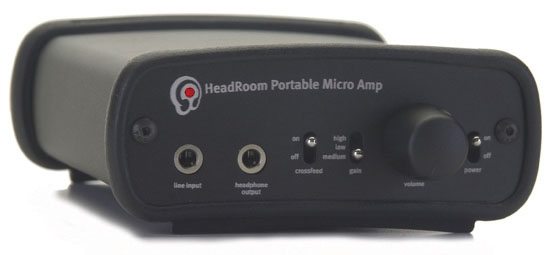 Suggested Portable Headphone Amps 
• CMoy ($20-$50) – a do-it-yourself pocket amp designed by Chu Moy. For project details check out http://gilmore2.chem.northwestern.edu/projects/showfile.php?file=cmoy2_prj.htm
• FiiO E6 ($28) – 16 to 300 ohm headphone impedance, built-in rechargeable lithium battery (via mini USB), 3.5 mm headphone output, www.fiio.com.cn
• NuForce Icon Mobile ($79 US) – portable headphone amp/USB DAC, 16 to 300 ohm headphone impedance, built-in rechargeable lithium ion battery, dual 3.5 mm headphone outputs, 3.5 mm and USB audio inputs, www.nuforce.com
• HeadRoom Total AirHead ($99 US) – low/high gain switch optimizes amplifier for headphones of different impedance ratings, runs on 4 AAA batteries, optional AC power supply available (sold separately), 3.5 mm audio input, dual 3.5 mm headphone outputs, clipping indicator, Crossfeed function allows for listening to mono or binaural recordings, www.headphone.com
• ADL Cruise (by Furutech, $494) – portable headphone amp/USB DAC, 12 to 600 ohm headphone impedance, 24-bit/96 Hz USB and 3.5 mm line inputs, 3.5 mm headphone output, internal rechargeable lithium ion battery, carbon fiber body, mirror-polished stainless-steel sides, www.furutech.com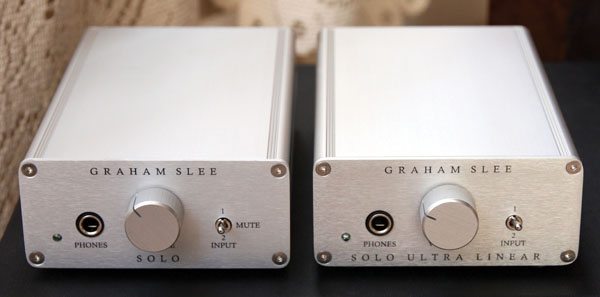 Suggested Desktop Headphone Amps
• HeadRoom Micro Amp ($349) – class A amplification, dual analog inputs, rear panel volume-controlled output for powered desktop or computer speakers, 3.5 mm headphone output, 3-position gain control to match headphone impedance, Crossfeed function allows for listening to mono or binaural recordings, external power supply, www.headphone.com
• ADL GT40 (by Furutech, $499) – 16 to 300 ohm headphone impedance, high performance 96KHz/24-bit DAC and ADC chips, external power supply for better performance, includes a phono preamplifier which allows for LPs (from MM and MC turntables) to be recorded to digital, USB and RCA line inputs, 6.35 mm headphone output, www.furutech.com
• Grado RA1 ($495-$550 approx. US) – machined from a solid block of mahogany, available in AC power and battery power versions (2 x 9 V), available in both low-gain and high-gain (for headphones with impedances of 100 ohms and more) versions, RCA input, 3.5 mm headphone output, www.gradolabs.com
• Beyerdynamic A1 ($899) – up to 600 ohm headphone impedance, its entire circuit is capable of frequencies of up to 96 kHz, which enables the transfer of uncompressed audio from SACD or DVD Audio, dual RCA inputs, single RCA out (which passes the signal to a loudspeaker amplifier when not using headphones), 6.35 mm headphone output, www.beyerdynamic.com
• Grace Design m903 ($1,895 US approx.) – XLR and RCA analog inputs, 24bit/192kHz digital stereo inputs (AES3, S/PDIF, TOSLINK and USB), built-in DAC/preamp, comes with a remote, RCA and dual 6.35 mm headphone outputs, www.gracedesign.com
• Benchmark DAC1 HDR ($1,895 US) – stereo pre-amplifier with remote control / DAC / headphone amp / USB, www.benchmarkmedia.com
Suggested Full-size Headphone Amps
• Red Wine Audio Corvina Headphone Amp ($1,000) – tube stage, runs on pure LFP battery power, two switchable RCA inputs, 6.35 mm headphone output (optional XLR output stage available), www.redwineaudio.com
• Red Wine Audio Isabellina HPA ($2,500)– tube stage, built-in DAC, runs on pure LFP battery power, one 3.5 mm input, 3 digital inputs (USB, coaxial and optical), RCA output, optional Isabellina Pro adds high-resolution playback (24/192k), 6.35 mm headphone output (optional XLR output stage available), includes remote control, www.redwineaudio.com
• Bryston BHA-1 ($1,295) – balanced dual mono circuitry, allows each headphone driver (right and left) to be amplified by a separate amp configured in balanced or series mode, balanced left/right and stereo outputs, 6.35 mm headphone output, inputs include 3.5 mm stereo / RCA / XLR, balance and gain controls, www.bryston.com
• Woo Audio WA22 ($1,900)– 8 to 300 ohm headphone impedance, all tube design, true balanced topology, balanced XLR and RCA inputs, dual 3-pin balanced headphone output (left and right), 4-pin balanced headphone output, single-ended headphone output, www.wooaudio.com
• Red Wine Audio Isabellina HPA ($2,500)– tube stage, built-in DAC, runs on pure LFP battery power, one 3.5 mm input, 3 digital inputs (USB, coaxial and optical), RCA output, optional Isabellina Pro adds high-resolution playback (24/192k), 6.35 mm headphone output (optional XLR output stage available), includes remote control, www.redwineaudio.com
• Bryston BHA-1 ($1,295) – balanced dual mono circuitry, allows each headphone driver (right and left) to be amplified by a separate amp configured in balanced or series mode, balanced left/right and stereo outputs, 6.35 mm headphone output, inputs include 3.5 mm stereo / RCA / XLR, balance and gain controls, www.bryston.com
• Woo Audio WA22 ($1,900)– 8 to 300 ohm headphone impedance, all tube design, true balanced topology, balanced XLR and RCA inputs, dual 3-pin balanced headphone output (left and right), 4-pin balanced headphone output, single-ended headphone output, www.wooaudio.com