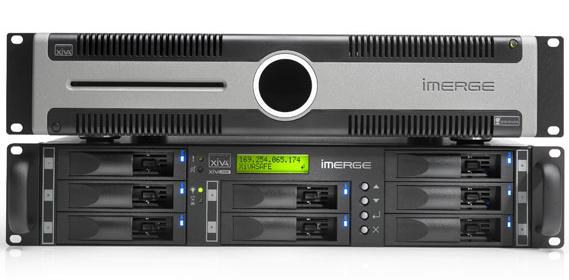 Imerge, a Prism Sound company, has just announced their new MS1-3D media server with their XiVASafe redundant disk storage array. The MS1-3D, will be launched at the end of September and displayed at the Essential Install Live show, in Manchester, UK.
The MS1-3D builds on their MS1-HD server and is much more than just a 3D upgrade. The unit is a complete media server combining the high quality playback of music and movies with an extensive range of additional benefits.
With the MS1-3D, users can store and play 3D DVD and Blu-ray movies in full 1080p High Definition quality without the need for a mechanical disc auto-changer. The unit incorporates all of the existing features of the MS1-HD, including a multiple language user interface for international customers and an iPhone controller app that allows full control of the MS1-HD or MS1-3D using a wireless network. A unique feature of the MS1-3D is that it integrates four zones of analogue audio, thus combining both a 3D server and a multi-room audio server in just one box.
The new MS1-3D is fully compatible with the companion XiVaSafe high-reliability redundant disk storage array, which ensures that customers don't lose media in the unlikely event of a disk failure. The network storage can also be used to store user documents and features RAID-6 technology meaning that up to two disk drives can fail without losing content compared to just the one in competing products – an important consideration when systems are remotely located. Imerge-branded server products are complemented by the XIVA on-line music store and a range of hardware and software accessories.
For a limited time, Imerge is offering existing customers of its MS1-HD and S3000 audio server the opportunity to upgrade to the new MS1-3D at a discounted price. For more details on this product and the limited time offer, look to: www.imerge.co.uk/imerge_home.php