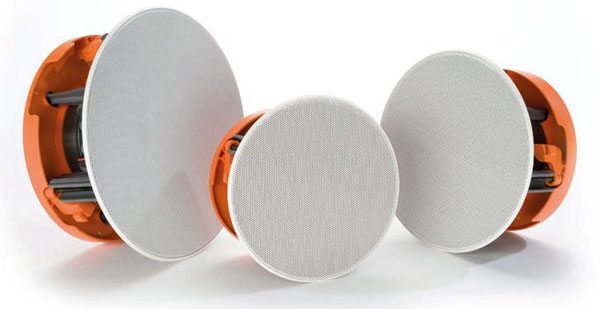 If you're looking to completely hide the speakers in your room, Monitor Audio would like you to consider its new CWT series.  The technologies used in this new series are developed from Monitor Audio's high-end audiophile speakers, which have been refined and honed over the last 40 years. CWT speakers have been developed to provide synergy with Monitor Audio's other custom install and home speakers.
The CWT series offers versatile installation options for both in-ceiling and in-wall applications. This high performance range of loudspeakers has been created to provide flexible installation in stealthy 'trimless' round or square grille styles. Featuring proven technologies and unique design features, CWT models combine high efficiency and wide frequency range to facilitate a flexible system design across a wide range of demanding residential and commercial installations. All CWT bass drivers feature MMPII cone technology coupled with Monitor Audio's trade mark C-CAM gold dome tweeter. High frequency performance has been enhanced further by recent improvements to the C-CAM tweeter, taking the frequency band way past the limits of human hearing. The pivoting tweeter can be directed towards the listening space to provide ideal imaging and reduce unwanted reflections when installed close to corners or wall boundaries. A simple crossover design was implemented using high grade audiophile components to preserve the signal and provide a smooth yet detailed character. 
All models have been designed to be less than 4″ deep, which means both round and square grille styles can fit into a standard stud wall, or where mounting depth is restricted. By integrating the bass driver basket and frame, Monitor Audio engineers have managed to reduce the overall size by around 25% compared to its counterparts, whilst maintaining the same driver size and performance. Grilles are held in place magnetically by high power Neodymium magnets which provide simple installation and servicing. Since the sub structures for the units are identical, it's possible to change the grille styles from round to square (or vice-versa), should you so desire by simply removing the magnetic grille and replacing with a new one.
Features and Specifications
Three driver sizes – 4″, 6″ and 8″
Versatile – Round or Square grille options to suit wall or ceiling installations
Slim – All models less than 4″ deep to ensure fitting in restricted spaces are assured.
Smaller – Overall size is typically 25% smaller than similar products
Tri-Grip – All models feature the unique Tri-Grip fixing design. This 3 -position 'dog' style fixing provides greater contact surface area than other types of fixings whilst saving important installer fitting time. The Tri-Grip dog fixings are made from a tough re-enforced polymer providing a secure fixing without the risk of over-tightening
MMP II (Metal Matrix Polymer) – driver cone technology
C-CAM (Ceramic-Coated Aluminum Magnesium) – gold dome tweeter with pivoting of up to 15 degrees in all directions.
Trimless – frame and low profile grille for installations where discreet aesthetic appearance is critical.  
Magnetic grille fixing – All grilles are held in place with ultra-powerful Neodymium magnets for easy installation and servicing.
Paintable grille to allow perfect integration into the décor. A paint mask and additional scrim material is provided to facilitate a trouble free painting process.
All models use fire retardant materials specified to U.L rating.  
All models are splash and humidity proof for installation in shower rooms or pool areas.
All models feature dust protection covers that are designed to prevent the ingress of loose building materials or dust into the driver and crossover network
Dedicated pre-construction (rough-in kits) brackets
Model:  CWT140S / CWT140R
MSRP: $159 each
Model:  CWT160S / CWT160R
MSRP: $219 each
Model:  CWT180S / CWT180R
MSRP: $279 each
For more info, please visit www.monitoraudio.ca.