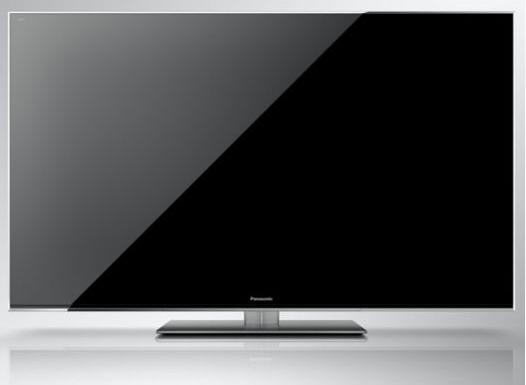 At the 2012 CES this past January, Panasonic unveiled a total of 17 new plasma models. Though an official announcement on availability and pricing is yet to be made, at least one North American retailer has begun to advertise dates for availability and retail pricing on a number of these new plasma models.
The new 2012 VIERA plasma's from Panasonic promise a number of enhancements and features. All of Panasonic's 2012 VIERA plasmas feature self illuminating panels with ultimate black levels, with NeoPlasma technologies in the VT, GT, and ST Series. A new black filter with a higher efficiency panel is expected to produce improved balance of black and white in bright conditions. Other features include the new Louver filter and the the NeoPlasma Black 2500 panel on the VT, GT, ST, and UT Series.
All four of the models in the UT50 Series have support for 3D content, as well as a 2D-to-3D conversion, VIERA Connect service, Social Networking, two HDMI connections and two USB ports. The advertised availability and retail prices are as follows for the UT50 Series:
February 2012:
42-inch TC-P42UT50 $799 U.S.
50-inch TC-P50UT50 $1,099 U.S.
March 2012:
55-inch TC-P55UT50 $1,399 U.S.
April 2012:
60-inch TC-P60UT50 $1,799 U.S.
The new ST50 Series is made up of four models including the following features over those in the UT50 Series: Infinite Black Pro Panel, built-in Wi-Fi, three HDMI connections and two USB ports. Prices and availability are as follows:
February 2012:
TC-P50ST50 $1,399 U.S.
TC-P55ST50 $1,699 U.S.
April 2012:
TC-P60ST30 $2,099 U.S.
TC-P65ST50 $2,999 U.S.
Four GT50 models have some added features such as: THX certification, four HDMI ports and three USB ports. Pricing on the GT50 Series and availability is as follows:
March 2012:
TC-P50GT50 $1,799 U.S.
TC-P55GT50 $2,099 U.S.
April 2012:
TC-P60GT50 $2,599 U.S.
TC-P65GT50 $3,499 U.S.
And the new top-of-the-line VT50, with added features of HD 3D, the Infinite Black Ultra Panel, Deep Black hues, 24,576 steps of gradation technology, THX-certification, and ISFccc Calibration Mode with Advanced Calibration have advertised prices and availability as follows:
May 2012:
TC-P55VT50 $2,499 U.S.
TC-P65VT50 $3,999 U.S.
Look for official details to come at: www.panasonic.ca.