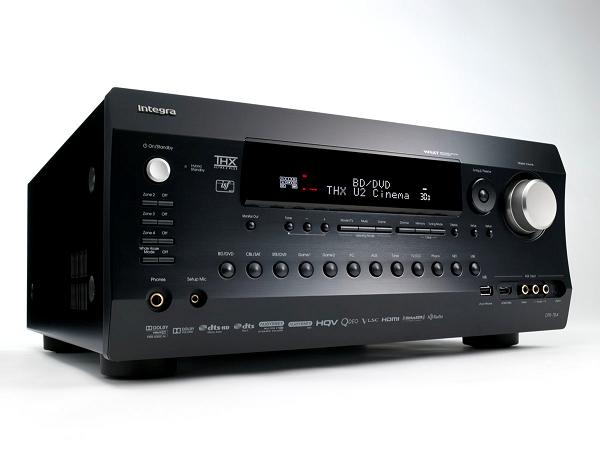 Integra will be rolling out the last of its 2012 audio video receiver lineup at CEDIA Expo 2012.  Included in this launch is their new DTR-70.4 THX Ultra2 Plus 9.2-channel network audio-video receiver with the 11.1-channel DTS Neo:X. Other new features include Integra's picture-in-picture feature called InstaPrevue for HDMI sources and Mobile High-definition Link (MHL) to deliver video from Android devices and Roku's new Streaming Stick.  The new DTR-70.4 AVR also includes Zone 2 HDMI, powered Zones 2, 3 and 4, and Audyssey MultEQ XT32.
The new Integra DTR-70.4 has THX Ultra2 Plus Certification and it is one of the world's first AV receivers to implement the full 11.1-channel capabilities of DTS Neo:X. With DTS Neo:X processing, it provides every available surround option up to 11.1 channels, including height plus wide configurations. Channels 10 and 11 use the preamp outputs connected to an external two-channel power amplifier. Audyssey's top-of-the-line MultEQ XT32 is included to provide automated room set-up equalization to achieve the ideal level and time delay for each speaker, with multi-channel upmixing from DTS Neo:X, Audyssey DSX, and Dolby Pro Logic IIz.
With its nine HDMI ports, front-panel HDMI/MHL port, dual USB connections, Ethernet, optional WiFi and Bluetooth adaptors, and free remote control and streaming Apps for iPhone, Android, and Kindle, the Integra DTR-70.4 can interface with just about any new technology one can imagine. Music stored on iPod/iPhone, Android, and many other devices can be streamed directly to the DTR-70.4. The 70.4 also supports streaming of high-resolution audio up to 192/24 via the network and USB. The front-panel MHL-enabled HDMI port can stream video from Android devices and Roku's new Streaming Stick, with other devices on the technology horizon. With Ethernet for access to preloaded audio streaming channels such as Spotify, and connectivity for smart phones, tablets, and PC via DLNA or Bluetooth.
Connectivity has also been enhanced by adding Zone2 HDMI that removes the need for a secondary analog connection in order to access audio in a second zone. Powered audio is available in four zones simultaneously—with multi-zone playback and setting controls managed by remote app. Like All Integra products, this one is well engineered with many other features to meet the sophisticated needs of custom installers and systems integrators.
Integra will be also be launching an iPod/iPhone/iPad dock station, the Integra DMI-40.4 Dock, that adds AirPlay and network capabilities, plus compatibility with Crestron eControl and AMX Duet. The Integra DMI-40.4 Dock is compatitble with almost every Integra receiver made, including older models lacking USB or Ethernet connections. The DMI-40.4 uses a RI (Remote Interactive) cable to provide a control interface between the dock and a receiver. Output from the dock is via analog and optical digital connections, with even composite video output for displaying photos and video. The system allows the user to activate the receiver from its normal standby mode simply by selecting content on their iOS device and tapping the AirPlay icon.
Another product debut from Integra will be the ADM-20.4, a 75-Watt two-channel power amplifier that is is ideal for remote Zone applications or those extra channels for DTS Neo:X.
The Integra DTR-70.4 Network AV receiver is now shipping to Integra dealers with a suggested retail price of $2,800 U.S. The suggested retail price for the DMI-40.4 dock is $250 U.S. and the ADM-20.4 power amplifier is $350. U.S.   For more information about Integra and its many fine products, visit www.integrahometheater.com.