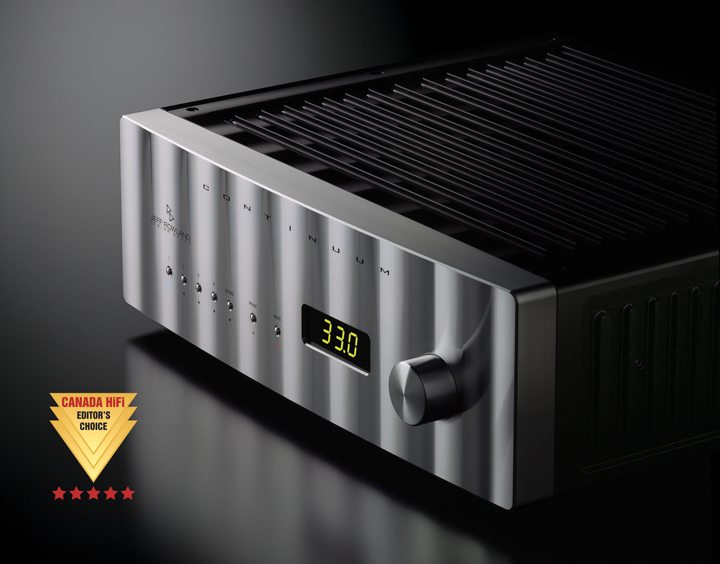 There are few brands in the audio business quite as iconic as Jeff Rowland Design Group. The company, led by president and resident designer Jeff Rowland, has a rich 31 year history and a reputation for remarkable engineering artistry. Jeff Rowland is a true industry pioneer whose designs are renowned for delivering exceptional sonic performance and setting trends for technical innovations in the high-end audio industry. His components are impeccably constructed and offer an elegant, instantly recognizable esthetic. The company's current range of audio products consists of preamplifiers, amplifiers, integrated amplifiers and a DAC, all built in Colorado Springs, CO, USA.
Unlike some of the players in the high-end audio business, Jeff Rowland does not focus on constantly rolling out new products, or offering affordable designs. Instead, he puts meticulous care into the design of every new product, paying attention to the finest details often overlooked by other designers – such as the geometry of wire, the surfaces of connections, and the aural properties of different solder formulations. Hence the company doesn't offer a huge range of products, favouring a quality-over-quantity approach. In an article by Mark Fleichmann on the company's website, Jeff Rowland is quoted saying "I design basically for myself. I'm not concerned if something's going to be accepted by the market or not. I know that if it thrills me inside, then it will thrill someone else." As time has proven, audio enthusiasts around the globe tend to agree with Jeff Rowland's design philosophy.
In my early 20s, when I first began reading audio magazines, I remember thinking that Jeff Rowland was one the dream brands – like a fine Italian sport car – wondering whether its products would ever come within my reach. Since, over the years, I have listened to numerous Jeff Rowland components at audio shows and local retailers, walking away with some of the most enduring music listening memories. Can you imagine my excitement when the opportunity came to place a Jeff Rowland component in my own listening room?
It's really not a stretch to say that I was beside myself when the Continuum S2 integrated amplifier arrived at my door the day before Christmas. Despite that I was preparing to host a family function that evening, I ripped into the box and immediately set it up. Moments later, the air was filled with the Dire Straits, The Black Keys and Led Zeppelin. But I might be getting ahead of myself here.
The Jeff Rowland Continuum S2 integrated amplifier is a very elegant single box solution that combines a preamplifier, amplifier and a choice between a built-in DAC or phono stage. To complete a music system, all you need to provide is a good pair of speakers and a music source. It is designed to deliver an uncompromised level of performance while avoiding the challenges of assembling a system that would otherwise be comprised of several separate boxes. The Continuum S2 is a little smaller than a typical audio component, measuring 5.3″ x 15.5″ x 15.0″ (H x W x D), and tips the scale at 35 lbs.
The Continuum S2 is extraordinarily well designed, offering advanced topologies that promise an excelling sonic experience. Its preamplification circuit is based on the company's top-of-the-line Capri S2 preamplifier, along with the same inputs/outputs, and control features. It also houses an innovative and immensely powerful power amplification stage, capable of delivering 400 watts of power per channel into 8 ohms, and doubling this to 800 watts per channel into 4 ohms. This allows the Continuum S2 to drive virtually any speaker in the market, no matter how complex the load may be. To achieve such impressive power numbers in a relatively small chassis, the Continuum S2 is based on class D amplifier technology and if you're a non-believer of what a well implemented class D design is capable of, this is one review you won't want to put down. Jeff Rowland has been implementing class D technology since 2002 and the Continuum S2 is far from being the first component to use this technology – a number of flagship Jeff Rowland amps also operate in class D. Other technical highlights of this integrated amplifier include regulated, high speed, nearly completely silent switch mode power supplies (SMPS); low noise, thin film resistors for extremely low thermal noise; and a four-layer circuit board to allow for continuous, unbroken, low impedance ground and power supply distribution planes. The Continuum S2 presents flexible connectivity options thanks to its dual line-level outputs (balanced and unbalanced), balanced and unbalanced inputs, and preamp bypass inputs. Input transformer circuitry for each selected input provides an excellent common-mode rejection ratio of greater than 85 dB from 20 to 20 kHz. The balanced output stages are equipped with a proprietary and advanced control loop circuitry within the output stage power supply and further enhance the amplifier's transient speed, sonic authority, macro/micro dynamics and presence. The Continuum S2 design also offers transformer coupled input circuitry which makes it universally compatible with all sources, and virtually eliminates ground loop noise and RFI/EMI. The Continuum S2 retails for $12,250 and can be ordered with an optional DAC ($750 extra) or phono stage ($600 extra) built-in.
Visually, the Continuum S2 is simply a stunner. The elegant, minimalist front panel is adorned with just a few buttons, a small display and a volume dial. The face of the amplifier appears to have a series of waves milled into it until you run your finger across it to realize that it is actually a single continuous curve. The ultra-low resonance, and very rigid chassis is precision machined from solid blocks of aircraft-grade aluminum – and completely sealed to offer long-term trouble free operation, as well as excellent RFI and EMI isolation. The top and sides of the casework are finished in black and feature "ribs" of varying sizes which help to dissipate heat.
I began my listening sessions with the Continuum S2 powering my reference Focal Electra 1008 Be II speakers but also tried it with my Monitor Audio Gold GX 200 and Totem Rainmaker speakers. My source was the Bryston BDP-1 digital player connected to the Bryston BDA-1 DAC and into the Jeff Rowland.
I wired up all of the components with the Nordost Norse 2 Tyr 2 cables, which I recently took delivery of for an evaluation in an upcoming feature article (look out for this experience in an upcoming issue). The Cardas speaker connectors on the back of the Continuum S2 have a high quality feel and provide a secure connection for speaker cables. However they are somewhat limiting since they accept only spade connectors. They are also a little tricky to connect because each post requires you to insert both the positive and negative terminals at the same time and then you have to twist a single knob to tighten both connections.