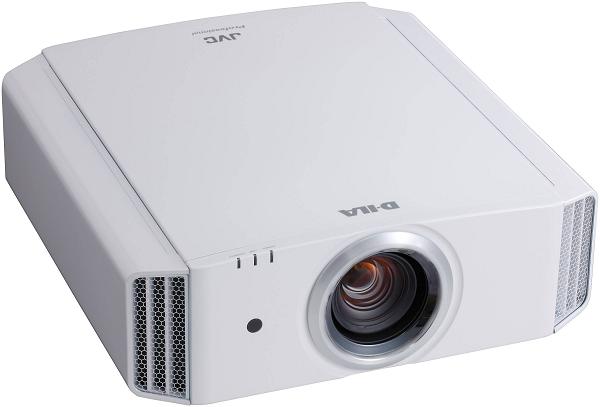 JVC has just announced their new DLA-F110E projector, which utilizes D-ILA technology to generate 3D video. The DLA-F110E has been specifically designed for custom installations and delivers 1080p Full HD imagery.
With three, 0.7-inch 1920×1080 D-ILA imagers, the DLA-F110E is claimed to provide naturally rich, flicker-free images with true blacks and greater luminance detail. JVC's wire-grid optical engine provides a 30,000:1 native contrast ratio, and its double-speed 120Hz Clear Motion Drive technology reduces motion blur. The projector provides 1,700 ANSI lumens.
The DLA-F110E is compatible with JVC's PK-AG1 Active Shutter 3D Glasses and PK-EM1 3D Signal Emitter (sold separately). The projector includes a HDMI 1.4a port to support side-by-side (broadcast), frame series (Blu-ray), and above-below 3D transmissions. The unit also features a VGA input, RS-232C terminal for IP-based control, and motorized zoom and focus. The projector has greater vertical installation versatility that allows installation at any angle, making it suitable for smaller rooms.
Included Features:
3D enabled (glasses and IR emitter optional)
1920 x 1080 Native Resolution
3 Active Matrix, 0.7″ Digital D-ILA Devices
30,000:1 Native Contrast Ratio for deep blacks and critical viewing
1,700 Lumen Brightness for higher ambient light environments
Digital Smear Reduction via Black-frame Insertion
Short Frame Delay
1080p60/50 Synchronous Operation
SRGB for a wider color space
850 ANSI Lumens (minimum)
10-Bit Gamma Correction
7- Axis Color Management System
3000 hour, 220W Ultra High Pressure Lamp for Low Operating Cost
High Contrast IR output for stimulated NVG applications
User Adjustable Gamma Tracking
Powered lens shift and 2X zoom lens
Wide-Range Zoom, 1.4 – 2.8:1 Throw Ratio
±80% V Offset, ±34% H Offset
Can be installed at any angle (for rear screen or mirror installations)
Keystone function
Comprehensive LAN/RS232/IR Control Protocol
Configuration Save/Restore Capability
White cabinet color blends well with professional decor
The JVC DLA-F110E projector will be available through limited distribution beginning in late September 2011 at a MSRP of: $7,495 U.S.
Look for more details at: www.jvc.ca.