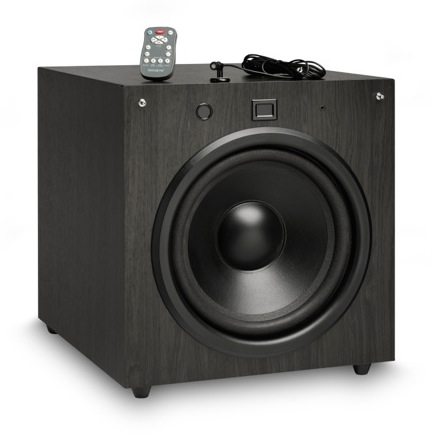 Velodyne has just introduced their new EQ-MAX Subwoofer Series. The EQ-MAX Series features remote control operation and built-in processing for maximizing bass performance at the touch of a button. The EQ-MAX Series includes subwoofers in 8″, 10″, 12″ and 15″ sizes to meet budget and room size needs.
Velodyne's EQ-MAX subwoofers through their integrated digitally controlled five-band equalizer allow for user-friendly tailoring to room acoustics. The process involves placing the subwoofer in the preferred location, placing the included microphone in the primary listening position and then pushing the "EQ" button on the remote control. Velodyne's Digital Signal Processing (DSP), automatically calibrates the subwoofer to deliver optimum bass performance based on the proprietary algorithms.
In addition to the "EQ" function, the EQ-MAX remote control lets users control all of the subwoofer's functions with visible feedback on the front panel. The remote allows users to switch access a number of other features i.e. "Night Mode" to limit output; diplay illumination; phase adjustment and mute.
The EQ-MAX Series subwoofers utilize power efficient digital "Class D" amplifiers, with switching-mode power supplies. The Class D amplifiers are complemented by four custom designed "Extended Excursion" drivers developed by Velodyne. The drivers are engineered with vented pole-pieces that increase power handling and assure long-term reliability and performance. The subwoofer's large, dual layer copper wound voice coils are specifically matched with massive magnets (4.66lbs – 10.14lbs) to provide dynamic bass.
Velodyne's Distortion Limiting System is utilized to achieve maximum output from both the amplifier and woofer motor construction without the risk of overdriving.
The subwoofer series includes an adjustable 40Hz-135Hz low pass crossover that allows the sub to match any home entertainment system speakers. Velodyne's "Subwoofer Direct" feature allows the EQ-MAX series to play the output of the LFE channel of a 5.1 or 7.1 channel receiver unaltered.
EQ-MAX's cabinets are engineered using a down-firing ported design to minimize "port noise," and maximize performance.
MSRP for the models in U.S. dollars, are as follows:
EQ-MAX8 – $499; EQ-MAX10 – $599; EQ-MAX12 $699; EQ-MAX15 – $999
For more information on the Velodyne EQ-MAX subwoofers, visit: www.velodyne.com.