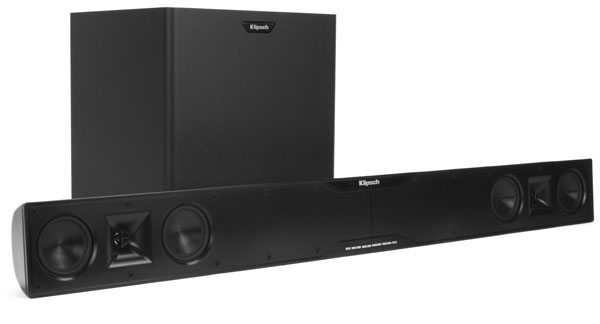 Klipsch has just announced the new HD Theater SB 3 soundbar and wireless subwoofer package. The HD Theater SB 3, the company's first soundbar product, promises to deliver more detailed sound and maximized output to cover even the largest listening areas.   Thanks to the HD Theater SB 3, fans can now enjoy the benefits associated with horn-loaded technology. As Klipsch enters the soundbar market, the company does so by applying its true principals of high efficiency, low distortion, controlled directivity, wide dynamic range and flat frequency response.
Serving as a two-way soundbar with premium drivers, the HD Theater SB 3 utilizes lightweight aluminum tweeter diaphragms for distinctive high-frequency detail, as well as new long-throw woofers for extended bass response. In addition, the tweeters are coupled to Klipsch-exclusive Tractrix Horns to both reduce distortion and increase dispersion more directly to the main listening area. Included with the soundbar is a 10-inch wireless subwoofer that is housed in a MDF cabinet, offering distortion-free bass. The subwoofer pairs automatically with the soundbar given its sophisticated wireless technology.
The HD Theater SB 3 is designed to quickly connect to any television using either a digital toslink optical connection (preferred) or an analog hookup. Using the digital connection, the built-in Dolby Digital decoder accepts sound from the television and any Blu-ray player, cable receiver or gaming console that is connected to it. There is also a 3.5mm input that can be used for MP3 players or other music devices. In addition, the HD Theater SB 3 includes an optional 3D Surround Mode that works at multiple listening positions in a given room and is designed to simulate the effect of a surround system.
Offering listeners significant placement flexibility, the HD Theater SB 3 cradles on its own, stylish L-shaped feet or can be placed on a wall with the help of the included mounting template. Its minimal 3-inch depth aesthetically matches either a wall-mounted or stand-placed television set.
Available in a satin black finish, the HD Theater SB 3 retails for $799.99 US and will be available for purchase at authorized retailers and http://www.klipsch.com in September 2012.