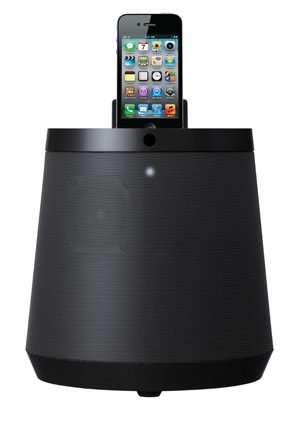 Onkyo has just announced a six-channel Bluetooth and iPod/iPhone docking solution featuring remarkable new 3D sound processing technology. The personal audio system places the listener center stage, immersing them in high quality sound no matter where they are located in the room.
With the iLunar, traditional stereophonic sound is taken a step further using an arrangement of six full-range drivers positioned above a down-firing subwoofer. Rather than using two channels to create a centralized "sweet spot" in front of the speakers, a processing chip from Swiss audio research company Sonic Emotion radiates the sound in all directions, creating the impression of stereo sound wherever the listener is located.
To achieve the effect of being right in the middle of a stereophonic sweet spot, the processor applies a system of equalization filters and delays to all six channels. Through a process known as wave field synthesis, the technology is able to render a 3D audio image, creating an impression for the listener of being on stage or in the studio with the musicians.
The iLunar is perfect for those with busy lifestyles. Users can dock their iPod or iPhone—or use the Bluetooth function to stream from almost any smart phone, tablet, or PC—and enjoy immersive entertainment while going about their day.
With the expanded bandwidth capabilities of Bluetooth 2.1 +EDR, enjoying quality sound with the convenience of wireless streaming is now a reality. Furthermore, the recharging dock for iPod and iPhone ensures signals are transferred from the device in digital format, rather than analog form, for cleaner, more expansive sound.
The dock is a recharging type, allowing the user to top off the battery while they listening to music, ready when they are back on the move. A USB port is also included for charging many other types of smart phone or tablet, even as the device streams music wirelessly. The iLunar features a powerful and efficient digital amplifier to drive six speakers and the subwoofer. Without the need for a bulky heat sink, the audio system can be made smaller and lighter, making it ideal for use in areas where space is limited.
The Onkyo RBX-500 iLunar will be available in October with a suggested retail price of $249 US.
For more info, please visit www.onkyousa.com.