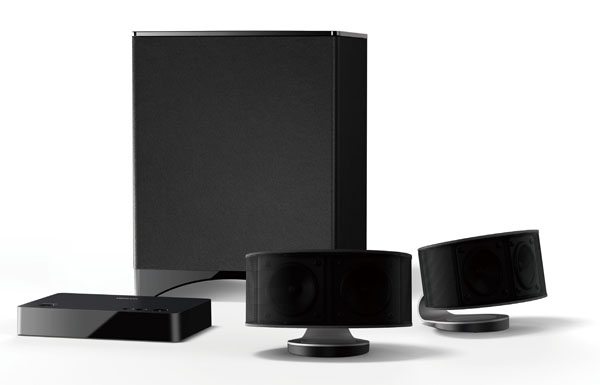 Onkyo has just announced the new EnvisionCinema LS3100, a 2.1-channel powered speaker package designed to improve the audio performance of modern flat-panel TVs with SRS audio enhancement and Bluetooth wireless streaming technology. The system consists of a slim 20-watt digital amplifier unit to power the two dual-drive speakers, and an active wireless down-firing subwoofer.
EnvisionCinema comes pre-programmed for control with most TV remotes, with learning ability for the few models it might not immediately recognize. This means the Onkyo system switches on and off automatically with the TV, and responds to the volume commands of the television remote.
Two full-range drivers are installed in each sculpted speaker cabinet. Clever removable speaker stands enable a wide variety of mounting positions on the wall or entertainment unit.
Thanks to collaboration with SRS audio research labs, the EnvisionCinema system employs TruVolume, a dynamic control solution to equalize the irritating volume fluctuations in TV programming; and WOW HD, an audio processing technology that generates a more expansive soundstage. Dialog Mode, meanwhile, renders voices more intelligibly in the mix—great for movies, news, and TV programs.
Combined with the powered subwoofer—which can be positioned anywhere in the room thanks to its wireless Bluetooth technology—users can bid farewell to the days of thin TV sound, and revel in the extraordinary sonic capabilities of this stylish and efficient system.
Like all Onkyo products, the EnvisionCinema system is replete with up-to-the-minute features. Bluetooth Version 2.1 +EDR allows the user to stream music from compatible devices, such as most cell phone, smart phone and tablet brands, and a wide selection of laptops and personal computers.
The Onkyo EnvisionCinema LS3100 will be available in November with a suggested retail price of $499 US.
For more info, please visit www.onkyousa.com.