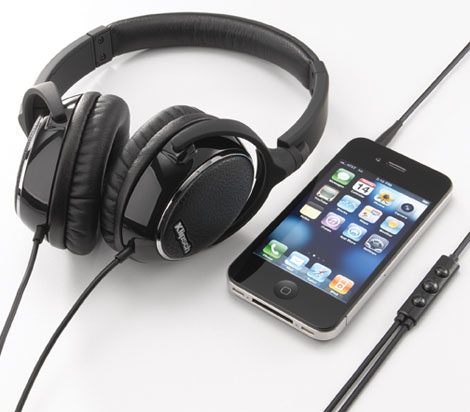 Klipsch Audio Technology, founded by Paul Klipsch in Arkansas in 1946, has long been famous for its horn-loaded loudspeakers. This reputation extends across the spectrum from HiFi to public address systems and more recently, computer audio. Now Klipsch has a line of headphones, and the Image One is their offering for the iPhone market. That means of course it has the right sensitivity and minijack connector (3.5mm) to be properly driven by the iPhone, but it also has a two button volume control and a switch to start and stop a song playing on iTunes, or to pick up and hang up a phone call. This remote control is placed along with the microphone at the cable yolk where the single cable to the iPhone splits into twin cables to the earpieces. When worn as intended, the echo-cancelling microphone sits conveniently around six inches below your voice box, an ideal location.
Klipsch lists the Image One at $159.95, and competes with a lot of other headsets showing on the Apple Store website.  But do these headphones offer anything special? Superb fit and finish for a start, with the ear cups finished in soft leather and filled with memory foam for comfort. The padded headband is fully adjustable, while the earpieces swivel horizontally through 90 degrees and vertically though 45 degrees, in part for your comfort but also so they fold flat to fit the neat carrying case provided. As a closed back design I expected a bit more noise blocking than I experienced, which I put down to the fairly small diameter of the earcups. Klipsch have managed to keep the weight down to under 5 ounces, which will help with long term comfort. The finish is all black apart from the silver Klipsch moniker and an oval ring on the back of each earpiece. Klipsch backs the Image One with a two year warranty.
For me the most important characteristic of any headphone is comfort. I'm personally averse to anything pressing against my ears. I love the giant AKG K1000, which floats free of the ears altogether, and the Sennheiser HD800 and AKG K701, which are so big that the padding fits entirely outside the outline of my ear. I'm also cool with custom-fit canal earphones, which fit inside the ear. But I struggle mightily with Sennheiser HD650s and various smaller Grados, which clamp so hard that they make me feel like my head is in a vise. These phones also feel tight to me, although less so than those I listed. I'm not saying you will find them uncomfortable. Neither my daughter nor my wife had any complaints. But I would caution that headphone comfort is a very personal thing, and you should certainly try before you buy.
The Image One carries out all its allotted tasks with aplomb. I particularly enjoyed the high quality of the microphone. The microphone volume setting is slightly on the low side, and worked better if moved an inch or two higher in my case. The range of listening levels is fine for both telephone and for music or Podcasts.
Sound quality is far from neutral. Compared with the remarkably neutral Ultimate Ears UE10Pro (at many times the price) the high frequencies are really dialed back, the midrange somewhat set back and the bass booms – they even advertise "booming bass". This may suit head bangers, but even though the bass is powerful it is also rather loose and I prefer the much punchier bass offered by Dr. Dre's Beats. The downward sloping frequency tilt is equally obvious when connected to a high end stereo, but the Image One is not intended for that application anyway. The level of detail and dynamic range are not really competitive at this price for that application.
So the Image One gets full marks for practicality, fit and finish, light weight, the fold flat design and the neat carrying case, and somewhat lower marks in audio performance and long term comfort.
Klipsch
www.klipsch.com
1-800-KLIPSCH (1-800-554-7724)
Klipsch Image One Headphones
Price: $159.95