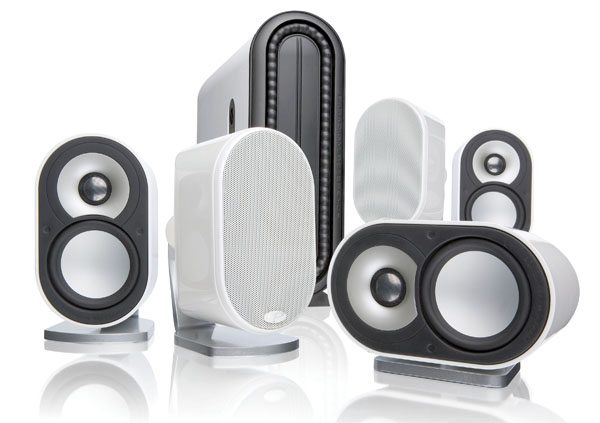 Let's face it – most music lovers and movie buffs would like to own a set of full size speakers because they realize the benefits that large speaker enclosures bring to the performance table.  If you're anything like me, you'd be quick to place full size speakers in every room in your house.  But reality and significant others dictate otherwise.  Sensibly, smaller spaces require compact speakers.  Today, the market is flooded with such lifestyle speaker systems.  If you're shopping for a compact speaker system simply by looks, then you've got a lot to choose from.  But if you appreciate good quality sound, the pool of compact speaker systems becomes very small.  So how do you know what's good?  Don't panic – read reviews!  And don't buy anything that you can't find reviews of, there's very likely a reason for that.
Paradigm offers a number of smart looking, attractively priced compact speaker packages in its Cinema series, but this review isn't about one of them.  This review is about Paradigm's latest effort to produce the highest quality sound possible from small speakers.  The result is the introduction of the MilleniaOne series, the latest addition to the highly respected Paradigm Reference line.  The MilleniaOne system is available in two configurations – the MilleniaOne 2.0 ($549), a two-channel speaker package, and the MilleniaOne 5.0 ($1,349), a five speaker surround package.  A matching MilleniaSub subwoofer is available for $1,499.
For this review, we asked Paradigm to send us the MilleniaOne 5.0 package along with the MilleniaSub subwoofer, a system designed for both music and home theatre applications.  The MilleniaOne 5.0 system consists of five identical speakers: two for the front L/R, a centre channel (placed horizontally) and two for the surround L/R.  Despite what some might think, using identical speakers in a surround system is actually very desirable as it allows the system to achieve the most uniform sound.  Such a system is often not possible with full size speakers in most rooms due to space limitations but it is certainly possible with a compact speaker system.
Each MilleniaOne is a 2-way speaker, with its drivers crossed over at 2.2 kHz.  The high frequencies are produced by Paradigm's 25 mm (1 inch) S-PAL satin-anodized pure-aluminum dome driver, which offers a powerful motor structure and an oversized magnet.  The mid and bass frequencies come from a 102 mm (4 inch) S-PAL satin-anodized pure-aluminum dome driver.  The MilleniaOne has a frequency response rated from 120 Hz to 20 KHz (±2 dB), a sensitivity of 89 dB (in room) and an impedance of 8 ohms.  Paradigm recommends driving the MilleniaOne with an amplifier that has a power rating between 15 and 100 watts. The vented enclosure is constructed out of die-cast aluminum and has an integrated chassis and baffle.
Each MilleniaOne speaker measures a comfortable 19.5 cm high x 11.5 cm wide x 14.5 cm deep (7-3/4 in x 4-1/2 in x 5-3/4 in).  The oblong-shaped cabinet combined with the overlapping drivers gives the MilleniaOne a very clean and distinct appearance.  Paradigm gives you a choice of two finishes for the MilleniaOne, a high gloss black and a high gloss white.  I was provided with the glossy black set for this review which looked gorgeous in my living room.
The MilleniaSub subwoofer is also part of Paradigm's Reference series and offers the company's 'cost no object' technology.  It has a refreshingly unique design which aims to produce outstanding bass and allows for incredibly flexible placement options.  Its back-to-back bipolar dual woofer design helps to physically cancel vibrations and greatly reduces resonances.  Each of the reinforced polymer woofer cones measures 35.5 cm x 7.6 cm (14 in x 3 in), has a corrugated Santoprene surround and a 2.5 cm (1 in) voice-coil.  The MilleniaSub uses Paradigm's Ultra-Class-D power amplifier capable of pumping out 300 watts RMS of power, or 900 watts peak.  Its connection panel offers a line-level input designed to accept a signal from an AV receiver or processor's subwoofer output.  The only other connections on the unit are for power and a mini USB jack for those who wish to use the Perfect Bass Kit (PBK) room correction system (sold separately for $109) to achieve optimal sound from the subwoofer.  The controls are also kept to a minimal in the subwoofer's design, there are just three dials for the subwoofer level, cut-off frequency and phase on one of the sides of the subwoofer.
The MilleniaSub is roughly the size of a typical briefcase, measuring 13.75 cm high x 46.5 cm wide x 35.5 cm deep (5-1/2 in x 18-3/8 in x 14 in).  Its compact dimensions and oblong shape should make it exceptionally simple to place in just about any room.  It can stand vertically beside a TV stand, in the corner of the room, beside a couch or it can be wall mounted.  Turned horizontally, it can even sit underneath the couch, provided that the couch sits on its legs high enough off the floor.  And to further simplify the setup, the MilleniaSub has a built-in wireless receiver, which eliminates the need for running a long subwoofer cable, when used with the separately sold PT-2 Wireless Transmitter ($159).  The subwoofer is available in both black and white finishes but unlike the glossy MilleniaOne speakers, it has a satin finish.
The MilleniaOne speakers come supplied with small stands which allow them be placed on any flat surface, like a shelf or a table.  Wall mounts are also provided.  Matching floor stands were not available at the time this review was written but of course any floor speaker stands will work.  I attached the provided stands to my review set and placed them atop my own 28 inch tall floor speaker stands.  The MilleniaSub stood comfortably in a vertical position on the floor, between my TV stand and a sidewall couch.  Power and processing was provided by my new Anthem MRX 500 AV receiver and the source was my reference Cambridge Audio Azur 650BD universal Blu-ray player.  Prior to my review session, I ran the MRX 500's Anthem Room Correction (ARC) system, which in my opinion is one of the best room correction systems out there today.
I started my evaluation by listening to a selection of two-channel CDs and multi-channel SACDs.  The Johhny Cash "American IV: The Man Comes Around" CD, played in stereo, proved to be a good place to start.  On all of the tracks that I listened to, the guitars played with the richness of real guitars.  The midrange was so clean that I could clearly tell what strumming pattern was used and the picking of individual strings sounded true to life.  The sound of each note decayed as naturally as if I was playing the guitar myself.  With tracks that have low bass notes, the low frequencies blended perfectly smoothly with the mids and highs.  Tracks like "Bridge Over Troubled Water" added a few additional layers to the audio, including Fiona Apple's vocals, a piano and an accordion.  On a lesser speaker system the accordion mighty easily be mistaken for keyboards but here it sounded distinctly like an accordion.  Johnny Cash's bass-baritone voice sounded rich and natural, with the system reproducing all of the subtle vocal characteristics.  Throughout my listening tests, I tried several more CDs ranging from the Ben Harper & the Innocent Criminals "Live From Mars" album to Beastie Boys' "Hot Sauce Committee Part 2."  Regardless of what genre of music I sent at the MilleniaOne system, I was presented with a great sound.  The soundstage was surprisingly large and offered an ample amount of air, given the diminutive size of the speakers.  The MilleniaOne speakers played superbly throughout the entire midrange, producing a clean, neutral sound.  After listening to several tracks in the stereo mode, I switched the MRX 500 receiver to the Anthem Logic: Music mode which produced a very enjoyable, enveloping multi-channel sound.  I'm not even a big fan of artificial surround modes but this one seemed to hit the spot.
Stepping it up to discrete multi-channel sound, I reached for the Dire Straits: Brothers In Arms SACD, a very well recorded album which makes an exemplary use of the surround channels.  The MilleniaOne speakers produced a wonderfully balanced sound field with highly dynamic tracks like "So Far Away".  The midrange sounded full and neutral, while the highs sparkled with delicate details.  While listening to "Money For Nothing", the speakers laid out a 360 degree sonic landscape that stretched far and wide in all directions, with drum beats dancing all around the listening position.  The MilleniaSub belted out surprisingly deep, lighting quick low frequencies with proper articulation, some of which I literally felt.
Satisfied with their musical performance, I armed myself with several Blu-ray discs and began my barrage of home theatre tests.  First on the platter was Tron: Legacy on Blu-ray 3D, a recent favourite for both audio and video component evaluation.  Aside from offering jaw-dropping 3D visuals, this film is accompanied by a truly stimulating DTS-HD Master Audio soundtrack.  Produced by Daft Punk, the soundtrack does a tremendous job of creating sonic landscapes perfectly tailored to each scene and environment.  There are loads of low frequency passages and futuristic, out of this world effects.  The surround channels are used consistently and effectively throughout the movie.  From the very first moment the system began playing audio, my auditory senses were aroused.  The 360 degree envelopment of the sound was undeniable and completely seamless.  Whether a spaceship was rumbling across the soundstage or a light disc was bouncing from wall to wall, the sound traversed with perfect smoothness between the channels.  The MilleniaOne speakers served up a beautifully transparent sound, without ever attracting my attention to one particular speaker.  The centre channel delivered detailed, natural dialogue during both slower and action filled sequences.  The audio delivery was exceptionally clean and full sounding, given the size of the speakers.  And the bass – it was simply killer.  It played with the depth, tightness and articulation that I thought until now was possible only from much larger subwoofers.  There were no signs of strain nor did I once hear boomy bass.  By the end of this Tron: Legacy I felt that the MilleniaSub had definitely justified its $1499 price tag.  How could a subwoofer so compact play this well?  Smoke and mirrors?  I don't think so – surely this must be a case of well applied engineering.  The MilleniaSub is a truly remarkable performer that is ideal for rooms where a much larger, conventional subwoofer simply wouldn't fit.
Next up, I watched The Green Hornet on Blu-ray 3D.  If my parents left behind a publishing empire, I would probably do exactly the same thing as funnyman Seth Rogan – find a sidekick that knows how to slow down time and fight, design a couple of insect costumes and fight crime.  It's a simple comic book recipe really.  During the first few chapters I once again observed the clarity of the character voices.  The MilleniaOne speakers conveyed the rich characteristics and tones of all the character voices and reproduced the most subtle nuances.   The breaking of glass and smashing of cars sounded genuinely real (yes, I've been in a few car accidents to know exactly what they should sound like).  Then were the action sequences which demanded some heavy bottom end frequencies which the MilleniaSub was more than happy to deliver.  There were punches, bullets, explosions and rumbling engines.  The MilleniaSub not only played thundering bass notes, it did so with control and finesse. These action scenes can sound overwhelming or harsh on lower quality speakers but that was never the case here.  If I had to pick a couple of favourite scenes from this movie they would be when the heroes were shooting bean bags at bad guys and blowing up a red light camera with a car-mounted rocket.  From the quiet passages to the sonically intensive ones, the compact MilleniaOne speakers blended flawlessly with the MilleniaSub.  And those of you who really like to turn up the volume dial, should be happy to know that these speakers will play as loud as you like, without straining or reaching their limits.  Sonically, the MilleniaOne speakers are the most dynamic compact speakers I've had the pleasure of listening to since I began reviewing audio/video gear.
Once in a while a product comes along that is such a pleasure to test that the review practically writes itself – this Paradigm Reference system is precisely such a product.  When full size speakers are not an option, the MilleniaOne 5.0 speakers and the MilleniaSub will satisfy discerning music listeners and home theatre buffs alike.  The MilleniaOne 5.0 speakers combine gorgeous styling with outstanding performance in the compact speaker class.  At $1349, you might be hard pressed to find another compact speaker system that delivers so much sonic performance.  The MilleniaSub is also a great looker and thanks to its design and size, it is one of very few subwoofers on the market to offer such flexibility of placement.  Better yet this subwoofer will surprise most listeners with its extraordinary performance.  The only potential stumbling stone for consumers might be the subwoofer's $1499 price tag.  But don't worry, for those on a tighter budget Paradigm says that its conventional, 10-inch SE Sub ($879) is also a great companion for the MilleniaOne speakers.  I give my seal of approval to both the MilleniaOne speakers and the MilleniaSub.
Paradigm Electronics
www.paradigm.com
(905) 362-0958
Paradigm Reference MilleniaOne 5.0 Speakers
Price: $1,349 CAD
Paradigm Reference MilleniaSub Subwoofer
Price: $1,499 CAD
Adding a home subwoofer to your home theater or any sound system makes an incredible difference. It adds the much needed boom that regular speakers can't produce.