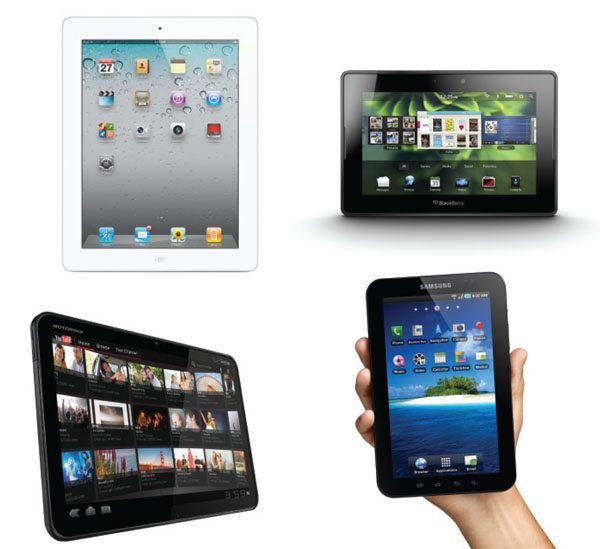 Tablets are currently at the forefront of the consumer electronics landscape. With a large majority of users doing their computing through websites such as webmail and social networking and simple productivity applications such as word processing, the combination of portability, ease of use and declining price is making tablets the must-have gadget of 2011. For many users, tablets are quickly replacing the traditional laptop and desktop. Indeed, when watching any sci-fi show, inhabitants of the future almost always interact through touch – buttons having gone the way of the dodo. Apple's CEO Steve Jobs has declared 2011 the year of the iPad 2 but the slew of tablets currently available and soon to be released will definitely give it a run for its money.
2011 has already seen the release of Apple's second-generation iPad, Research in Motion's PlayBook, and Samsung's Galaxy Tab. Other manufacturers such as Sony have also announced the fall release of their tablet devices.
The tablet craze was kick-started in April 2010 with the release of Apple's iPad, which sold 300,000 units on launch day. Apple has since sold more than 15 million first-generation iPads and followed up with the iPad 2 in March of 2011. Estimates currently peg Apple's market share of the tablet market at over 80%. The iPad's ease of use, coupled with Apple's ecosystem of iTunes and the App Store have made the device one of the best selling consumer electronic devices in recent history. Everyone from young children to the elderly are able to use the device with a minimal learning curve. That said, the one gripe that many users do have with Apple's devices is the lack of Adobe Flash support, a staple of many websites for both video playback and interactivity.
Tablets are touchscreen devices that come in varying sizes from 5" to 10". They can be for dedicated uses such as electronic book readers, home automation control or as a general computing device. Different manufacturers have included various features such as cellular (data), Bluetooth and WiFi connectivity; built-in camera(s), GPS capabilities, video/HDMI output, accelerometers and gyroscopes, magnetometers (compass), expandable memory and docking capabilities. Processing power, which according to Moore's Law doubles every 18 to 24 months, has allowed these miniature, all-in-one devices to handle the majority of mainstream applications. The addition of dedicated graphics processors also allows these devices to play back high-definition video with some devices outputting via HDMI, making them ideal portable media devices.
Outside of Apple's line of iPad devices, other manufacturers with the exception of Research in Motion, have all adopted Google's open-source Android operating system for their tablets. Android is now the fastest growing mobile/portable operating system, recently surpassing 50 percent in the smartphone market. The widespread adoption of Android allows consumers to make an easy transition from smartphone to one of the many Android tablets that will be hitting the market in the upcoming months. This is similar to Apple users who are already familiar with their iPod Touch and iPhones. With the numerous tablets that are now available, manufacturers differentiate their offerings through design, customization of the operating system, and their own proprietary features such as Sony's upcoming tablets, which feature PlayStation connectivity and infrared universal remote control capabilities.
While the majority of tablets will be used as computing devices, touchscreens have also replaced traditional control panels and remotes, notably, home theatre and home automation control systems.
In the home theatre environment, tablets have replaced older multi-button control panels and remotes, with sleek, wireless, customizable user interfaces similar to the familiar line of touchscreen universal remotes by Logitech. A variety of manufacturers such as HAI, Control4, Cinemar, Crestron, and others, have updated their existing product lines by adding their own touchscreen tablets or leveraging the increasing adoption of touchscreen smartphones by offering native applications for the Apple iPhone, iPod and iPad as well as Android devices. All the features expected of typical home theatre and automation systems such as pre-programmed activities, including turning on and setting your AV equipment to the proper settings, dimming the lights, closing blinds and lowering a projector screen, are now accessible through a touchscreen interface.
Currently, Canadian customers can purchase a wide variety of tablets from a handful of well-known companies. These tablets are typically available as standalone devices or cellular-data capable (3G) devices along with data plans through the various wireless providers.
The following mainstream devices are currently available in the Canadian market: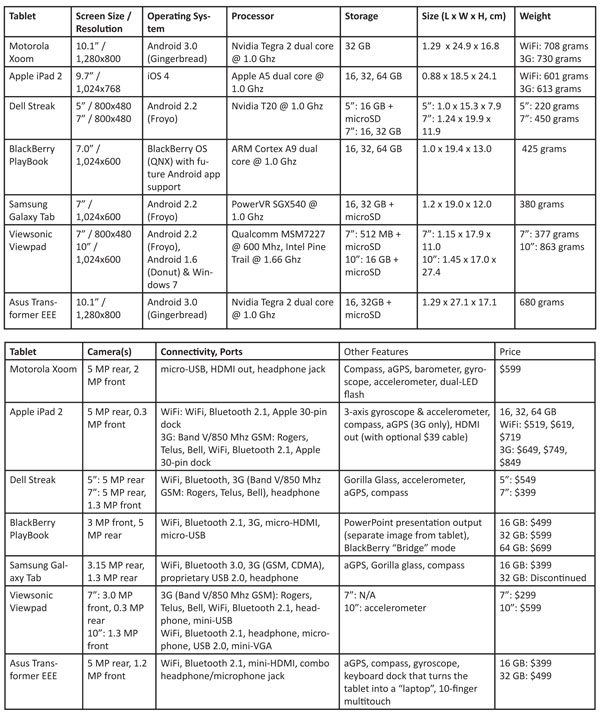 Outside of these manufacturers, there are a slew of Android tablets by various "no-name" manufacturers with price points below $300. These iPad clones, manufactured in Taiwan and China, have attractive prices but you do get what you pay for and consumers should look closely at the specifications before taking the plunge. These cheap tablets can be a good way to try out the tablet experience before purchasing a full-featured, laptop replacement. When considering one of these knock-offs, users should bypass any not running at least Android 2.1 or a processor less than 600 Mhz. These tablets are available from stores such as Tiger Direct, NCIX, Canada Computers and other local and online retailers.
As stated earlier, 2011 will see many companies playing catch-up to Apple, with a plethora of tablets set to hit the market throughout the summer and fall. Everyone from Acer to Lenovo (makers of the ThinkPad) to Vizio are set to release tablet devices ensuring consumers have a wide selection and difficult choice ahead of them. Existing players such as Samsung will also be releasing follow-ups and expanding their product line.
With all these new tablets, all running Android, consumers may be wondering what sets one device apart from another. While there isn't much that can be done to the overall design of a tablet, it is each manufacturer's choice of specifications and customization to Android that will set them apart. Asus' recently released EEE Transformer has a keyboard dock that also contains a second battery, extending the tablet's usage time to 16 hours and transforming it into a 10" laptop/netbook. Samsung is releasing 8.9" and 10.1" tablets which are thinner than Apple's iPad 2 as well as a tablet with a sliding keyboard underneath. Acer is releasing a dual 14" all-touchscreen laptop while Sony is releasing a 9.4", curved tablet as well as a clamshell tablet featuring 5.5" touchscreens on each side.
2011 is shaping up to be an exciting year for tablets and regardless of which operating system you prefer, which size is most convenient, or which manufacturer you're loyal to, consumers will not be short on choice.