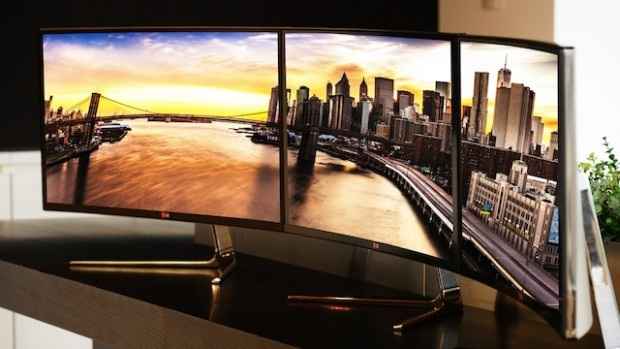 LG Electronics has just released a new flagship IPS 21:9 Curved UltraWide Monitor, their model 34UC97, which as a 32.7-inche diagonally measured screen.  
LG's IPS technology the monitor can deliver wide viewing angles without distortion. The LED backlighting delivers deep black levels and rich colors for an amazing contrast and color detail, and its Ultra Quad High Definition (UQHD) picture quality with 3440 x 1440 pixels make movies, games and sports come to life.
LG proposes that the larger screen size allows users to replace their current dual monitor setups with this single monitor.  Using True Color Finder color calibration software the LG 34UC97 ensures color accuracy for source material; a must for professional photographers and graphic designers as well as video enthusiasts.  And, for sound, the monitor also features MAXXAUDIO and 7-watt stereo speaker system.
Compatible with both PCs and Macs, the LG 34UC97 monitor handles heavy graphics and videos with ease on either system and supports Thunderbolt 2 for high-speed data transfers – four times faster than USB 3.0. It also allows multiple devices to be daisy chained together.
LG's 4-Screen Split feature makes multitasking easy by dividing the screen into up to four sections at eight different screen ratios. Users can prioritize windows by size and location instead of having to manually resize and position each window individually. A few simple mouse clicks enable the user to arrange windows quickly into a variety of useful configurations, perfect for the professional who needs to view multiple programs at once. Adding even more versatility, a connectivity feature called Dual-Link Up allows the monitor to connect to two source devices (e.g., smartphones, PCs, cameras, Blu-ray players or gaming systems) and display each on a single screen simultaneously.
LG's 34UC97 will be available this October at a MSRP of: $1,299 U.S.  Look for more details at: www.lg.com.
Comments are closed.