Korean giant LG Electronics revealed many new products at this year's Consumer Electronics Show in Las Vegas, in four major product categories: home entertainment, wearable technology, smart appliances, and the mobile division.  A new buzz term kicking around the CES show floor is the Internet of Things, referring to home appliances and other devices connected to the web.  Below we highlight some of the products we find the most interesting.
LG Home Entertainment at CES 2014
For 2014, LG's top TV offerings will consists of five OLED TV models, ranging in size from 55 to 77 inches.  The curved screen 77 inch (model EC9800) is capable of 4K resolution and is expect to begin shipping in North America this June.  One of the new models will be part of a new Gallery OLED TV series, acting as a TV when you're watching it and a screensaver that displays artwork and photos when it's turned off.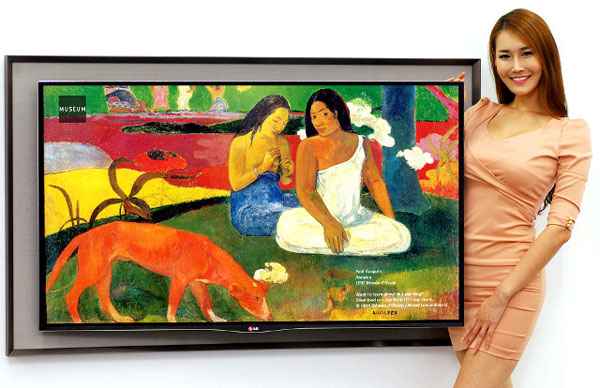 LG's Ultra HD TV models will span 6 new series in 2014, offering 12 different models ranging from 49 to massive 105 inch screen sizes.  All new LG smart TVs will use the WebOS platform, purchased recently from Hewlett-Packard, which the company says will simply and improve user experience.  WebOS will also make it possible for widespread 4K streaming content delivery.  Many of the Ultra HD TVs will feature built-in subwoofers.
The LB7100 and LB7200 will be LG's top of the line 1080p TV series for 2014 and will feature the company's latest tech such as local dimming, private listening through your smart phone and a new, upgraded LG Magic Remote.
Wrapping things up, LG's mainstream LCD TV line up will consist of 25 new models, spanning 8 new LED series.  More than half of the new models will utilize the WebOS platform, making the smart TV experience simplified and more pleasant than ever before.
Much like Samsung, LG will be going after the Sonos multi-room wireless speaker market this year, releasing its own competing system, which is expected to sell for less than both the rival products.
LG Wearable Technology at CES 2014
Wearable technology is a term you'll be hearing about a lot in 2014 as most major manufacturer will be enterting this hot new product category.  LG's first two products in this domain will be the Lifeband Touch activity monitor and the Heart Rate headphones.
The Lifeband Touch is a sleek wrist band that collects fitness data during everyday life and while you're excercising.  It features a touchscreen OLED display that displays data in real time, without having to sync it with your smart phone or computer like other similar products we've heard about.  To expand its usefullness, the Lifeband Touch offers integration with your smart phone with features like call-notification and phone-extension.  It works with LG, Android and iOS devices and will be hitting stores this spring in North America.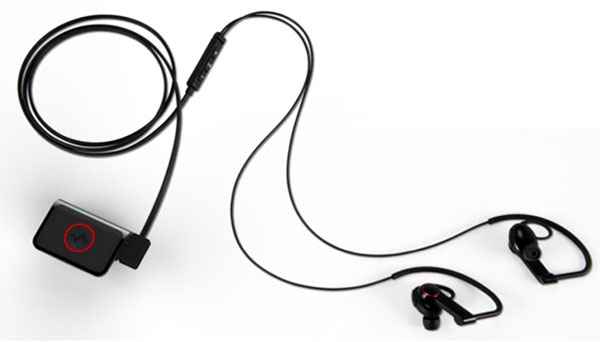 The Heart Rate headphones use an optical sensor to measure the blood flow to your ears to determine your heart rate, and add that data to the information collected by the Life Band Touch, if you both.
LG Smart Home Appliances at CES 2014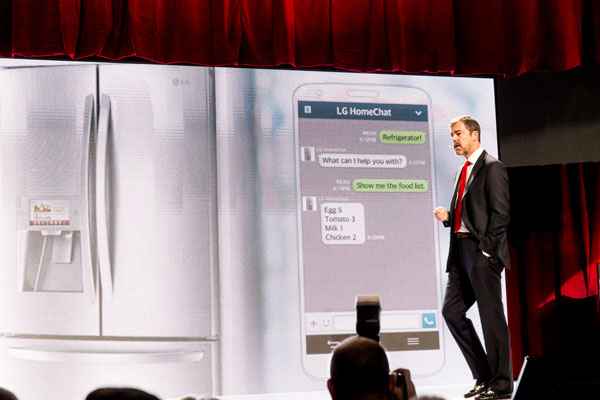 LG is also sharing its vision for the future of home appliances at this year's CES, using its new Home Chat smart platform.  The Home Chat platform will allow you to operate and manage home appliances and devices using text messages from your smart phone or tablet.  You will literally be able to send a text command or a question to your refrigerator, washing machine, robot vacuum, slow cooker, coffee maker.  For example, you could ask your refrigerator if it has milk or Eggos inside it, while at the grocery store and it will send you an instant response.  Or you could ask your washing machine – "what are you oing?"  The Internet of Things is certainly sounding very interesting!
In addition to the Home Chat platform, LG will also be upgrading its 2014 line-up of appliances to include more immediate practical features.  An increased number of refrigerators will offer the popular door-in-door feature as well as a dual freezer.  LG will also be rolling out the three-step self-cleaning EasyClean feature across its range of stoves and microwaves.
On the laundry side, LG will be introducing a new feature called TurboWash in its front-load washing machines which will "fast forward your laundry", saving you up to 20 minutes per cycle.  In the dryer department, LG talked about new heat pump-powered front-load models that offer doors that can be opened from the side or the top, allowing them to be used as chutes for easier loading.
For more info, please visit www.lge.com