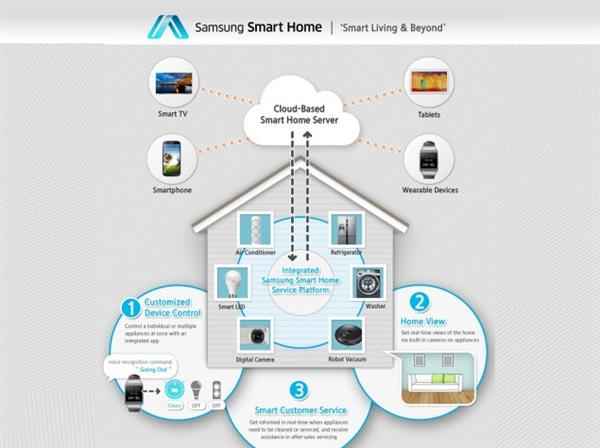 As one of the leaders in the smart appliance development, Samsung announced the Samsung Smart Home at CES 2014, a service enabling Smart TVs, home appliances and smartphones to be connected and managed through a single integrated platform.   The service will be commercially rolled out across Samsung devices and appliances in the first half of 2014. Pursuing its vision for a connected world, Samsung will also collaborate with third-party partners to make the Samsung Smart Home service extendible to their products and services, building the foundation for a rapidly-growing ecosystem of connected home services.
Samsung Smart Home's unique functionality enables users to control and manage their home devices through a single application by connecting personal and home devices—from refrigerators and washing machines to Smart TVs, digital cameras, smartphones and even the wearable device Galaxy Gear—through an integrated platform and server.
Samsung Smart Home will initially provide three main service features enabling users to connect with their devices from anywhere, anytime: Device Control, Home View and Smart Customer Service.
With Device Control, users can use customized settings on their mobile devices or Smart TV to monitor or control home devices —turning on air conditioning or activating lighting, for example—while inside or outside the home, or even while travelling abroad. At the touch of a dedicated Samsung Smart Home app icon on their device, the service enables users to control one or multiple devices simultaneously no matter where they are.
Samsung Smart Home also offers a voice command function on all the controller devices. If a user says 'going out' to his Galaxy Gear device, home lighting and selected appliances are turned off. If the user says 'good night' to their Smart TV remote control, the TV will be turned off and lights dimmed and gradually turned off in readiness for sleep. Users can also use chat control on their smartphone app as a fun, convenient way to communicate with their devices.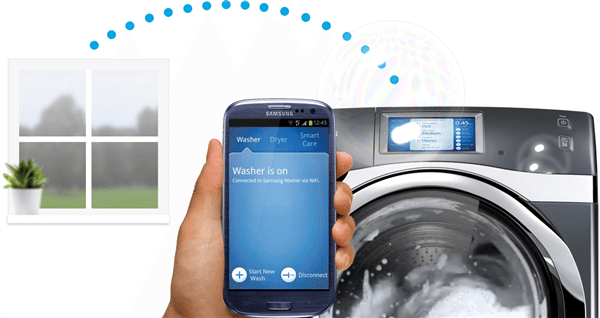 With the service's Home View feature users can also use their smartphone to get real-time views of the home via in-built appliance cameras; and Samsung Smart Home's Smart Customer Service notifies users when it's time to service appliances or replace consumables, and provides assistance in after-sales servicing.
Initial deployment of Samsung Smart Home will focus on a range of Samsung Smart TVs, home appliances and smartphones. The service will gradually expand its coverage by including additional Samsung products as well as other manufacturers' devices and appliances.
Samsung has also developed a dedicated Samsung Smart Home software protocol (SHP) to enable connectivity between all Samsung Smart Home products as well as those from other device and appliance manufacturers. Through this strategy, Samsung aims to create a foundation for an emerging ecosystem of connected home services in collaboration with its partners.
Samsung also plans to expand the Samsung Smart Home service to cover home-energy, secure home access, healthcare, and eco home applications through the partnerships with third-party service providers in these sectors, helping foster joint commercial opportunities and grow the connected home service marketplace.
For more info, please visit www.samsung.com