Like all the other consumer electronics giants, Sony is flexing its muscles at the Consumer Electronics Show in Las Vegas, which officially opened its doors yesterday.  The company's display spans product categories for just about everyone – from 4K Ultra HD TVs to audio to cameras to smart phones and wearable technology.  Let's take a close look at all the Sony 4K and HDTVs on display.  All the new 2014 TV models will be available in Spring 2014.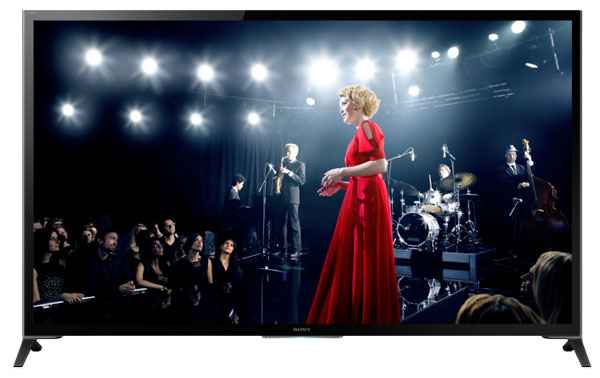 4K Ultra HD TVs and Content Options
Sony's line of 4K Ultra HD televisions is growing, with two new additions to the flagship X950B series – a 65- and 85-inch model. Each set features X-tended Dynamic Range PRO technology driven by direct LED arrays arranged in the backside of the panel to achieve a much wider dynamic range of brightness.
Joining the 4K Ultra HD TV range is the X900B series, with a new structural wedge design which increases capacity to incorporate large magnetic fluid speakers, providing a deeper, more powerful sound, unprecedented for a flat-screen TV.
Together with Sony's new 4K X850B series models, all 2014 4K TVs come with Sony's 4K 60p HEVC hardware decoder built-in to enable playing new forms of 4K content. Sony is also developing its next-generation 4K Media Player with expanded codec support (AVC, HEVC and XAVC-S) to support streaming of 4K content, as well as storage and playback of footage shot with Sony 4K Handycam camcorders.
Sony is also introducing five series of new BRAVIA Full HD TVs, with a variety of screen sizes, viewing options and more interactivity, and each powered by Sony's X-Reality PRO picture engine for more accurate and realistic images.
Sony's Video Unlimited 4K download service offers a regularly updated library of more than 140 titles including full-length movies, television programs and short subjects, from Sony Pictures Entertainment and other studios and production companies. To give consumers even more 4K content choices, Sony is working with forthcoming 4K video services from Netflix and 4K photo services such as 500px and PlayMemories to enhance the 4K entertainment experience.
2014 XBR 4K Ultra HD TV Line-up  Highlights
XBRX950B Series 4K Ultra HD TV
Immersive 4K Ultra HD picture quality with four times the resolution and clarity of Full HD 1080p
X-tended Dynamic Range PRO driven by direct LED arrays delivers brilliant picture quality
4K X-Reality PRO picture engine for best picture from any source
TRILUMINOS Display for breathtaking color, clarity and detail
Motionflow XR 960 produces lifelike movement
HDMI 2.0 and 4K 60p with newly developed HEVC codec for support of future 4K content
ClearAudio+ Digital Sound Processing (DSP) with S-Force Front Surround projects clear vocals and wide sound range (optional subwoofer SWF-BR100)
Built-in Wi-Fi for streaming connectivity, including Sony Entertainment Network
Screen Mirroring via NFC OneTouch Mirroring
MHL 3.0-enabled for mirroring second screens
3D capable with 2 pairs of glasses included
Screen sizes include 85-inch class (XBR-85X950B) and 65-inch class (XBR-65X950B)
XBR X900B Series 4K Ultra HD TV
Immersive 4K Ultra HD picture quality with four times the resolution and clarity of Full HD 1080p
X-tended Dynamic Range driven by Edge LED arrays delivers brilliant picture quality
4K X-Reality PRO picture engine for best picture from any source
TRILUMINOS Display for breathtaking color, clarity and detail
Motionflow XR 960 produces lifelike movement
Iconic, new Wedge design and front-facing Magnetic Fluid speakers produce clear and powerful full range of sound
ClearAudio+ Digital Sound Processing (DSP) with S-Force Front Surround projects clear vocals and wide sound range (optional subwoofer SWF-BR100)
HDMI 2.0 and 4K 60p with newly developed HEVC codec for support of future 4K content
Built-in Wi-Fi for streaming connectivity, including Sony Entertainment Network
Screen Mirroring via NFC OneTouch Mirroring
MHL 3.0-enabled for mirroring second screens
3D capable with 2 pairs of glasses included
Screen sizes include 79-inch class (XBR-79X900B), 65-inch class (XBR-65X900B), and 55-inch class (XBR-55X900B)
XBR X850B Series 4K Ultra HD TV
Immersive 4K Ultra HD picture quality delivering four times the resolution and clarity of Full HD 1080p
4K X-Reality PRO picture engine for best picture from any source
TRILUMINOS Display for breathtaking color, clarity and detail
Motionflow XR 240 produces lifelike movement
ClearAudio+ Digital Sound Processing (DSP) with S-Force Front Surround projects clear vocals and wide sound range (optional subwoofer)
HDMI 2.0 and 4K 60p with newly developed HEVC codec for support of future 4K content
Built-in Wi-Fi for streaming connectivity, including Sony Entertainment Network
Screen Mirroring via NFC OneTouch Mirroring
MHL 3.0-enabled for mirroring second screens
3D capable with 2 pairs of glasses included
Screen sizes include 70-inch class (XBR-70X850B), 65-inch class (XBR-65X850B), 55-inch class (XBR-55X850B), and 49-inch class (XBR-49X850B)
2014 BRAVIA HD TV Line-up Highlights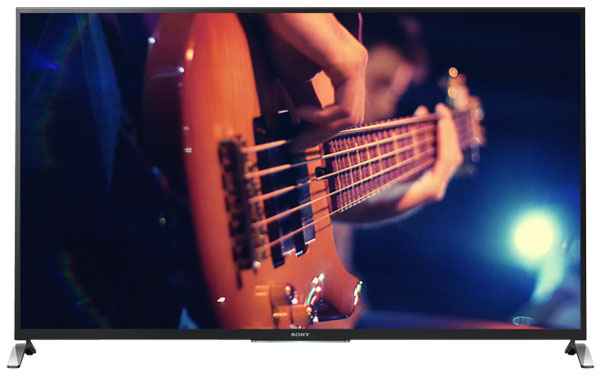 BRAVIA W950B Series LED HD TV
Full HD (1080p) with X-tended Dynamic Range driven by Edge LED arrays delivers brilliant picture quality
X-Reality PRO picture engine delivers color, clarity and detail at their best
TRILUMINOS Display for breathtaking color, clarity and detail
Motionflow XR 480 produces lifelike movement
New, iconic Wedge design accommodates large speakers for deeper, powerful sound in a smaller footprint
ClearAudio+ Digital Sound Processing (DSP) with S-Force Front Surround projects clear vocals and wide sound range (optional subwoofer SWF-BR100)
Built-in Wi-Fi for streaming connectivity, including Sony Entertainment Network
Screen Mirroring via NFC OneTouch Mirroring
MHL-enabled for mirroring second screens
3D capable with 2 pairs of glasses included
Screen sizes include 65-inch (KDL-65W950B) and 55-inch (KDL-55W950B)
BRAVIA W850B Series LED HD TV
Brilliant Full HD (1080p) picture quality
X-Reality PRO picture engine delivers color, clarity and detail at their best
Motionflow XR 480 produces lifelike movement
Iconic, new Wedge design delivers clear, powerful sound and stability
ClearAudio+ Digital Sound Processing (DSP) with S-Force Front Surround projects clear vocals and wide sound range (optional subwoofer SWF-BR100)
Built-in Wi-Fi for streaming connectivity, including Sony Entertainment Network
3D capable with 2 pairs of glasses included
Screen sizes include 70-inch (KDL-70W850B) and 60-inch (KDL-60W850B
BRAVIA W800B Series LED HD TV
Brilliant Full HD (1080p) picture quality
X-Reality PRO picture engine delivers color, clarity and detail at their best
Motionflow XR 480 produces lifelike movement
ClearAudio+ Digital Sound Processing (DSP) with S-Force Front Surround projects clear vocals and wide sound range (optional subwoofer SWF-BR100)
Built-in Wi-Fi for streaming connectivity, including Sony Entertainment Network
3D capable with 2 pairs of glasses included
Screen sizes include 55-inch (KDL-55W800B) and 50-inch (KDL-50W800B
BRAVIA W630B Series LED HD TV
Brilliant Full HD (1080p) picture quality
X-Reality PRO picture engine delivers color, clarity and detail at their best
Motionflow XR 480 produces lifelike movement
ClearAudio+ Digital Sound Processing (DSP) with S-Force Front Surround projects clear vocals and wide sound range (optional subwoofer SWF-BR100)
Built-in Wi-Fi for streaming connectivity, including Sony Entertainment Network
60-inch screen size (KDL-60W630B)
BRAVIA W600B Series LED HD TV
Brilliant Full HD (1080p) picture quality
X-Reality PRO picture engine delivers color, clarity and detail at their best
Motionflow XR 240 produces lifelike movement
ClearAudio+ Digital Sound Processing (DSP) with S-Force Front Surround projects clear vocals and wide sound range (optional subwoofer SWF-BR100)
Built-in Wi-Fi for streaming connectivity, including Sony Entertainment Network
Screen sizes include 48-inch (KDL-48W600B) and 40-inch (KDL-40W600B)
For more info, please visit www.sony.ca