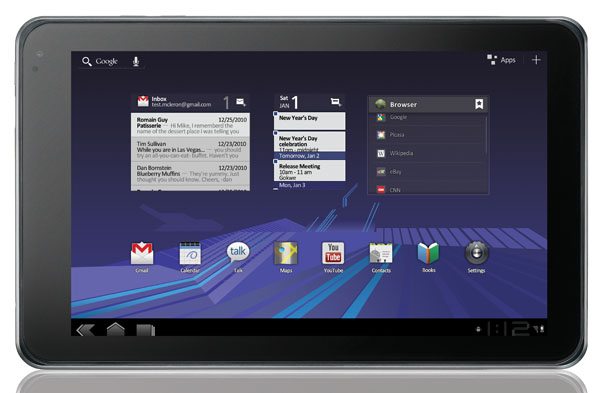 There will be no shortage of tablets for you to choose from this year.  LG is the latest manufacturer to begin offering is tablet, the Optimus Pad, Canadian customers.  The LG Optimus Pad offers a dual-core processor and features a unique 8.9-inch display for one-handed portability and uncompromising viewability, a variation from the 7 and 10 inch screens in market.
The LG Optimus Pad is powered by Google's Android 3.0 Honeycomb platform and the NVIDIA Tegra 2 mobile processor. The world's first tablet with a 3D camera, the LG Optimus Pad wraps users in an immersive multimedia environment with Full HD 1080p decoding.
The LG Optimus Pad will be available in Canada exclusively through Rogers Communications.  It will be available with select three-year data plans at $449.99, a month-to-month plan for $649.99 or as a standalone purchase for $699.99.
Sized at 8.9-inch diagonally and 149.4-mm horizontally, the LG Optimus Pad offers a sensible solution to other tablets on the market that are either too large for comfortable portability or too small for ideal viewing. The conveniently-sized LG Optimus Pad fits comfortably in one hand, goes anywhere and slips easily into purses and slim briefcases. With 15:9 aspect ratio, the LG Optimus Pad allows users access to the full range of applications in Android Market and its 1280 x 768 WXGA resolution vividly displays multimedia content in full widescreen format.
The LG Optimus Pad is powered by Android 3.0, Google's latest platform optimized for tablets which supports larger display resolutions and applications specifically designed for tablets, including Google eBooks, Google Maps 5, Google Talk, Rogers urMusic, Rogers On Demand Online and the Macleans and Sportsnet widgets. Android 3.0 also makes the LG Optimus Pad easy to use with a more intuitive PC-like interface. The LG Optimus Pad fully utilizes the 1 GHz Dual Core CPU of NVIDIA Tegra 2 to deliver lag-free web browsing and quick app start up. The superb graphics and multitasking capabilities of NVIDIA Tegra 2 enables the LG Optimus Pad to run multiple apps simultaneously and handle rich multimedia with ease.
As the world's first tablet equipped with a 3D camera, users can capture vivid images and video with the LG Optimus Pad for viewing on 3D TVs using HDMI or on the web via YouTube 3D. Business users will also appreciate the built-in videocalling feature. With 1080p Full HD decoding, movie enthusiasts can transfer high quality content to their TVs without any loss in picture quality. Serious and casual gamers alike will delight in the wide collection of console-quality games available through the Tegra Zone app that runs seamlessly on the LG Optimus Pad.
For more information please visit www.LG.com.