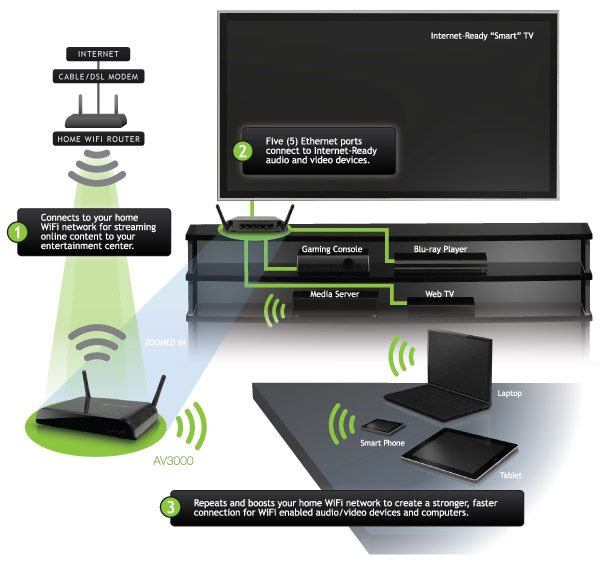 Amped Wireless has recently announces the release of their new AV3000 Amped Wireless A/V Net Connect Home WiFi Network Bridge for A/V Devices. The AV3000 connects Internet-ready audio and video devices, such as Blu-ray players, game consoles, Internet-ready TVs to WiFi networks for Internet access.
The AV3000 does away with the need to run Ethernet cables since a connection is created to your home WiFi network using built in WiFi amplifiers. Five Ethernet ports on the back panel allow for hard-wiring. The A/V Net Connect can also boost and repeat WiFi signals so that more distant WiFi enabled A/V devices can connect reliably – imagine Internet connectivity by the pool, no stings attached.
Smart security features restrict access to specific users, create access schedules for when Internet access is available and control the wireless coverage strength of the repeated WiFi network. 2.4GHz 802.11b/g or n wireless routers and WiFi network compatibility. A 300Mbps 802.11n wireless bandwidth channel allows HD media streaming.
The AV3000 is currently available at a MSRP of $99.99 U.S. both through select retailers and directly from the Amped Wireless Online Store.
For more information visit: http://www.ampedwireless.com