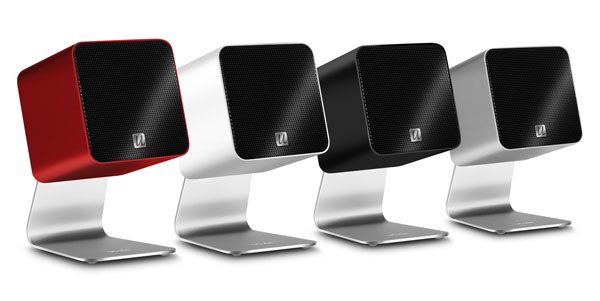 Ultralink/XLO Products, a company that made its name in the cable and power accessory categories, has just introduced a new personal audio brand called UFi.  The first product launched under the new brand is the UCube Compact USB Digital Speakers ($149.99 CAD/US per pair).
Wherever you hang, your music and movies follow! At just three-inches square UCubes are personal and portable, ideal for home, on your desk or on the go. Available in brilliant fashion-forward colors they look as fabulous as they sound on custom brushed aluminum stands.
You're gonna love their small sleek footprint, iconic design and big dynamic sound; they create a wide stereo image so everyone can enjoy music and video. Just plug the speaker with the USB connector into your computer's USB port and you're ready to roll.
The UCubes were designed with equal parts science and art. DSP-controlled power supplies and DSP-equalized signals for the BMR Balanced Mode Radiator driver deliver an astounding 170 degrees of stereo image so everyone can enjoy the experience. UCubes are artful too; their gorgeous custom aluminum stands put them at just the right angle for listening, and their smooth, shiny surfaces and beautifully curved sides look iconic, elegant and awesome!
All-USB signal and power delivers vastly improved sound and supreme portability with a minimum of cabling and no external power supply. Connect the speakers with the cable provided, then plug the left speaker into your computer's USB port and you're ready for music, movies or video wherever you are.
While USB ports are limited to 5 volts, UCubes' "smart" DSP-controlled power supplies store energy during quiet passages allowing the class-D amplifier to reach a full 15W equivalent power output for clean, dynamic sound that won't break up when you pump up the volume. The audio signal is also DSP-equalized to perfectly match the UCube's special BMR driver and enclosure eliminating the need for a crossover.
The advanced-design BMR Balanced Mode Radiator is a full-range, flat-diaphragm driver that delivers vastly improved off-axis response of up to 170 degrees, true room filling sound. Casually place UCubes wherever convenient, or place them both sides and equidistant from your computer facing straight ahead, then slowly turn them in towards you. Find just the right balance between their awesome focus and the positively huge listening area. You'll be surprised to hear that the sound doesn't come from the speakers but from the space around them!
Features
3.25-inches square (6-inches high with stands)
Powered via USB port
Digital input via computer USB port
Ultra-efficient Digital Signal Processing (DSP) Amplifier
Wideband BMR (Balanced Mode Radiator) Driver
30W (2 x 15 Watts RMS) Equivalent Power Output
Extremely wide listening angles up to 170 degrees
Package Includes
UCube USB Digital Speakers x 2
Brushed aluminum desktop speaker stands
1 meter (3.28 ft.) USB 2.0 cable
1 meter (3.28 ft.) RCA audio cable
The UCube Speakers are just the beginning of what we'll see from the UFi lineup of cool, easy to use, personal and portable components.
Stay tuned to the CANADA HiFi blog as new products are announced.
For more info, please visit www.ufiproducts.com.