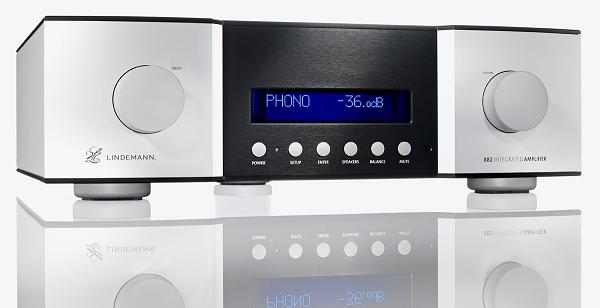 The new Lindemann 885 integrated power amplifier will make its debut this month at the RMAF 2011.
The 885 Integrated Power Amplifier is the latest integrated amplifier in the Lindemann 800 series. The 885 is based on a fully symmetrical single ended push-pull amplifier, which has been derived from valve technology.
The 885 is comprised of two entirely separate amplifiers which are housed together in one unit. The only connection between the two channels is at the power socket. Each channel is equipped with a 500-watt transformer all of its own. The resulting channel separation helps to ensure enhanced stereo sound and generously-phased spatial reproduction. Both channels of the 885 are configured in full symmetry. Power output is 250wpc into a 4ohm load.
Each channel of the output stage of the 885 is equipped with 8 high load-capacity power transistors. In contrast to standard amplifiers, these transistors are not housed next to each other, but rather in the form of exceptionally low-induction H bridges to prevent losses due to eddy currents in the high-frequency range.
The complete 885 has been produced using "thermal track" power transistors. These transistors feature a diode on the transistor chip which immediately senses the temperature, and instantaneously adjusts the quiescent current to the correct level. This eliminates any quiescent current problems typically encountered by "class AB" power amplifiers.
Lindemann offers a 5 years warranty on the 885 integrated amplifier. Pricing is yet to be announced.
Look for more details at: www.lindemann-audio.de/en/ or www.oneworldaudiousa.com