A Taste of the Show by Phil Gold
What a great location for an Audio Video show! The grand old King Eddie hotel. High ceilings and solid construction means much improved sound over most show venues, and far less bleed through from adjourning rooms. The Toronto Audio Video Entertainment Show (TAVES) was much anticipated and well attended, and I spotted a good number of fellow audio journalists covering the event, as well as a few local TV crews. There was a fair bit of high-end gear at the show, but a great deal of affordable equipment too, which is the life blood of this industry. I was very pleased to see a lot of music for sale, in all sorts of formats – that's what this game is all about. I picked up a few titles myself. This was a feel good show, and undoubtedly a great success for exhibitors and attendees alike. Everyone got something different from a show like this. For my part, it was great to meet up with the industry professionals, renew old friendships and spark some new ones. For some this is a business, for others it's a hobby – for many it's both. Toronto needs a show like this every year. My thanks to everyone who played a part.
Bryston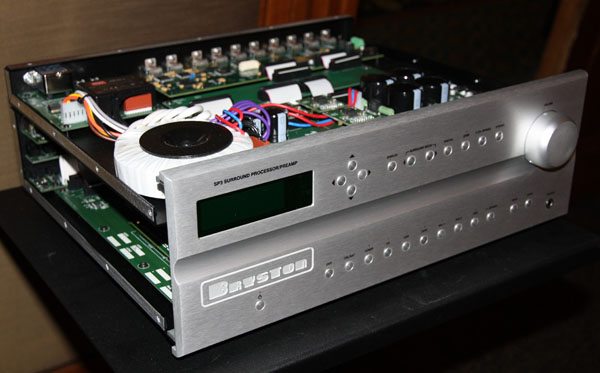 Brian Russell (Bryston's president) was delighted to announce that the SP3 Surround Processor/Preamp is finally shipping after a lengthy development period. The SP3 is expected to be a very significant product for the company. It supports all current codecs and is built to accept upgrades as they are required. It has a surround processor and a high end stereo preamp (essentially the BP26) in one substantial chassis. Also new was a range of BIT Isolation Transformers styled to match the C Series amps, based on the Torus range of professional products, and available in various sizes (5, 15 and 20 amps) ranging in cost from around $1600 to $3300. The upcoming BHA-1 Balanced Headphone Amp ($1295) made an appearance in prototype form and we're planning to review this as soon as it becomes available. What's next for Bryston? Put your money on a 400 watt 8 channel D Series amp to sit upscale of the D60, D130, D250 amps.
Monitor Audio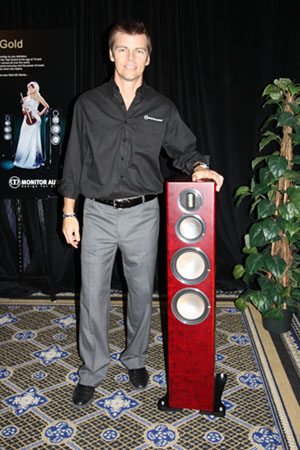 Launched in May of this year, Monitor Audio's Gold Series sits between the Silver Series and Platinum Series and sounded both open and highly resolving. Topping the range is the GX300 at $6000 a pair, a 3-way, four driver tower design with a new ribbon tweeter, shown here with Monitor Audio's Sheldon for scale. Driving the GX300 was a SimAudio Moon Evolution 650D CD player and a 600i integrated amp . Monitor Audio do all their design and R&D in the UK just outside of London, while production is based in China, where Monitor Audio maintains a team of people to oversee production and ensure quality standards are met. The GX200 is a slimline tower while two bookshelves – a 5" 2-way and a 6" 2-way, a centre channel, a rear channel and a matching subwoofer fill out the range. Outside the room, Monitor Audio was also showing picture frame in-wall speakers – SoundFrame SF1 and SF2 – for that unobtrusive look, and you can even have your own design printed on the grill cloth.
Liberty Trading
The busiest guy at the show was Nabill Akhrass, representing many fine companies: Nitty Gritty, Nerve Audio, LSA Speaker, Penaudio, Premium Records, Premonition Records, Propius, Reference Recordings, Revolver, Roksan, Sheffield Lab, Sonneteer, Target, Stillpoints, Wattgate, Propius, Original Recordings Group, Mobile Fidelity, Smarter Speaker Support, Acoustech, Analogue Productions, Apollo, Atlas Cable,  Audio Fidelity, Audio Quest, Audioprism, Dr Feickert, Discwasher, Chesky, Brik Audio, Blue Note XRCD, Groove Note, Gutwire and Impex records are just some of the brands. Spread over two large rooms this was the Grand Central Station for vinyl and high resolution digital software as well as a dizzying array of hardware and accessories.

Japan's Orb offered some unusual products such as a $600 balanced input switcher, a stylus force gauge SFM-2, a static removal device Sakura and a cartridge burn in device CRE-2.
First Impression Music (FIM) was offering 7 new releases at 32 bit depth while Sony/Universal presented a range of high end CDs including Billy Joel and Miles Davis using their K2HD mastering technology competitive with XRCD24 sound quality. Mobile Fidelity had new vinyl releases from Tony Bennett, James Taylor, Keb Mo and 3 discs from Stevie Ray Vaughan.
Mastersound tube amps range from $3,000 to $15,000, are built like a tank and sounding really good. Playing at the show was the new hand-made $5000 integrated Due-Trenta feeding Audes loudspeakers. They've been making amps for audiophiles for 15 years but have a 70 year history in the tube business making equipment for broadcast and the military. The new model was the $2995 Piccolo entry level tube amp offering 6 watts per channel in class A.
Plurison

Plurison was another distributor with a wide range of products, starting with the very popular Cambridge Audio brand, showing its new Azur 751BD 3D Universal Blu-ray player, ready to handle all current formats including DVD-Audio, SACD, HDCD and CD and with outstanding sound quality even from lower resolution standards thanks to upsampling Wolfson DACs. All this for $1299.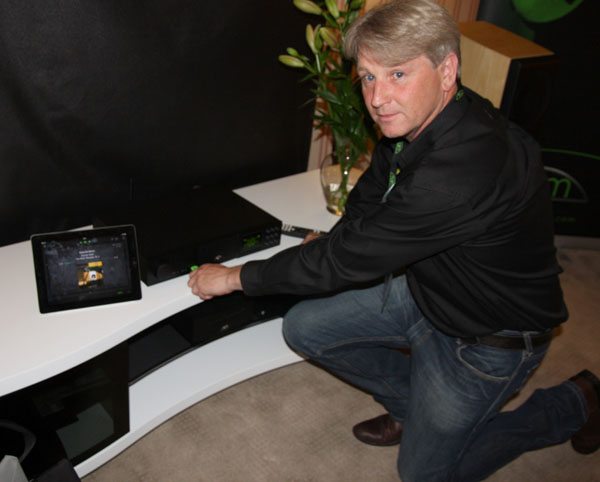 NAIM's Doug Graham was showing the new $6,000 SuperUniti network streaming product, big brother to the UnitiQute, with Wireless N networking allowing full 192/24 streaming, 80 watts Class AB output per channel and improved DACs. In my opinion this is one of the most interesting products at the show and deserves a thorough review in these pages.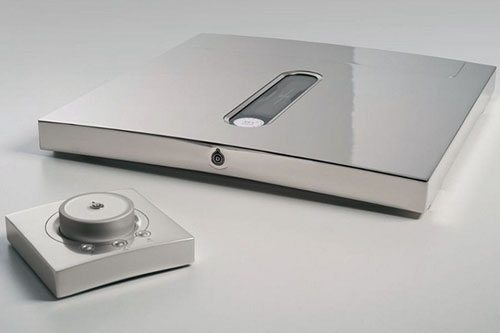 Daniel Jacques gave pride of place to the Devialet D-Premier amp ($16,000), shown also at CES and Montreal, this time driving magnificent Focal Stella Utopia EM speakers ($90,000), flat down to 22Hz, streaming from a wireless source. Devialet powered other systems around the show to even greater effect. Devialet brings a new approach to amplification in the digital domain, and here we could see some of the remarkable construction.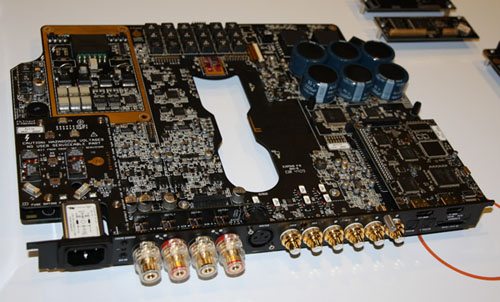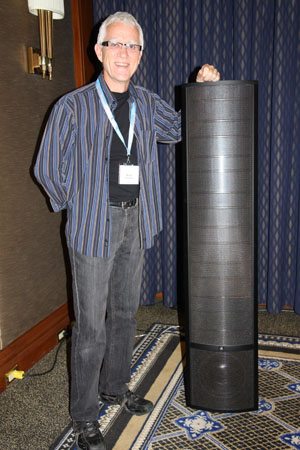 In another room Michel Rousseau introduced the Martin Logan Montis hybrid speaker ($10,995) powered by the recently reviewed Micromega AS400 ($4795). The Montis has a 44" electrostatic panel mated to a 10" cast basket high excursion woofer, powered by a 200wpc built in amp, slotting in just below the excellent Summit X. Nobody does this better than Martin Logan. The Motion LX16 is a new $795 two way bookshelf with a folded motion transducer for the high frequencies with a more conventional 5.25" woofer.
Goerner Communication
Reinhard Goerner brought in a tasty and excellent sounding collection of components from Germany. Reinhard is delighted to see a show in Toronto after an absence of many years and predicts it will be a great success year after year. He'll be back. The turntable is from Accoustic Signature, the electronics from Trigon, the equipment from Creaktiv HiFi, the speakers from Audio Physic and all the wiring by North America's Nordost.
New this year was the Audio Physic Avantera ($26,000 in premium ebony finish), first shown in May this year in Munich and making it's North American debut here at the show. Weighing 40kg and standing 1150mm tall the claimed frequency range is 28Hz – 40kHz with 89dB efficiency.
The Trigon Kronolog Music Server ($9000) was making its world debut here. Not only can it play music files and operate wirelessly but it can generate its own webpage so you can control it from any web enabled device.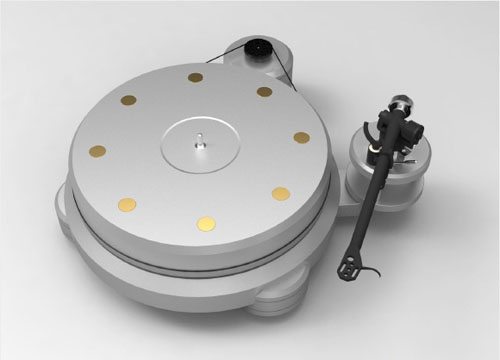 The Storm turntable ($7,500 without tonearm) is also making a North American debut, part of a range running from $3,400 to $45,000 – vinyl is here to stay. The Storm features a 12k, 50mm solid aluminum turntable platter and an external synchronous motor, electronically regulated, while key to its high performance is the dry bearing assembly made of a new Tidorfolon material. The Trigon Monolog 400 watt monoblocs – run for $19,000 a pair, and the Dialog modular preamp starts at $9,500 with single ended inputs and then you can add modules such as DAC and phono stages or balanced analog inputs.
The Creaktiv Reference Plus CI²P audio rack runs for $10,500 and the Creaktiv Audio line Amplifier base adds $1000, and Reinhard considers them a very important component of the system, providing not only stability and vibration control but also eliminating electro smog and RF interference.
Divertech
In the Divertech room, the familiar Reference 3A Grand Veena speakers were being driven by  Antique Tube Labs HurricaneDT MkII monoblocs, with other Reference 3A models sitting to the side on passive display. Much of the excitement in this room centred around a prototype acrylic Perpetual Technology turntable capable of mounting a 12" arm (expect this to be announced at CES) and the recently introduced Copland top loading CD player, the CDA 825 ($6,500). This features a sturdy Philips CDPro2LF mechanism, high performance DACs from Wolfson and a discrete silicon-based output stage. Tash Goka was master of ceremonies here and the sound, due in no small way to his excellent choice of music, was top notch as usual.
Audio Pathways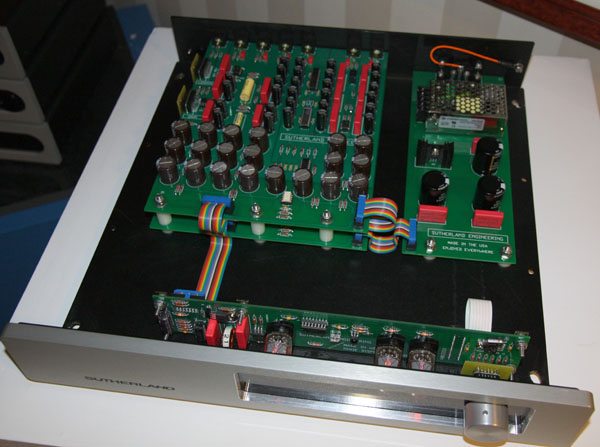 There are relatively few women at these events, but Audio Pathways' Angie Lisi was highly visible running between her various rooms and also the American Sound of Canada room. She introduced me to phono preamp-maker extraordinaire Ron Sutherland. His latest product was a combination phono preamp, line stage and power supply in a low slung chassis, the N1 (think all-in-one), like they used to make in the good old days. The boards are dual mono, with a 25 watt switching power supply, whose output is fairly noisy. Ron solved this problem by elaborate electronic filtering before it feeds the audio circuitry. There are 5 inputs and 2 outputs, but no balanced circuitry – Ron doesn't believe in it. "A solution in search of a problem" he calls it. Although very high quality caps are used, only two are actually in the signal path. Gain options are controlled by internal plug in cards (several supplied) to reduce the clutter and switch count, and you can even load in your own resistors. "It's not very convenient" he adds, "because it's not about convenience. It's optimized for the shortest connections." The amp is remote controlled and three Nixie display tubes (invented in 1955) provide a crude but totally unique front panel numeric display "for fun". The volume control doubles as a mute and source switching device. It can be yours for ten grand.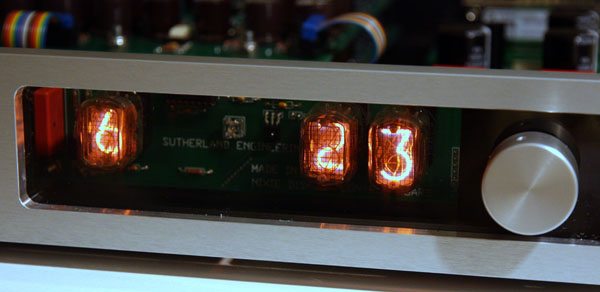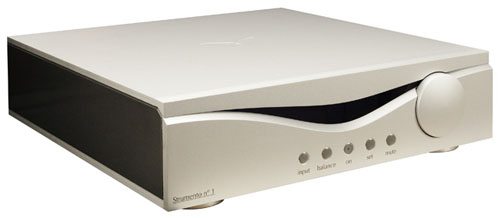 Angie then showed me the new solid state Audia Flight Strumento line with the No.1 preamp at $16,400 and the No.4 power amp, all 90kg of it, at $25,000. It offers 200wpc into 8 ohms, 400wpc into 4 ohms and 1200 wpc into 2 ohms. A new CD player with USB input is also available. Audia Flight is an Italian manufacturer with a very wide range of products, all blessed with Italian good looks, and is new to the Canadian market.
Tri-Cell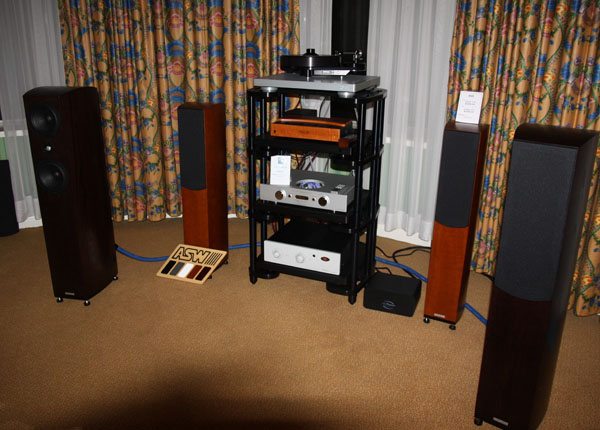 Vince Scalzitti of distributor Tri-Cell had three rooms chock-full of delectable gear at TAVES. Unison Research's Phono 1 valve phono preamp ($1600) made its Canadian debut and it looked just gorgeous! Shown here with with a mid priced Secondo integrated amp from Unico, Accustics Arts CD1 MkIII CD player that upsamples to 192/24 ($6800) and a Brinkmann Bardo turntable, making some fine spacious sounds through the new German made Genius 210 ($2300) and Genius 310 speakers ($3200) from ASW.  Pulling it all together – those thick blue cables were the exceptional Cardas Clear Beyond pure copper cables with Golden Ratio geometry and Teflon/air dielectric.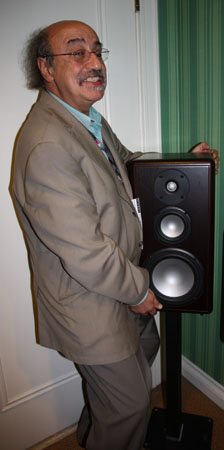 The elegant new 3 speed Ovation turntable/arm/cartridge combo from ClearAudio ($5500) features a DC power supply and Panzerholz wood/aluminum sandwich plinth and a new Clarify carbon fiber tonearm with magnetic levitation bearings.
The Chario Sonnet speaker from the Academy line is $5850 plus $1450 for the matching Sonnet stands. Chario also showed new Syntar speakers available in a more luxurious version with filigree wood and rounded edges but also makes a simpler straight edged version for those on a budget. Vince is seen here making off with a Syntar 523. Chario makes many of its own drivers and has others made externally to meet its requirements.
Also on display were Joseph Audio Pulsar speakers, Harmonic Resolution resonance damping devices ($130, $180 and $230) and a Brinkmann Oasis turntable.
Audio Basics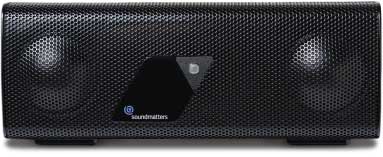 Ben Scarcelli was the most hospitable of hosts. He was serving piping hot espresso coffee throughout the show, so anyone in their right mind would keep coming back – I know I did. He had a lot of LP's and Blu-ray discs for sale, but what caught my eye was the upgraded foxL v2 speaker, which enables you to play back using USB or Bluetooth from an iPhone, iPad, MP3 player or a computer. It also allows you to have a sub-out and incorporates a dual purpose lithium battery pack which doubles as a passive subwoofer to extend the low frequencies down to about 80 hertz, all in a very compact package. Soundmatters claims full audiophile stereo sound, and the unit comes with a world adapter you can plug in anywhere, and all the cables you need. The battery life of 8 hours is impressive. The Bluetooth version ($225) also answers your phone calls with a two-way mike for conference calls while the standard version is just $189. How good is it? I'll let you know in my upcoming review.
Audio Basics was selling a wide range of products including Art Vinyl, Audioquest HDMI, Eagle Rock Blu-rays, Dynaudio, Mobile Fidelity, Music Matters Jazz, Nordost, Olive Audio, Omega Headphone Stands, Oppo Digital, Speakers Corner, Pure Pleasure Records, Runco flat panel TV, Simaudio Moon, Solidsteel Audio A/V stands, SOTA, Warner Canada and T+A, many of these brands being on active or passive display. T+A's new K8 Blu-ray Receiver was playing an excellent Blu-ray video of Stevie Wonder live in concert on my last coffee-stop. What more can you ask?
TAVES
How wonderful to have a great show in Toronto after a gap of some 15 years. Everyone I spoke to said they'd be back next year. And my thanks to the TTC passenger who found my press camera on the subway and handed it in so promptly! Toronto – you rock!