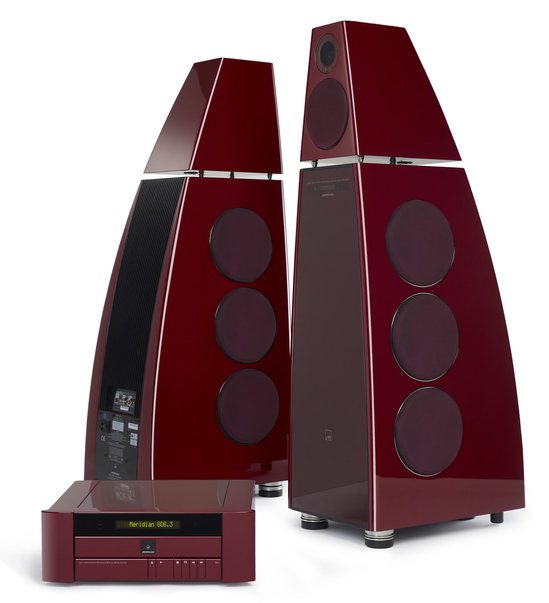 It began 40 years ago with Bob Stuart and Allen Boothroyd working together to design audio products – beginning with the Lecson AC1 control unit and AP1 power amplifier, which eventually won Bob and Allen their first British Design Council Award in 1974. To celebrate the ruby anniversary of Allen and Bob's creative partnership, Meridian is releasing a special limited edition 40th Anniversary System that consists of a special version of the 808 signature Reference CD player and an enhanced pair of Meridian's flagship DSP8000 Digital Active Loudspeakers.
Limited to only 40 numbered editions world-wide, each system comes finished in an exclusive "Ruby" red finish, with an engraved plate showing its unique system number and signed by Bob and Allen. The speakers also have coordinated glass inset panels, loudspeakers grilles and tweeter surrounds, with new, polished bezels surrounding the drivers. Each set will also include a book, illustrating the rich history of Meridian's exceptional Digital Signal Processing (DSP) loudspeakers, which is also signed by Bob and Allen. Meridian will provide system fine tuning in the owners venue by a Meridian senior engineer.
The 808 Signature Reference CD Player features a CD-ROM-based drive which allows for data recovery and error correction. A master clocking system and timing circuitry minimise jitter for improved sound source localisation, clarity and imaging while unique Meridian DSP technologies add new accuracy and clarity to CD replay, even correcting faults in the original recording, helping to make CDs sound like high resolution recordings.
Meridian's Digital Active Loudspeakers DSP8000 are designed to accurately reproduce both the power and subtlety of a concert grand piano up to live level, with high resolution. All Meridian products are constructed from the finest available materials, with parts being individually selected for sound quality.
The Meridian 40th Anniversary System is available in October 2011 at a MSRP of: £60,000.00 or $100,000.00 U.S. Look for more details on the Meridian 40th Anniversary System at: www.meridian-audio.com.