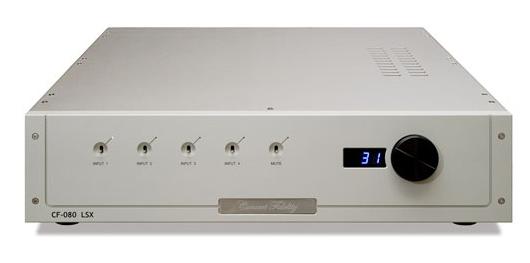 Concert Fidelity is a Japanese company that specializes in designing and manufacturing high-end audio products – just the stuff we as audiophiles love. The news here is that Concert Fidelity will be showing their recently released CF-080LSX2 hybrid linestage (tube) preamplifier at the upcoming RMAF show in Denver.
The CF-080LSX2 preamplifier is an upgraded version of Concert Fidelity's previous preamplifier linestages. It uses two 12AU7 valves for gain and a single 6CA4 valve for rectification. The 12AU7 valves appear at the rear of the unit and are protected by a pair of bars. Four level RCA inputs with input impedance of 100 kohms each are provided. Output is via a pair of stereo RCA single-ended jacks.
The gain on the preamplifier is selectable between 6dB and 12dB, in conjunction with the master volume control on the front panel, which is motorized with remote control capability. Concert Fidelity claims that state-of-the-art DC-DC converters are used in the critical power supplies of the input and volume control stages, which provides electric isolation, immunizing it against AC-related noise and lowering the overall noise floor. Other changes include the addition of improved chip resistors in the input and volume control stages; the ground level was revised; and the layout of the high-voltage power supply circuit was revised.
The preamplifer weighs in at a respectable 19 lbs. Enjoy the Music.com has reviewed the Concert Fidelity DAC-040 digital to analog converter and the Concert Fidelity CF-080 linestage.
There new model is priced at $20,000 U.S. the same as the previous model and Concert Fidelity will be offering an upgrade path program to current owners of the previous CF-080 models.
Look for more details on this product at: http://www.concertfidelity.jp.