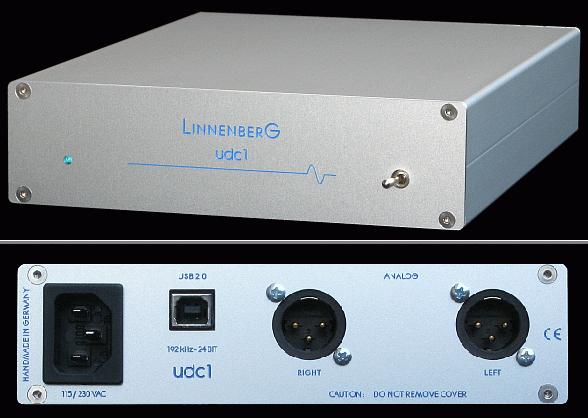 Linnenberg is a Germany based audio product company, which has just released a new USB digital-to-analogue converter (DAC) component.  The udc1 is designed to help consumers build an audiophile system using a computer based source for audio files.
The udc1 is designed to communicate with a computer exclusively via USB and has been optimized specifically for this purpose.  The udc1 features an asynchronous USB 2.0 high-speed (480Mbit/sec) interface, allowing samples rates up to 192 kHz/ 24bit.
The USB transceiver and I2S decoder circuitry is not powered by the USB bus. The udc1 does not take any power from the computer, freeing the USB-interconnect (USB cable) from the burden of delivering current and high speed, high frequency data at the same time. It also enables the use of laptops running from rechargeable batteries instead of the switch mode power supply, while achieving the same levels of performance.
A PCM1794A chip is used for the actual digital to analogue conversion and a Class A signal path employs high quality parts from ZETEX and Analog Devices. The enhanced output stage of the udc1 drives cables of any length as a result of the excellent wideband diamond buffer with 0.25A current capability. All voltage regulators are sourced exclusively from the leading specialist supplier (Linear Technology) with ultra low noise specifications (20uV).
Specifications:
Frequency response: 1Hz – 24kHz +0.1dB -0.5dB
Distortion and noise:<0.01% 10Hz – 20kHz at -10dB
Output level:4V rms balanced
Output impedance:150 Ohms
Mains voltage:115V, 230V factory set
Dimensions (H x W x D):55 x 165 x 224 mm
The udc1 is now available via direct order from Linneberg. MSRP is €1260; however, the udc1 is being offered at a lower introductory price of €890, until the end of the 2011.
Look for more details at: www.linnenberg-audio.de