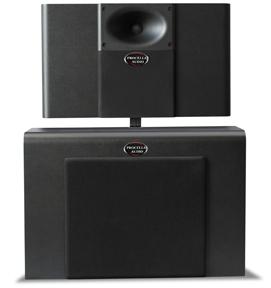 Procella Audio will soon launch their new P610 biamplified full-range L/C/R speaker and the P10Si room-balancing subwoofer.
The P610 is designed for medium to large rooms, which are up to 30 feet deep. The speaker has a shallow depth of 5.9 inches, which allows for ease of placement, such as within a wall niche. Height is 27.6 inches with a width of 21.3, giving it an overall compact size.
If theatre-level volumes are your desire, then you'll be happy to know that the Procella P610 is claimed as having the ability to generate THX cinema reference-level playback levels of 105dB continuous in medium to large rooms. It has also been designed to produce bass frequencies down to 40Hz.
The P610 utilizes a 1-inch high-frequency compression driver mounted with an elliptical waveguide, together with a 6.5-inch midrange and 10-inch long-throw woofer. Both the midrange and high-frequency drivers are in separate, rotatable bracket-mounted cabinets.
Power handling is 350 watts continuous / 1,000 watts peak for low frequencies and 100-watts continuous / 300-watts peak for high frequencies.
The P610 is voice-matched to the company's P8 and P6 speakers, which can be used for surround channels and the P610 has been optimized to be paired with Procella's upcoming four-channel rack-mounted DSP amplifier.
Pricing for the Procella P610 is $3,199 U.S. / speaker and the P10Si sub is $1,495 U.S. Both the P610 and P10Si are expected to ship in September 2011.
Look for more details at: www.procella.citymax.com.