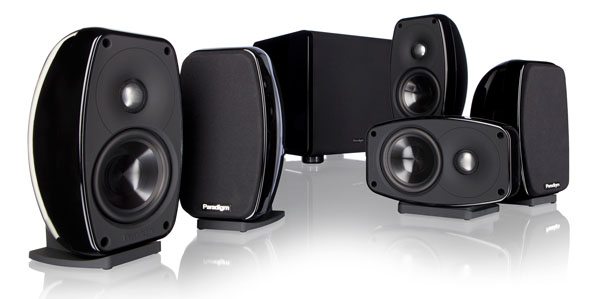 Paradigm has just announced new Cinema series speakers for those with smaller budgets who would like to enjoy high quality sound.  Paradigm says that trickle-down technologies from the company's Reference lines combined with best-in-class build materials make the new Cinema speakers a perfect entry point for aspiring audiophiles and home theater enthusiasts.
Reengineered and redesigned from head to toe, Cinema is comprised of all new models including: Cinema 100 satellite (table-top stand and wall-mount bracket included), Cinema 200 on-wall, Cinema 400 on-wall, Cinema Trio 3-in-1 LCR, Cinema Sub and the Cinema 100 CT 5.1 system. A seemingly endless array of audio configurations can be arranged with the combination of satellite, on-wall and 3-in-1 speakers, depending on customer preference.
Starting with build materials, Paradigm infused Cinema speakers with Reference-quality crossovers, S-PAL satin-anodized pure-aluminum dome tweeters and wire-mesh tweeter guards with WaveGuide technology borrowed from the Reference Signature series, which encourage wide and spacious dispersion while protecting the sensitive dome surface. Mineral-filled polypropylene bass/midrange cones with added mineral content stiffen cone composition. Across the series, acoustic achievements include: lower frequency extension, flat response curves, further reduced distortion, sustained sensitivity and improved full dispersion.
Aesthetically, Cinema speakers include new curved and sculpted acoustic suspension cabinets with industrial high-gloss finish, offering a modern appeal. Push-through binding posts with new Easy-Glide wire channels allow for painless installation and banana plug access. For placement flexibility without sacrificing performance, Paradigm equipped new Cinema with the EasyMount wall-mounting system (and contemporary tabletop stand option – Cinema 100 only). Cinema speakers also feature removable self-aligning StayTight magnetic grilles (excluding Cinema 100) for fit-like-a-glove contact and perfect alignment.
While speakers get the most attention, the low-frequency contributions of the Cinema Sub are not to be ignored. With a dramatically increased dynamic range over the last Cinema Sub, this subwoofer features an 8" high-excursion driver made of polymer composite, capable of producing 300 watts Dynamic Peak and 100 watts RMS sustained. The Cinema Sub is included in the Cinema 100 CT system or available a la carte and allows for two different placement options: gloss side up or cloth side up depending on your aesthetic preference.
The Paradigm MC-30 high-performance floor stand (sold separately) adds another sturdy set-up option for the Cinema 100 with its extruded aluminum post, polymer base and cast iron ballast. A customized bracket head and hidden cable channel ensure this stand will never attract more attention than the speaker it supports.
Cinema 100: 2-driver, 2-way – 1" tweeter, 4" bass/mid driver.
Cinema 100 2.0 EST US MSRP: $299
Cinema 100 3.0 EST US MSRP: $449
Cinema 200: 3-driver, 2-way – 1" tweeter, two 4" bass/mid drivers.
EST. US MSRP: $249
Cinema 400: 5-driver, 2 ½ way – 1" tweeter, one 4" bass/mid driver, one 4" bass driver.
EST. US MSRP: $399
Cinema Trio: 7-driver, 3-channel, 2-way – three 1" tweeters, four 4" bass/mid drivers.
EST. US MSRP: $549
Cinema Sub: 8" high-excursion driver, 300 watts Dynamic Peak, 100 watt RMS sustained.
EST. US MSRP: $349
Cinema 100 CT: Five Cinema 100 satellite speakers and one Cinema Sub.
EST. US MSRP: $999
For more information please visit www.paradigm.com.