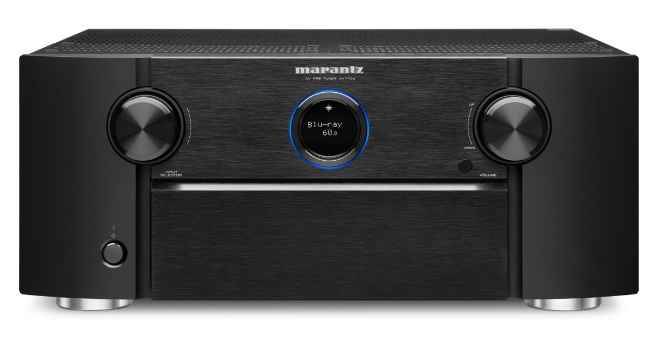 With Marantz has released their first Dolby Atmos capable Multichannel A/V Preamplifier, the AV7702.  This new model comes with built-in Wi-Fi, Bluetooth, and the latest audio and video processing technologies.
The new AV7702 comes with the latest current feedback topology and Marantz's own developed high-definition HDAMs, to deliver the power and finesse to astonish any listener.  With built-in Wi-Fi and Bluetooth capabilities the AV7702 opens up a multitude of music sources, such as Internet Radio, Spotify Connect, Pandora, SiriusXM, and AirPlay. Via DLNA network streaming as well as through playback from music files stored on a PC or external storage unit.  Almost any file is possible including MP3, WMA, FLAC HD, ALAC, WAV192/24 & AAC, as well as, Gapless, DSD, and AIFF. In addition, iPod digital-compatible USB input and a Phono MM input for vinyl ensures there will be no shortage of music options.
The video section comes with advanced video processing, support of the latest HDMI standard (4k 60Hz pass- through), 7+1 HDMI inputs and 3 outputs for main zone & multi-zone.  Even more, the AV7702 features high-quality video processing technology to upscale standard of high definition video to Full HD 1080p and even 4k full rate (50/60 Hz).
With four DSP (Digital Sound Processing) engines, the AV7702 can handle up to 11.2 channels, supporting Audyssey DSX, DTS Neo:X 11.1, as well as the latest decoding technology Dolby Atmos.  The AV7702 has the processing power to run a more enveloping, 7, 9, or 11 channel Dolby Atmos layout using 5.1.2, 5.1.4, 7.1.2, 7.1.4 or 9.1.2 configurations utilizing ceiling mounted, or Dolby Atmos-enabled speakers.  A 5.1.2 or 5.1.4 speaker configuration is based upon a traditional 5.1 speaker layout complemented by 2 or 4 overhead, or Dolby Atmos-enabled speakers. A 7.1.2 or 7.1.4 configuration is based on a 7.1 speaker layout with 4 overhead, or Dolby Atmos-enabled speakers. A 9.1.2 configuration is based on a 9.1 speaker layout with 2 overhead speakers.
To finish off, the AV7702 owns 13.2ch pre-out capability (11.2ch XLR, 13.2ch RCA) for extreme versatility in amplification options.  The most advanced Audyssey MultEQ XT32 (Pro ready) room correction suite adds to the most accurate calibration of the speakers to guarantee that every seat in the room is a 'sweet spot' for audio. Audyssey LFC reduces the transmission of low frequency sound through walls something your neighbors are sure to appreciate, while Audyssey Sub EQ HT cares for perfect integration of two subwoofers in the home theater setup.
AV7702 Multichannel A/V Preamplifier with Wi-Fi and Bluetooth – Main Features
Wi-Fi and Bluetooth built in
Big trapdoor design
Current Feedback topology and new Marantz HDAM
Dolby Atmos
Dolby TrueHD and DTS HD Master Audio
Audyssey MultEQ XT32, LFC, Sub EQ HT, Pro ready
Audyssey DSX; DTS Neo:X (11.1ch)
13.2ch pre-out (11.2ch XLR, 13.2ch RCA) and 11.2ch signal processing
Latest HDMI version with 4k 50/60Hz 4:4:4 resolution
7+1 front HDMI in / 3 HDMI out (2 + 1 zone) (4k 50/60Hz, 3D, ARC, Deep Color)
HDMI scaling 1080p, 4k 50/60 Hz
ISF video calibration
MP3, WAV, AAC, WMA, AIFF
HD Audio streaming: FLAC 192/24, DSD, ALAC
Gapless Playback
USB port
Spotify Connect*, Pandora* Sirius XM, Flickr, Internet Radio support
Phono (MM) input
Setup Assistant and Advanced GUI
4 Smart Select buttons for fast selection of listening presets
RS232
Marantz Remote App for iOS and Android devices
The AV7702 is currently available at a MSRP of $1,999.00 U.S. in black finish.  Look for more details at: http://ca.marantz.com.
Comments are closed.