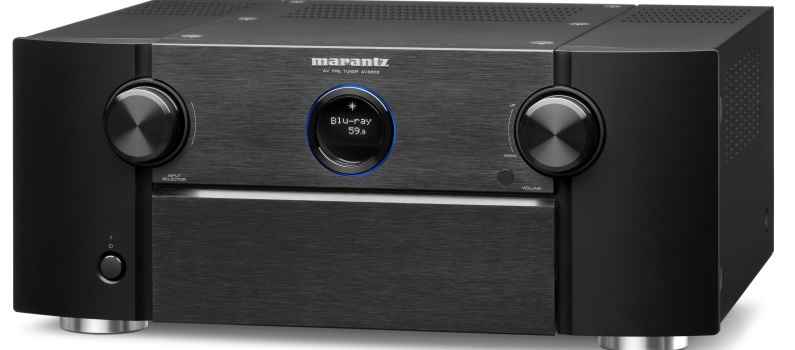 TMarantz has just announced their new AV8802 flagship A/V preamplifier.  The new multi-channel preamplifier features a complex build quality with a toroidal transformer, a three-piece top cover layout, all packed in a heavy copper-plated chassis.
The Marantz AV8802 11.2-channel A/V preamplifier features breathtaking 3D-sound options, including Dolby Atmos and Auro-3D (paid upgrade required).  The AV8802 handles all music signal via the Marantz proprietary HDAM in Current Feedback topology before being passed to the XLR outputs and separate power amplifier.  Marantz HDAM (Hyper Dynamic Amplifier Module) technology, which is found on Marantz Reference Series components, provides superior low noise wideband performance in an all-discrete configuration, compared to conventional op amp ICs.  HDAM technology provides an ultra-fast slew rate for true wideband response and maximum dynamic range to deliver optimum sound quality with today's high-resolution audio formats.
The AV8802 sports high-grade audio components including audiophile 32-bit/192-kHz D/A Converters and a high-performance power supply with 4x 10.000µF capacitors.  With four DSP (Digital Sound Processing) engines, the AV8802 is capable of playfully handling up to 11.2 channels, fully supporting Audyssey DSX, DTS Neo:X 11.1, or the new immersive 3D sound formats.
The AV8802 fully supports 4K Ultra HD video, along with the latest generation HDMI specification including 4K 50/60Hz pass-through and 4:4:4 Pure Color full color resolution sub-sampling. The AV8802 can upscale 1080p content to 4K and also upscale and transcode HD and SD analog video sources, so users can connect modern as well as legacy video sources and run just a single HDMI cable to a flat panel TV or projector. There are eight HDMI inputs including one conveniently located on the front panel, and three HDMI outputs that can drive two different displays in the main room and another HDMI display in the 2nd zone. Full HDCP 2.2 will be supported via a future upgrade (requires hardware modification), as Marantz does not want to compromise on the limited bandwidth and color capability of currently available HDCP 2.2 implementations.
With Wi-Fi aboard the AV8802, a plethora of music sources are available, including Internet Radio, Spotify Connect, Pandora, SiriusXM and AirPlay.  It can play music files stored on a PC or external storage unit via DLNA network streaming standard.  Almost any file is possible including MP3, WMA, FLAC HD, ALAC, WAV192/24 & AAC. Gapless, DSD, and AIFF are also supported for the full enjoyment of live concerts or classical recordings. To round up the connectivity options, the AV8802 comes with an iPod digital-compatible USB input and a Phono MM input for vinyl fans.
For extreme versatility in connectivity options, the AV8802 owns 13.2ch pre-out capability (13.2ch XLR, 13.2ch RCA) and even a 2ch XLR input. The advanced Audyssey MultEQ XT32 (Pro ready) room correction suite adds to the most accurate calibration of the speakers to guarantee that every seat in the room is a 'sweet spot' for audio. Audyssey LFC reduces the transmission of low-frequency sound through walls to other rooms, while Audyssey Sub EQ HT cares for perfect integration of two subwoofers in the home theater setup.
In addition to easy operation with the supplied ergonomically designed remote control, the Marantz Remote App (available in iOS and Android versions) lets you operate the AV8802 from your favorite device, such as a smartphone and tablet.
AV8802 Multichannel A/V Preamplifier with Wi-Fi and Bluetooth – Main Features
• Wi-Fi and Bluetooth built-in
• Current Feedback topology and new Marantz HDAM
• Toroidal transformer & Copper-plated chassis
• Three-piece top cover construction
• High-performance power supply with 4x 10.000μF capacitors
• Audiophile 32-bit/192-kHz D/A Converters
• Auro-3D upgrade-ready (up to Auro 10.1)
• Dolby Atmos (5.1.2, 5.1.4, 7.1.2, 7.1.4 configuration)
• Dolby TrueHD and DTS HD Master Audio
• Audyssey MultEQ XT32, LFC, Sub EQ HT, Pro ready
• Audyssey DSX; DTS Neo:X (11.1ch)
• 13.2ch pre-out (13.2ch XLR, 13.2ch RCA) and 11.2ch signal processing
• Latest HDMI version with 4k 50/60Hz 4:4:4 resolution
• HDCP 2.2 upgradeable (requires hardware modification)
• 7+1 front HDMI in / 3 HDMI out (2 + 1 zone) (4k 50/60Hz, 3D, ARC, Deep Color)
• HDMI scaling 1080p, 4k 50/60 Hz
• ISF video calibration
• MP3, WAV, AAC, WMA, AIFF
• HD Audio streaming: FLAC 192/24, DSD, ALAC
• Gapless Playback
• USB port
• Spotify Connect, Pandora, SiriusXM, Flickr, Internet Radio support
• Phono (MM) input
• Setup Assistant and Advanced GUI
• 4 Smart Select buttons for fast selection of listening presets
• RS232
• Marantz Remote App for iOS and Android devices
The new Marantz AV8802 Multi-channel A/V Preamplifier will be available in February 2015 at a MSRP of $3,999 U.S.  For more information, please go to: http://ca.marantz.com.
Comments are closed.