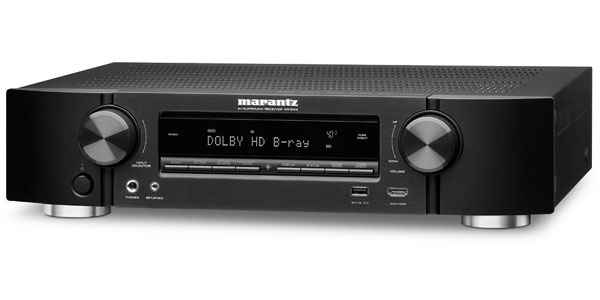 Marantz has just introduced two new affordable, slim-line networking AV receivers – the NR1504 AV ($599) and the NR1604 ($729). The NR1604 features Apple's AirPlay, allowing users to stream their iTunes music whether from Mac or PC, as well as music stored on their iPhone, iPad, or iPod touch. The NR1504 features 5-channel surround sound, while the NR1604 offers 7 channels. Both receivers deliver powerful and realistic surround sound from virtually all modern popular entertainment sources.
For maximum connectivity, Marantz's new receivers feature multiple rear panel HDMI inputs. Both also include an additional HDMI input on their front panels that lets users easily access their home entertainment system by connecting a variety of HDMI-equipped portable devices like HD camcorders, smartphones or video game consoles. To ensure total "future-readiness," the NR1604 receiver offer 3D pass-through and supports next-generation displays capable of reproducing 4K Ultra HD video.
Both the NR1504 and the NR1604 feature advanced networking capabilities that allow users to enjoy thousands of Internet radio stations as well as music streaming services, such as Pandora, SiriusXM and Spotify. Connecting portable devices, including an iPhone, iPod or iPad, is a quick and easy process thanks to the units' front panel USB port. Users may also connect other devices such as a USB thumb drive or a portable USB hard disk drive to play their favorite music tracks. The optional RX-101 Bluetooth wireless adapter permits music streaming from portable Bluetooth devices to the NR1504 and NR1604. Providing even more versatility, both models can also be controlled via the Marantz Remote App.

In addition, the NR1604 features multi-zone functionality, which allows music to be enjoyed in the main entertainment room, or sent to a different room such as a kitchen or bedroom using an additional pair of speakers. The NR1604 features multiple configuration possibilities, including a full 7-channel surround sound setup, or the option to power a 5.1 channel home theater system in the main room, while using an additional pair of speakers in another room. The independent source selection function even allows users to enjoy their favorite Hollywood blockbusters where the system is setup, while others can simultaneously listen to music from a separate source in another room.
The NR1504 features 6 HDMI inputs with 3 composite inputs. In addition to its 7 HDMI inputs, the NR1604 is equipped with 5 analog video inputs, including 2 component video inputs and 3 composite video inputs.
The Audyssey MultEQ room acoustic measurement and correction system makes it a snap to optimize the home theater setup for outstanding audio fidelity. Via the supplied microphone, MultEQ measures the characteristics of each speaker in the system (including the subwoofer) and quickly generates precision digital filters for the smoothest, most natural tonal balance over the entire audio range.
To ensure the very best quality video images at all times, the NR1604 features a sophisticated video processor that's fully compatible with next-generation 4K Ultra HD displays, features 4K upconversion from HD sources, and also provides 3D pass-through. The video processor features upconversion from standard definition to high definition, breathing new life into legacy video source components, while providing a single HDMI cable connection to the HDTV to eliminate connection hassles and save on cable costs.

Marantz has built its 60-year legacy on delivering true high fidelity music listening experiences, and these new products certainly deliver on that promise. For a great surround sound experience, the NR1504 features a powerful 5-channel amplifier section, while the NR1604 features a 7-channel amplifier section, with each channel rated at 70 watts. All of these power amplifier channels feature identical circuitry that includes discrete high current power output devices able to drive lower impedance loads.
For more info please visit www.marantz.com