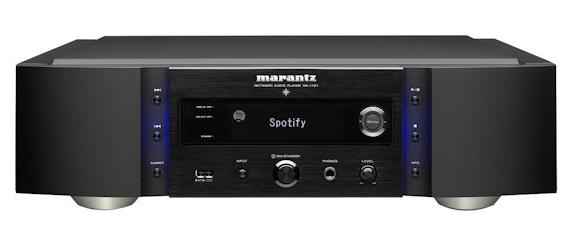 Marantz, has just announced the launch of its new Reference Class NA-11S1 Network Audio Player and DAC.  The NA-11S1 combines superior audio capabilities with advanced Internet streaming and digital connectivity options, all within a single box. 
The NA-11S1 provides connectivity to a broad range of portable devices as well as PC connectivity, all easily controlled with the supplied remote as well as with the Marantz Remote App on iPhone, iPad or iTouch.
Engineered to reproduce a rich and full spectrum of sound from all of today's popular music sources, the Marantz NA-11S1 is equipped with an RJ-45 LAN port so you can connect to your home network accessing thousands of internet radio stations and music streaming via Pandora, SiriusXM and Spotify.  The NA-11S1 is likewise equipped with Apple's Airplay so users can stream their iTunes music, whether from a Mac or PC, as well as directly from their iPhone, iPad or iTouch.  Front and rear panel USB inputs expand the musical horizons even more, allowing users to enjoy iPhone and iPod audio via a digital connection and hear the music with new detail and richness through their home audio system, with sonic refinements made possible thanks to the NA-11S1's advanced circuitry. The front panel USB type A port lets users connect portable devices directly, and it features automatic iPod detection and charging, even during standby mode.  The USB type B port on the rear panel lets users connect a PC or Mac directly, and the newly developed Ground/Signal isolator technology helps to reduce PC noise.  Dual (optical and coaxial) outputs are provided for connection to other components, and there are also dual digital inputs that allow the NA-11S1 to be used as a DAC with other digital audio sources.  As well, the NA-11S1 incorporates a high-quality headphone amplifier with its own output stage equipped with HDAM-SA2 devices, along with a precision variable analog volume control.
The new NA-11S1 is equipped with dual master audio clock generators with jitter reduction for numerous sampling frequencies and bit depths, up to 192 kHz/24 bits. The NA-11S1 also supports numerous audio file types, including WAV, WMA, MP3, MPEG-4 AAC, FLAC and ALAC, as well as DSD. The latest Marantz DSP processor (DSP PEC777f3) provides precision digital filtering, and the NA-11S1 offers a number of DSP modes that let users customize the sound, including two modes for digital sources, as well as the option of noise shaping and a DC filter with a 1.7 Hz cutoff.
For optimum audio fidelity, the NA-11S1 features high current, high resolution audiophile D/A converters, operating in differential mode for the lowest noise and widest dynamic range. The critical post-D/A current-to-voltage conversion is handled by the latest Marantz HDAM-SA2 devices, which feature precision discrete components in lieu of standard op amp chips. The final analog output stage features additional HDAM devices, and there are two output choices – unbalanced (RCA) and balanced (XLR). The balanced outputs also feature a phase-inversion option for compatibility with any XLR-equipped pre-amp.
As befits its reference-class status, the NA-11S1 features a rugged chassis with internal copper-plated surfaces. The thick 5mm top panel can easily support the weight of an additional component, and the dual-layer bottom plate and die-cast aluminum cabinet feet provide solid rigidity along with additional resistance from external vibrations. The massive power supply features a high current toroidal power transformer with multiple oxygen free copper (OFC) secondary windings, and is housed in a copper-plated enclosure for maximum shielding. Multiple separate circuit boards ensure minimal interference between the various analog and digital stages.
The new NA-11S1 has a MSRP of $3,499.00 U.S.  For more information on Marantz, visit www.marantz.com.