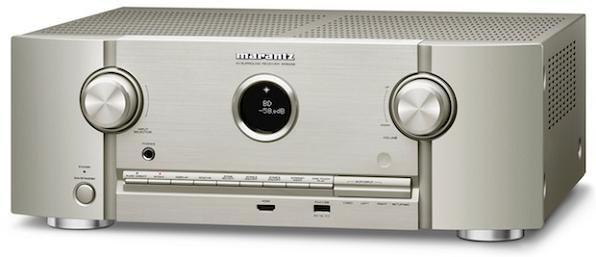 Marantz has just introduced two new audio/video receiver (AVR) models: the SR6006 and the SR5006. Both new AVRs include a full palette of leading-edge features, with claimed improvements in performance. The SR6006 has a rated power output of 7 X 110 watts / channel and the SR5006 outputs 7 X 100 watts / channel.
The new Marantz receivers incorporate HDMI 1.4a (3D/Audio Return Channel) repeating capability. Both provide upscaling of HDMI input signals to 1080p. The SR6006 includes seven HDMI v1.4a inputs (and dual outputs) with 3D (all mandated formats), as well as DLNA v1.5 (Digital Living Network Alliance), while the SR5006 features six HDMI inputs. Both have front-panel USB inputs, which are compatible with i-devices and support MP3, WMA and WAV files, with playback control via remote, while showing music track information on the unit's newly designed Graphical User Interface.
The SR6006 allows for streaming of Pandora, Rhapsody, Napster and Flickr as well as audio and photos directly from PCs. Users have access to Internet radio stations and a variety of content providers such as the Rhapsody and Napster music services.
The SR6006, which provides users with a three-zone audio networking solution and the SR5006, which offer two-zone audio networking, both feature advanced processing and sonic enhancement technologies. Both support audio bit-streams up to 320kbps, and feature the latest Dolby Pro Logic llz, Dolby True HD, and dts HD decoding. Additionally, both models accept LPCM 7.1 signals from a Blu-Ray player and have DC Triggers and RS232C.
The Marantz SR6006 and SR5006 are Bluetooth capable home theater receivers, designed to utilize their innovative M-XPort (Marantz eXpansion Port) to provide access to the optional Marantz RX101 Bluetooth receiver (MSRP: $99 U.S.). Powered by the receiver itself, the RX101 receives audio signals from Bluetooth-enabled devices (PDAs, PCs as entertainment devices, etc.) and sends them directly to the connected receiver. Users may listen to streaming audio from their Bluetooth-enabled cell phones, MP3 players, computers or other devices, including the iPhone and iPod Touch.
Aesthetics of the new models are in concert with the latest Marantz products and incorporate trademark design elements such as the Marantz star and porthole display.
Pricing is as follows:
SR6006 MSRP: $1,199.99 U.S.
SR5006 MSRP: $799.99 U.S.
Additional information is available at www.marantz.com