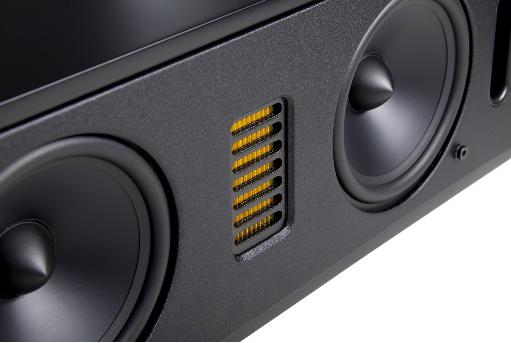 MartinLogan, has just begun to ship two new home theater speakers in their ElectroMotion Series. The two new models are the ElectroMotion C2 center channel and the ElectroMotion FX2 surround speaker. The new models incorporate MartinLogan's latest thin film transducer technologies – electrostatic and compact Folded Motion.
The new EM-C2 center channel and EM-FX2 wide-dispersion surround channel feature the next evolution of Folded Motion technology. MartinLogan's new larger, low distortion Folded Motion XT tweeter has a radiating surface 40% larger than those found in their award-winning Motion Series products.
The EM-C2 center channel has been designed to provide detailed, articulate, and authoritative presence. The EM-C2 is designed to fit discretely within any standard audio-video cabinet. The model incorporates dual 5.25-inch high-excursion, doped fiber-cone woofers with the Folded Motion XT tweeter, along with a high-precision, advanced topology crossover network. The EM-C2 is rated at 94dB efficiency.
The EM-FX2 features dual Folded Motion XT tweeters in a wide-dispersion array for surround channel applications. A single 6.5-inch doped fiber-cone woofer provides low-frequency extension. The EM-FX2 is designed to corner mount, wall mount or angle-wall mount.
The ElectroMotion Series also features push-style speaker terminals, adapted from MartinLogan's award-winning Motion Series, with curved inserts. The terminal's rubber end caps are removable to accommodate banana plugs.
The ElectroMotion C2 is priced at $799.95 U.S. each and the FX2 is priced at $649.95 U.S. each and are now available through authorized MartinLogan dealers.
More information can be found at: www.martinlogan.com/electromotion.