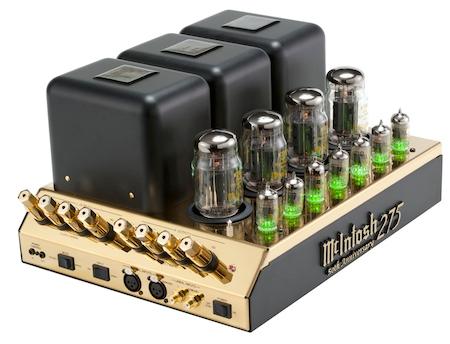 MC275 Tube Power Amplifier
McIntosh Laboratory, has just announced the availability of its 50th Anniversary Limited Edition McIntosh MC275 tube power amplifier. The new limited edition amplifier features an elegant gold-toned chassis and comes with a commemorative history book and deluxe packaging. Though the MC275 includes modern convenience and performance enhancements, it stays in touch with its heritage. Music enthusiasts are said to be able to an ultimate-quality McIntosh amp with the new MC275.
With its gold-toned chassis and rock-solid craftsmanship, the Limited Edition MC275 features the classic 1961 tube circuit design of the original, recognized worldwide as the hallmark of unmatched quality, performance and reliability. The new model incorporates several advanced features suited to today's listening trends. Key enhancements include a multi-colored LED display to indicate different performance readiness, as well as a new High Speed Sentry Monitor circuit that automatically turns the amp off should any particular tube wear out and restores power when the tube is replaced. For the first time ever, the Limited Edition MC275 is equipped with Power Control input and output, so on-off operation can be controlled by a simple cable connection to any McIntosh preamp or processor. The 50th Anniversary Limited Edition McIntosh MC275 tube power amplifier has a MSRP of $6,500 U.S.
MC8207 7-ch Power Amplifier
McIntosh Laboratory announced the MC8207 7 x 200-watt power amplifier for high-end home theatre installations. The amplifier is handcrafted at McIntosh's Binghamton, NY facility.
The MC8207 multi-channel amplifier delivers seven channels of power to a home theater system at 200 watts per channel. The unique McIntosh Dynamic Power Management circuit allows full power into both 4 and 8 ohm speakers. The MC8207 features three new "theater style" LED watt meters which allow monitoring of power sent to the main three front speakers.
XR Series Speakers
The XR series is comprised of the XR50 bookshelf speaker, LCR80 flexible compact speaker and XR100 full range tower speaker. Like all McIntosh products, they are meticulously handcrafted in Binghamton, NY. McIntosh engineers spent years developing the XR series, utilizing the world's finest materials, such as titanium in the midrange and tweeter drivers.
All XR Series speakers are designed to be paired with acclaimed McIntosh collections such as the "SOHO" audio or "WESTCHESTER" home theater systems. A typical McIntosh home theater arrangement might include one pair of XR100 left and right-channel speakers, one LCR80 for the center and one pair of XR50s for the rear channels. All three models are available in premium real wood gloss finishes of Black, Pear Maple, and Red Walnut.
The new XR Series speakers feature a host of leading-edge technologies for superior performance. The result is realistic and rich audio dispersion, with enhanced sound stage depth and the ultimate in realistic sonic imaging. With XR speakers, McIntosh claims listeners will enjoy a music listening experience that is as close to live performance as possible. Key design elements and technologies used include magnetically attached speaker grills covered in acoustically neutral black grill cloth, as well as alloy midrange tweeter baffles.
The XR50 is a compact bookshelf speaker designed to produce full sound. The McIntosh front panel logo illuminates when connected to contemporary McIntosh equipment, matching and completing the "total system design" concept. The true three-way, four-speaker design allows for the widest possible audio range and three-dimensional sound quality. Notably, where speakers of this size typically use a single tweeter and woofer, the XR50 adds two additional midrange/tweeters below the range of the super tweeter. This special McIntosh design clarifies and extends critical voice reproduction which greatly enhances dialog intelligibility and dimensionality. The XR50 is designed for use with any amplifier, while also offering high power handling of up to 300 watts, allowing it to match the output of popular McIntosh amplifiers.
The XR100 shares the same design principles as the matching XR50 speaker while adding deeper bass and higher acoustic output, in a taller floor standing cabinet, with more drivers. Using a total of 13 speaker drivers in each XR100 cabinet provides the capability to reproduce the lowest bass notes, eliminating the need for a subwoofer in many spaces, as well as handling of amplifiers up to 600 watts of power. Conversely, the XR100 produces more sound per watt, more proficiently than smaller sized speakers. The combination of high power handling and increased efficiency enables the XR100 to approach the true dynamic range of live music and theatre film sound.
The LCR80 acoustically corresponds to the new XR50 and XR100 speakers and may be positioned horizontally or vertically depending on the requirements of the installation. The alloy midrange tweeter baffle may be rotated depending on the orientation of the speaker, allowing for total placement versatility. Included wall mounting brackets and built in mounting anchor points further increase placement flexibility of LCR80. Designed for use with amplifiers up to 300 watts output, the LCR80 is identically voiced to complement XR100 and XR50 speakers.
MVP891 Universal Disc Player
McIntosh Laboratory announced their handcrafted, reference MVP891 Universal Blu-ray Disc Player offering world-class performance from virtually every video and audio disc format, including BD-Live Blu-ray Profile 2.0 web-enabled features. It offers fully up-to-date home entertainment integration capabilities, allowing for BD-Live and file sharing across a home network.
The MVP891's includes internal Dolby TrueHD and DTS-HD digital to analog audio decoding with 7.1 channel analog outputs, with high performance stereo digital to analog audio decoding with four dedicated fully balanced DACs per channel. The MVP891 is equally capable of playing SACD and DVD Audio discs as well as standard CDs and DVDs.
The design features custom fabricated steel and aluminum casework with unique, compartmentalized sub structures that inhibit resonance while shielding sensitive audio circuits. For maximum flexibility in convenience and installation, the unit also features a USB memory stick reader, an RS232C interface and an Ethernet connection for BD-Live content and future software updates.
Look for more details on these and other McIntosh products at: www.mcintoshlabs.com.