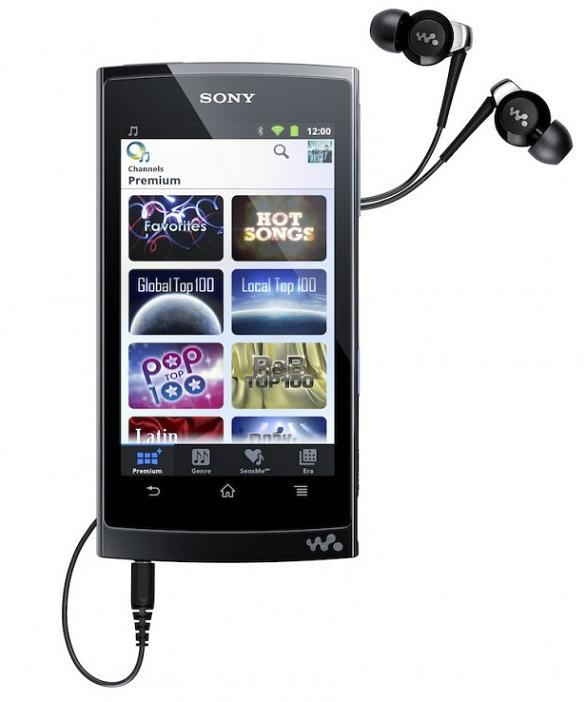 News on Sony at CES includes a new Android based Walkman as well as an updated line-up of Blu-ray players, including one with 4K.
Walkman:
There is a new Walkman with the new Z Player, powered by Android from Sony. As a first MP3 player from Sony to be powered by Android 2.3, users can now access the Android market with its built-in WiFi, browse the Internet, check e-mail and more. Sony's Entertainment Network's subscription cloud-based Music Unlimited Service offers more than 10 million songs. The Walkman Z player also offers easy transfer from iTunes for Windows or Windows Media Player.
The new Walkman has an anti-reflective 4.3-inch multi-touch LCD screen and features the integrated S-Master MX digital amplifier to greatly reduce noise levels and distortion along with additional audio technologies to create an enriched music experience.
SenseMe technology allows users to play music that complements their mood, through automatic categorization of music tracks into different channels. Sony will offer three different models based on storage capacity with the 8G Z Series going for $249.99 U.S., the 16G for about $279.99 U.S. and the 32G for about $329.99 U.S. All three will be available Spring 2012.
Blu-ray Players:
Three new models have Wi-Fi Internet connectivity.
The BDP-S590 and BDP-S790 players add Blu-ray 3DTM playback capabilities. Additionally, the BDP-S790 is capable of "upscaling" HD to 4K resolution. When communicating to a broadband network, all models tender access to movies, video, and symphony services through the Sony Entertainment Network including its Video Unlimited and Music Unlimited streaming services, at the same time that well as the most popular amusement services from Netflix, Pandora, HuluPlusTM, Amazon Video steady Demand, YouTube, Slacker Internet Radio, Crackle and many more.
In addition to Web make easy, the new models include the Sony communicative viewing application, SocializeTM which lets viewers proportion their media experiences with friends and followers steady TwitterTM and FacebookTM directly through their Blu-beam disc player. The 2012 models also add Sony's new user interface to rescue greater customization and streamlined access to online appease and apps. Quick access to the of the present day portal which highlights four sections, "Favorites," "Apps," Video" and "Music" is useful through a new "SEN" (Sony Entertainment Network) button adhering the device remote control.
Also on display is the BDP-SX910 portable Blu-ray Disc player which includes a 9" screen, and supports playback from Blu-intellectual light Disc media, DVD discs and USB media. It features up to four hours of battery life2 from the built-in, rechargeable battery and offers built-in speakers and headphones output considered in the state of well as touch-key controls.
Look for more information at: www.sony.ca.