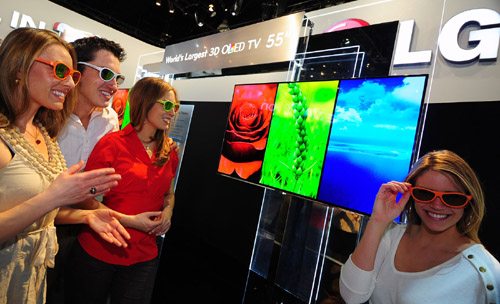 LG Electronics has just introduced its 2012 HDTVs, led by what is believed to be one of the world's largest Ultra Definition (UD) 3D TV and an awe-inspiring 55-inch class (54.6-inch diagonal) OLED HDTV – at the 2012 CES.
The Next Generation Display: 55-inch 3D OLED TV
What sets LG's TV picture apart from other OLED TVs is its 4-Color Pixels and Color Refiner which work together to generate natural and accurate colors that are sharp and consistent. The 4-Color Pixels feature allows for more accurate color depiction by using a set of four colors (red, green blue and white) in comparison to the RGB setup used by other OLED TV manufacturers. Color Refiner ensures consistency in colors from a wider viewing angle via an LG algorithm which improves and refines hues and tones. This is in contrast to other OLED TVs which often exhibit drastic changes in hues from different viewing angles and abnormal color gamut.
Boasting an infinite contrast ratio, LG's OLED TV exhibits vivid colors and the smallest details regardless of the overall luminance of the on-screen image. In turn, colors and details throughout an entire image are preserved with utmost clarity and sharpness, even when displaying scenes with dark lighting. Such color capabilities are technically impossible with LED and LCD display panels. And at 1,000 times faster than LED/LCD displays, LG's OLED TV shows crystal clear motion without any blurring or bleeding.
LG's 3D OLED TV is equipped with LG's Film Patterned Retarder (FPR) CINEMA 3D technology, providing users with a noticeably more comfortable 3D experience compared to the active shutter 3D display of other 3D OLED TVs. FPR-type 3D TVs cause less eye strain, while FPR-type 3D glasses are far lighter than active shutter 3D glasses.
The energy efficient 3D OLED TV weighs a mere 7.5kg, making it easy to install and move around. Because its defect rate is minimal, the 3D OLED TV's productivity is high. Meanwhile, the 3D OLED TV uses a WRGB-type LG display panel, which is optimal for the production of large-screen TVs and ensures low manufacturing costs.
The Next Generation Display: 84-inch 3D UD TV
LG's 3D UD TV boasts superb picture quality on an expansive 84-inch display panel. With 8 million pixels and four times the resolution clarity (3840×2160) of existing Full HD TV panels, the 3D UD TV provides the most convincing 3D viewing experience currently available outside of a movie theater.
Smarter LG Smart TV
LG reaffirmed its commitment to the connected TV movement by offering an upgraded Smart TV package in 60 percent of its 2012 LCD TV line. In addition to premium content from providers like Netflix, Hulu Plus, VUDU and others, new content options this year include a one-stop-shop for 3D content (via the 3D Zone) and almost 1,200 total applications in the LG App store. LG also enhanced the user Web browsing experience by incorporating HTML 5 and Flash so it can now function as a full internet browser with video support.
Select series (LM9600 and LM8600) will feature the LG Dual Core chipset, which powers faster loading speeds and enables voice recognition technology on the new 4-mode Magic Remote. The new Magic Remote simplifies navigation with additional functions including Voice Recognition, Wheel, Magic Gesture and Pointing (see separate release). Consumers can also access online content easily through a built-in Wi-Fi connection. With Mobile HD Link (MHL), consumers can connect (hardwire) compatible mobile devices to the TV to charge and play its content (launch apps, games or access multimedia files) on the big screen using the Magic Remote to navigate. Finally, this year's Smart TV dashboard will be customizable so consumers can navigate and personalize their interface by putting their favorite content options on the main page.
Complementing its broad Smart TV line, LG also introduced two LED series featuring LG Smart TV with Google TV (LMG860 and LMG620). Consumers can navigate through LG's TV-centric home dashboard, or via the standard Google TV interface using a special remote control that combines the simplicity of the Magic Remote with an integrated QWERTY keyboard to access the broad array of Google content, including services and TV applications from the Android Market.
CINEMA 3D is Here to Stay
Due to its success in 2011, CINEMA 3D technology has been expanded to seven new series of LED HDTVs, all told 25 models. LG CINEMA 3D employs the revolutionary Film Patterned Retarder (FPR) technology to give viewers a great 3D effect and uses glasses that don't flicker like active shutter glasses. It also virtually eliminates cross-talk to help provide a more comfortable 3D viewing experience. The 3D glasses are battery-free, affordable and don't shutter open and closed so both eyes receive an image simultaneously. With new 3D Depth Control, viewers can optimize 3D content to their personal preference by adjusting the amount 3D effect applied to the content. 3D Sound Zooming offers users a maximized 3D experience with sound effect changing in accordance with the movement of on-screen objects. Upgraded 2D to 3D Conversion with improved depth effect enables any 2D content to be seen in immersive 3D.
Getting Interactive
LG's Dual Play function takes gaming to new levels of excitement. Many multi-player video games rely on a split-screen to show each player's perspective. However, Dual Play enables each player to enjoy a full screen view (in 2D) simultaneously through two different sets of polarized glasses.
Also on display will be the LG PenTouch plasma TV (PM6900). Particularly useful for families and businesses, the PenTouch plasma TV allows users to draw and write directly onto the display panel. Using a newly designed touch pen, users can do so through a variety of applications, including those for illustrations, photo editing and PowerPoint presentations.
For more info, please visit www.lg.ca.