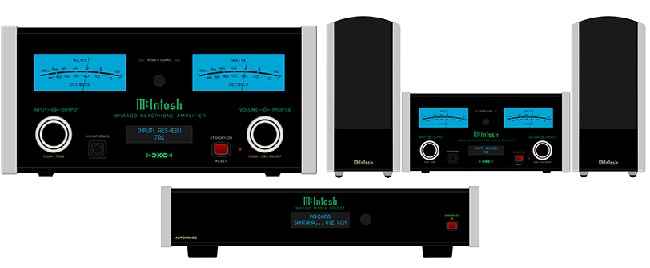 McIntosh Labs, a company with a 65 year heritage, has just recently announced three new products – the MB100 Media Bridge, MHA100 Headphone Amplifier and MXA70 Integrated Audio System.  All three new components are handcrafted at McIntosh's Binghamton, NY factory. 
MB100 Media Bridge
The MB100 Media Bridge allows streaming from music services such as Pandora,  SiriusXM, Spotify and others, as well as directly from a wireless device. In addition, the new MB100 features cloud access for backup and synchronization across multiple systems. With the MB100 it's possible to instantly create a Pandora station from a track in your library with a single touch of the TuneBridge icon.  If listening to a track on a music services, such as Pandora, you can find the original album by using TuneBridge and, Spotify can serve up the entire album in seconds. A solid state 64GB drive is housed within that runs the OS for rapid response and improved durability, plus an additional 1TB hard drive is integrated for file storage.  All can be controlled via an iOS/Android app, web browser, TV UI and/or the user-friendly front-panel display.
MHA100 Headphone Amplifier
The new MHA100 is McIntosh's first dedicated headphone amplifier. It features four digital inputs, while the headphone section uses McIntosh-designed and hand-wound impedance matching Autoformers to deliver full McIntosh power into any set of headphones. The MHA100 sports a more compact size to make it desktop friendly and with a 50-watt stereo speaker output, a set of desktop speakers can easily be driven, along with a pair of headphones.   
MXA70 Integrated Audio System
A perfect counterpart to the MHA100, the MXA70, it features a 50-watt stereo amplifier and a pair of specially designed 2-way desktop speakers, which finished in a luxurious, high gloss piano black and feature select driver elements housed in custom cast aluminum cabinetry. Connections for a powered subwoofer are also provided.  The MXA70 also includes the same dedicated headphone amplifier provided with the new MHA100.
North American pricing and availability is yet to be announced.  Look for more information and to become available at: www.mcintoshlabs.com.