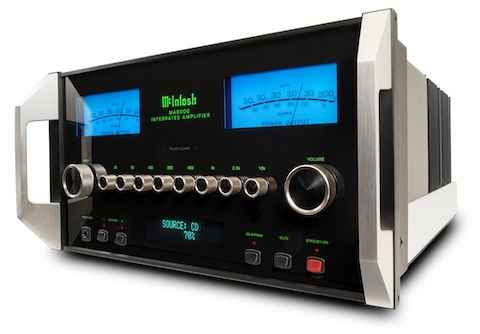 McIntosh has just released their all new flagship integrated amplifier – the MA8000.  The MA8000 provides 15 total inputs, including: 6 unbalanced, 2 balanced, 2 phono and 5 digital inputs.  The 5 digital inputs are equipped to handle up to 32 bits and 192kHz high resolution audio playback.  An analog eight band tone control allows for manual tuning and can be assigned to each input.
McIntosh embraces the growing vinyl following by providing a built-in phono stage – one moving magnet and one moving coild that can be adjusted to match a chosen cartridge.  A home-theatre pass through feature is provided for easy integration into a multi-channel theater system.
Power Guard is provided to prevent clipping that could damage your speakers, although the 300 watts / channel should be enough to drive virtually any speaker without challenge.  the MA8000 also includes a headphone amplifier for virtually all headphone types.
The MA8000 is housed in a polished stainless steel chassis with classic glass front panel, knobs and brushed aluminum handles.
Specifications are as follows:
Power Output per Channel: 300 Watts
Speaker Impedance: 2, 4, or 8 Ohms
Rated Power Band: 20Hz to 20kHz
Total Harmonic Distortion: 0.005%
Dynamic Headroom: 1.8dB
Frequency Response +0,-0.5dB: 20Hz to 20kHz
Frequency Response, +0, -3dB: 10Hz to 100kHz
Sensitivity Phono (Moving Coil): 0.30mV
Sensitivity Phono (Moving Magnet): 3.0mV
Sensitivity High Level (Balanced / Unbalanced): 0.6V/0.3V
Sensitivity (Power Amp): 1.7V
Signal To Noise Ratio (Moving Coil): 82dB
Signal To Noise Ratio (Moving Magnet): 84dB
Signal To Noise Ratio (High Level): 98dB
Signal To Noise Ratio (Power Amp): 114dB
Input Impedance (Balanced / Unbalanced): 10K/20K
Damping Factor: >40
Maximum Output (Balanced / Unbalanced): 8V Unbalanced / 16V Balanced
North American pricing has not yet been announced but the MA8000 will be available shortly through authorized dealers.  Look for more information at: http://www.mcintoshlabs.com/.