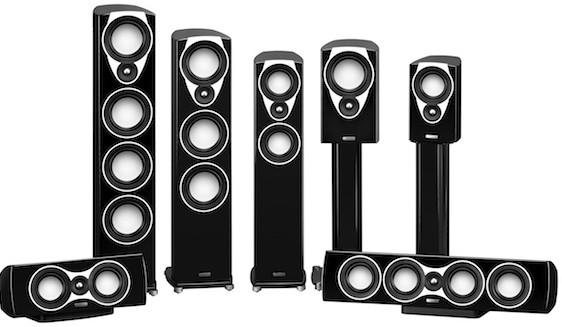 Mission, a loudspeaker company, has just  unveiled its new range the SX Series, which is made up of seven models, including two standmount, three floorstanders and two centre speakers.  
Mission engineers designed new drivers for the SX Series that incorporate the latest research in composite metallic material technology. The design target was to generate a wide bandwidth bass/midrange driver that reproduces all frequencies from 30Hz to 4KHz, a range of seven octaves.  To help achieve this ambitious self-set goal, the team designed the SX MC driver, a metal/fibre cone composite. It utilises a combination of pulp and aramid particles bonded to a precision-formed alloy 'voice plate', which forms the front face of the speaker. The new design is said to improve rigidity and self-damping to quell break-up modes, and damp unwanted resonances, while ensuring pistonic cone movement for low distortion.
To further enhance the SX MC driver's performance, it is housed in a cast-aluminium shell that is securely mounted on the die cast front baffle. Additionally, Mission sets this die-cast chassis into a multi-layer cabinet sub-baffle with a system that securely clamps the driver to both .
The extreme forces generated by the SX MC motor system could expose the treble unit to unwanted vibration but Mission has taken steps to prevent this. The SX TD treble unit features an 'extremely light and rigid titanium dome, fitted with a surrounding phase-correcting plate, helping smooth and extended response from 1kHz to beyond audible levels. This assembly is then housed in an elastomer chamber, isolating it from low frequency vibration, while still providing mechanical stability.
Combining the SX MC and TD drivers is a crossover that enables the performance necessary for each SX Series loudspeakers to behave as a coherent source.
To ensure the SX Series looks as good as it sounds, Mission's cabinet makers hand veneer and polish each cabinet. The premium piano lacquer option finish uses seven individual coats of lacquer, each polished and buffed to a mirror finish.
The SX Series design project was led by Peter Comeau, Director of Acoustic Design for IAG, Mission's parent company. Peter previously designed speakers for the Mission brand between 1999 and 2005, his work encompassing designs such as the Mission 780 and 782.
The Mission SX Series is available now in hand-finished black, cherry or rosewood real-wood veneers, with premium piano black or piano rosewood lacquered options.  The lacquered option adds £100 to the standmount and centre channel prices, and £200 to the floorstanders.
Pricing has only been announced for the U.K. as follows:
Standmount: SX1 (£699 per pair); SX2 (£849 per pair)
Floorstander: SX3 (£1,499 per pair), SX4 (£1,799 per pair), and SX5 (£1,999 per pair) 
Centre: SXC1 (£499) and SXC2 (£699) 
Look for more details on the Mission SX Series loudspeakers at: www.mission.co.uk.