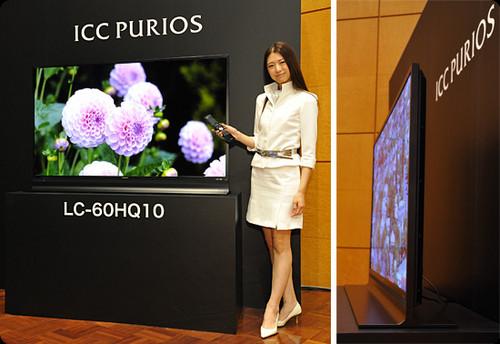 Sharp is joining the 4K Ultra High-Definition television race with their recent launch of a new flagship television – the ICC Purios LC-60HP10.   The new 60-inch features consumer 4K (Ultra HD) resolution – for a total of 3,840 x 2,160 pixels, as well as, Sharp's ICC (integrated cognitive creation) image processor.
In addition to being a 4K panel with region-specific TV tuner, the new flagship ICC Purios LC-60HP10, features THX4K and DLNA compliances, USB 3.0 ports for connecting hard-drives to record and playback content, and wired LAN.
Although the 60-inch display doesn't match its 80+ inch competitor Ultra HD displays, Sharp does boast it to be the first 4K TV to be released with a THX-certification.  Its speaker system is rated at 35 Watts, and also has a headphone jack, while the multiple tuners allow the display to support simultaneous recording of two programs when used with an external USB hard drive.
Availability of the ICC Purios LC-60HP10, in Japan, is expected in February 2013, at a price of 2.62 million Yen (US $31,400).  A global release is currently unknown, but more details may become available during CES in January.
Look for more details on this and other Sharp products at: www.sharp.ca.