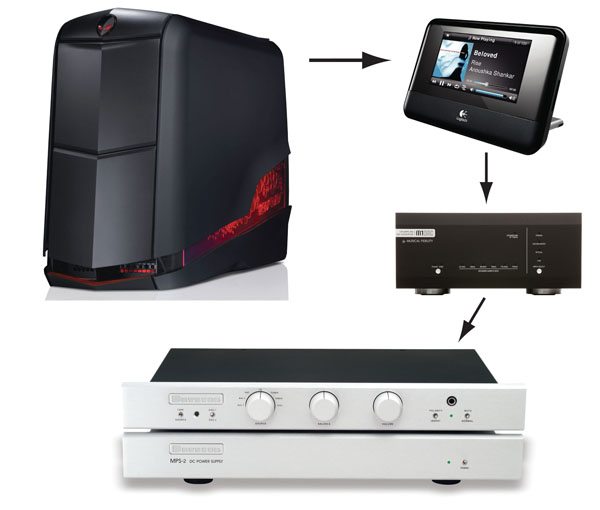 Back in the April/May 2012 edition of the CANADA HiFi magazine, within the article "Bits & Bytes – Digital Music Demystified: An Introduction to Digital Music Playback", we explored the basics of digital music playback.  This consisted of a conversation about digital music formats, sample rates and various source options.  Hopefully, you found that information enlightening and perhaps, since reading it, you've started exploring the realms of digital music further – if so, kudos to you!  On that note, I decided to take the plunge myself by assembling a mid-priced digital music playback system.  In this article, I'll share with you my experience which should provide some good insight to those looking to set up their own digital music playback system.
Though I've spent many years listening to both optical disc (CD and DVD) and vinyl sources, much of the latest in digital music playback is relatively new to me.  I don't own a laptop or an iPad and therefore, was interested in a device that could leverage the digital music files I already have on my Windows Vista based PC – a conglomeration of CD rips and downloads organized within iTunes.  I knew that the new device would need to be compatible with the various formats in my music library.  With a little research and a few inquires, the device that caught my attention was the Logitech Squeezebox Touch.  Why?  A few reasons – the Squeezebox Touch is modestly priced at $329.99, compatible with all common file formats, Wi-Fi and Ethernet enabled, hi-rez file friendly (it will read files up to 24-bit/192 kHz and pass files up to 24-bit/96 kHz) and has an integrated colour touch screen.  Though the Squeezebox Touch has an internal digital-to-analog converter (DAC), I thought it would make things just a bit more interesting to try out a stand-alone DAC, along with the Squeezebox Touch, just to see if any performance gains could be had.  Giovanni Militano had written a positive review of the Musical Fidelity V-DAC II in the December/January 2011/2012 edition of the CANADA HiFi magazine, so I thought moving to the next model up in the Musical Fidelity family – the M1DAC, priced at $749, should fit the bill. Editor's note: as this issue was going to print, unconfirmed rumours surfaced online that Logitech ceased the production of the Squeezebox line of products.  However George's experience below offers the same value to anyone thinking about setting up a digital music playback system in their home, since a number of similar devices exist.  One similar device called the Connect comes from a company called Sonos.
The Squeezebox Touch is a compact device sporting a 4.3 inch integrated colour touch screen.  It is a digital music player/receiver that can access any network-connected computer or network-attached storage (NAS) device through a wired Ethernet or Wi-Fi connection.  A software installation is required on the computer for this to work and the computer must be running during music playback.  The Squeezebox Touch's integrated USB input and SD card slot, also allow it to access digital music files from a connected USB thumb/hard-drive or SD card.  A distinctive feature of the Squeezebox Touch is its ability to read and play just about any format of digital music file, including MP3, FLAC, WAV, AIFF, WMA, Ogg Vorbis, AAC and ALAC – with sample rates of up to 24-bit/192 kHz.  Using its internal DAC, the Squeezebox Touch can output analog audio by way of its RCA stereo jacks or alternatively, a digital signal of up to 24-bit/96 kHz using its coaxial (S/PDIF) or optical (Toslink) jacks.  Interestingly enough, I found that it outputs simultaneously through all its outputs, making it possible to feed multiple receiving devices (preamplifiers, receivers, stand-alone DACs) at the same time.  The Squeezebox Touch also sports an internal headphone amplifier, accessible via a standard 3.5mm jack on its back.  The Squeezebox Touch came packaged in a shoebox sized box containing the Squeezebox Touch itself, IR remote control, 2 x AAA batteries, wall-wart power supply, RCA stereo cable, screen cleaning cloth and a quick-start manual.  I was very impressed by the build quality of the Squeezebox Touch given its price.  It felt solid in hand, having considerable weight given its modest size and it had an appearance that I would describe as purposeful with a "touch" of playfulness – pardon the pun.
The Musical Fidelity M1DAC (A) is a stand-alone up-sampling DAC.  This is the latest version which includes an asynchronous USB DAC section, hence the (A) designation in the model name.  It features four digital inputs: balanced XLR, USB, optical and coaxial.  These digital inputs accept incoming signals at up to 24-bit/192 kHz, with the USB input limited to 24-bit/96 kHz.  The optical input has potential of up to 24-bit/192 kHz; however, is recommended only up to 96 kHz due to intrinsic jitter with the optical format, according to John Quick of Tempo High Fidelity, the North American distributor.  Output of the Squeezebox Touch is offered via balanced XLR and RCA connections.  The M1DAC uses a proprietary in-board power supply that employs choke filtration to regulate and condition the incoming power in order to increase overall performance.  At the core lies a pair of Texas Instruments Burr-Brown DSD1796 DAC chips in dual-differential mode, tied to a Texas Instruments SRC4392 sample-rate converter chip that up-samples all digital sources to 24-bit/192 kHz.  In addition, all incoming signals are re-clocked to ensure low-jitter, which is claimed to be less than 12 picoseconds peak to peak.  Specifications indicate an impressive total harmonic distortion of less than 0.0025 percent with a signal-to-noise ratio greater than 119db A-weighted.  The M1DAC is relatively compact in size, with a width of just 8.6 inches – about half the width of a traditional audio component but at 3.4 kg (7.5 lbs), it's no lightweight.  A chrome inset moniker plate, simple lines and gentle contours provided a sense of refinement, while the many inset LEDs indicating power, incoming sample rate, active input and upsampling, added both utility and flair.  Build quality as well as fit and finish is high and the optional silver finish (black is standard) of the review sample was very attractive.  Overall, the M1DAC portrayed a serious yet sophisticated demeanour.
So first up for evaluation was the Squeezebox Touch device.  After unpacking, I followed the four step quick start guide that led me to the Squeezebox Touch's on-screen setup.  After completing the setup, I downloaded and installed the free Squeezebox software on my PC, from the website cited in the guide.  This process was relatively straight forward and in no time the Squeezebox Touch was accessing all the music files on my PC.  Using the Logitech Media Server Control Panel, by way of the convenient shortcut placed on my desktop, I was able to restrict the access to the folders where my music files reside.  Overall, I found the menus to be intuitive and easy to use, even for a computer illiterate, like me.  Next, I hooked up the Squeezebox Touch to my Bryston BP6 preamplifier via its analog RCA output.  There I had it – music streaming from my PC to my audio system.  Thankfully, Goerner Communication, the North American distributor for Audio Physic, had kindly left me with the Sitara 25 loudspeakers (reviewed in the June/July 2012 issue) for an extended period, as their resolution proved to be an invaluable tool.
I started with a little Internet radio.  What impressed me is that the Squeezebox Touch provided a selection of local radio stations as a menu option, so I could tune into some of my favourites with a couple strokes.  Internet radio sounded quite pleasant for casual background listening, though noticeably limited in resolution, dynamics and soundstage size, as expected, given the MP3-like, low-bit rate, ranging from 48 kbps to 128 kbps.  Quality did vary station to station, sometimes independent of the bit rate, so users should be prepared to explore.  I moved on, to a couple of albums that I ripped to my PC from CD in Apple's Lossless format (ALAC) – Herbie Hancok's, River: the joni letters album and Paul Simon's, So Beautiful or So What.  This allowed me to put my Rega Apollo CD player up against the Squeezebox Touch directly.  I was surprised to discover how small the difference in sound quality was.  With the Squeezebox Touch playing the title track River, from Herbie's album, Corinne Bailey Ray's girlish delicate intonations came through with clarity and smoothness.  The gentle pluck of guitar strings was portrayed accurately and the light cymbals had crispness and delicacy.  Flowing piano keys had accurate tone and revealed a good portion of resonance.  There was also warmth to the sound.  Going back and forth, between the Apollo CDP and the Squeezebox Touch, demonstrated how competitive the sound of the Squeezebox Touch was in direct comparison with a $1000+ CD player.  The Apollo expressed more impact on piano keys and had more presence in the midrange, however the Squeezebox Touch provided a slightly more relaxed presentation, carrying with it an additional sense of ease and a shade larger soundstage.  One could easily prefer one presentation over the other.  Given the reasonable cost of the Squeezebox Touch, I felt its performance was admirable.
Next, I hooked up the Squeezebox Touch to the M1DAC with coaxial and optical cables. Then I connected the M1DAC to my preamp via RCA interconnect cables.  I could now compare the sound of the Squeezebox Touch's internal DAC with the M1DAC with a simple switch of the source selector on my preamp.  I knew the Squeezebox Touch could meet my streaming needs with ease, but how would its internal DAC stand-up against the Musical Fidelity M1DAC?  To make this comparison, even more interesting, I purchased and downloaded high resolution versions (24-bit/96 kHz) of the aforementioned Herbie Hancock and Paul Simon albums, from the HDtracks website.  Playing the title track River from Herbie's album, I found the high-rez version to be superior, regardless of which DAC it was played through.  It was not a night-and-day difference but the hi-rez file provided a more spacious presentation, more air between instruments with Corinne's voice sounding more lifelike and open.  Piano keys were less hard sounding, possessing additional delicacy, while bringing along more definition.  In simple terms, everything sounded more lifelike.  Comparing some other tracks (hi-rez vs. CD rip in ALAC) from both the Herbie Hancock and Paul Simon albums, I came to the conclusion that the degree of difference was more pronounced on the River album vs. So Beautiful or So What.  This suggested that the quality of CD masters in comparison to hi-rez masters can vary and in turn, result in smaller or greater differences in sound quality.  Hence, it may not always be consistent how much improvement can be obtained by moving to a specific hi-rez version versus a CD rip.  I also ripped a copy of the River title track to a USB thumb drive in low resolution MP3 at 160kbps.  Conveniently, the Squeezebox Touch allowed me to plug the USB drive directly into it and play music from it via its touch screen.  This allowed me to compare an MP3 (160kbps) version to the CD rip (16-bit/44.1 kHz) as well as the hi-rez (24-bit/96 kHz).  From the first few notes it was clear that the low-res MP3 file sounded flat in comparison with both the CD rip and hi-rez versions.  The MP3 had less definition, a reduced soundstage and less verve to the degree that I considered it to be, at best, suitable for background music.  I compared the coaxial and optical connections between the Squeezebox Touch and the M1DAC, before I settled on the coaxial, due to its slightly smoother and more organic presentation, though the leanness that the optical connection delivered had merits of its own.
It was finally time to see how the Squeezebox Touch would compare when used together with the M1DAC.  Queuing up the Hancock and Simon albums, I focused on a few tracks.  With the aforementioned River track, the M1DAC produced a slightly larger soundstage, primarily in the areas of depth with some height.  Also, Corinne's voice came across a little more pristine.  There was more air and openness that the M1DAC delivered, while the Squeezebox sounded a touch constrained in comparison.  The Squeezebox Touch also gave up some delicacy in its handling of music, in comparison to the M1DAC.  Moving to Tea Leaf Prophecy, from the same album, I found the M1DAC preserved more sustain on piano notes, while also delivering the gentle patting of brushes on drums with a tad more resolution.  Going over to the Paul Simon album and listening to Dazzling Blue, as well as the title track, So Beautiful or So What, my impressions were reinforced.  The M1DAC exceeded the Squeezebox Touch in the areas of soundstage size, resolution, sustain and low bass-note definition.  Moving to another album in the ALAC format, from the CD, The Essential Sonny Rollins: The RCA Years, I went to God Bless the Child, as I find the track to be a surreal recording.  Here, the M1DAC once again stepped ahead of the Squeezebox Touch in soundstaging.  The electric guitar had a wonderful bloom which the M1DAC expressed to a greater degree than the Squeezebox Touch and the lowest digs of the upright bass were also more defined with the M1DAC.  I came to the conclusion that the M1DAC was clearly the higher performer, providing a more convincing and lifelike rendition of digital music, the likes of which I had not heard before in my system; however, the Squeezebox Touch was a solid performer in its own right.  I would say that both the M1DAC and the Squeezebox Touch are well worth their prices; however, the Squeezebox Touch would have the edge from an overall value perspective.  In the end, I could have easily lived with the Squeezebox Touch itself. But upon experiencing what the M1DAC could do, it would be difficult to live without it.
Hopefully, this little jaunt has been as interesting and informative to you, as it was to me.  I think it underscores the fact that there are sonic gains to be attained in the digital realms, given the latest in products and technologies.  It's clear that there are still a number of things to consider but if you do a little homework, you could find yourself on the path to an aural revelation.

Editor's note: Since the Squeezebox Touch may no longer be available, we encourage you to take a look at the Sonos Connect device and the company's other related products.  The Connect offers virtually the same functionality, although it does not have its own touch screen.  Instead music playback can be controlled via compatible smartphones and tablets.
Part 1 of this article can be found here: Bits & Bytes – Digital Music Demystified. An Introduction to Digital Music Playback